Vista Del Mar's First Annual Jazz Festival Strikes Note of Success
by
Vista Del Mar's First Annual Jazz Festival Strikes Note of Success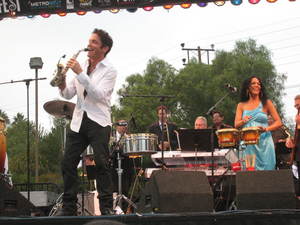 (Pictured: Grammy-nominated percussionist and singer Sheila E. along with Grammy nominated saxophonist Dave Koz)
WEST LOS ANGELES, CA–(Marketwire) – Nearly 800 music lovers and supporters
of troubled children turned out for Vista Del Mar Child and Family
Service's first annual jazz festival. The Oct. 18 fundraiser for Vista Del
Mar — one of the nation's most comprehensive care facilities for
youngsters experiencing mental health, behavioral, emotional, or social
problems — was held at Vista's West Los Angeles campus and was headlined
by Grammy-nominated percussionist and singer Sheila E. and co-chaired by
Sheila, Lynn Mabry, Janis Black and Douglas Warner.

Sheila E., whose foundation Elevate Hope has made substantial contributions
to Vista's Arts Enrichment Program, was joined by members of the legendary
E. Family, including her father — Latin jazz great Pete Escovedo. The
event, which was emceed by 94.7 The Wave on-air personality Pat Prescott,
also featured: multi-Grammy nominated recording artist and musical
director Patrice Rushen; Grammy-nominated saxophonist Dave Koz; acclaimed
singer and actor TC Carson; jazz-funk drummer Leon (Ndugu) Chancler;
actress and singer Sylvia Brooks; and award-winning violinist Karen Briggs.
Also on hand for the afternoon event were KTTV Fox 11 and KCOP My13 News
Anchor Christine Devine and accomplished actress, screenwriter, and
director Nia Vardalos.


Proceeds from the fundraiser, which was made possible in part by primary
event sponsor 94.7 The Wave, will help support Vista's many therapeutic
programs, including its innovative Arts Enrichment Program. At a time when
many schools are drastically decreasing arts funding, Vista Del Mar —
through its special-education facility Vista School — has expanded its
Arts Enrichment Program that has helped hundreds of troubled youngsters
heal through dance, drama, drumming, music production, singing, and
songwriting. Other event sponsors included Beverly Hills real estate
company Black Equities, Wells Fargo Bank and juice-maker POM.


"On behalf of all the children and families that we serve, I offer my
deepest gratitude to everyone who made this event such a success," said
Elias Lefferman, Ph.D., president and chief executive officer of Vista Del
Mar. "Special thanks go to Sheila E. who has been incredibly supportive of
our Arts Enrichment Program, as well as to our event sponsors, and to the
members of the community who spent their Sunday with us."


About Vista Del Mar Child and Family Services:


Vista Del Mar Child and Family Services was established in 1908 and, over
the course of more than a century, has evolved from an orphanage to a union
of five specialized agencies working together to provide comprehensive,
therapeutic, as well as educational programs and services for children and
their families on a picturesque, 18-acre campus in West Los Angeles. These
agencies include: Vista Del Mar; Julia Ann Singer Center; Reiss Davis
Child Study Center; HomeSAFE (located in Hollywood); and Family Service of
Santa Monica (located in Santa Monica). Between the nonprofit's
residential, outpatient, community-based, and education services, Vista Del
Mar provides 45 programs to nearly 6,000 children and families annually.
Services provided by the agency include, but are not limited to:
therapeutic, residential treatment for severely emotionally disturbed
youth; private adoption services for both domestic and international
adoptions; community-based foster-care; a network of mental health and case
management services for children at risk of out-of-home placement; a
private, special needs school (K-12); mental health services to students in
schools throughout Los Angeles; therapeutic services for children with
autism; individual and group counseling for children and families;
educational assessments and treatment; child abuse prevention services; and
early childhood care and provider training. For additional information,
visit www.vistadelmar.org.

Vista Del Mar Child and Family Services
Check out our Interview with Terrill Hanna & Sheila E. right here on The Urban Music Scene by clicking here!!