The 15th Annual Rhythm & Roots Festival in Rhode Island | Aug. 31st-Sept. 2nd, 2012
by
Rhythm & Roots Festival adds new artists – Announces the completed lineup and expanded workshop stage for 15th Anniversary Celebration!
Rhythm & Roots Festival, Aug 31-Sept 2, 2012
Ninigret Park, 4890A Old Post Rd, Charlestown, RI 02813
Fri: 5:00 pm – 12:00 am; Sat/Sun: 12:00 pm – 12:00 am
Tickets: $25-$175, Children 12 and under: free
www.rhythmandroots.com
, 888-855-6940
(See full lineup below)
Three new artists have been added to the Rhythm & Roots Festival at Ninigret Park. Renowned Nashville Americana artist, Nanci Griffith, who has just released a new CD, entitled Intersection,
debuts at Ninigret Park on Sunday Sept. 2nd. Griffith calls the album,
which has gotten rave reviews, "the most personal" of her career and
contributed the track "Hell No (I'm Not Alright)" to the Occupy Wall St
album, Occupy This Album. Her band includes award-winning guitarist Pete Kennedy and wife/vocalist Maura.

Also added is Paul Cebar Tomorrow Sound.
Cebar, who describes his music as "original dance music rooted in
Rhythm and Blues traditions with a pronounced emphasis on Latin,
Caribbean and African inflections and a wildass regard for the flow of
language," will perform on both Saturday and Sunday, Sept 1st and 2nd.
The zydeco lineup gets a boost on Saturday and Sunday of the festival with the addition of Andre Thierry & Zydeco Magic, winner of 2008's West Coast Blues Hall of Fame Award
for "Best Zydeco Group." Building from his love and respect for
traditional Zydeco, Thierry's original music is a blend of old and new,
with his musical mastery enabling him to create a unique sound for his
and future generations while staying true to the past.
NEWLY EXPANDED WORKSHOP STAGE & OTHER FEATURES

The schedule and programming for the popular Workshop Stage
at Rhythm & Roots has been extended to 10:00 pm, from its previous
end time of 6:00 pm. It will also be physically expanded with a bigger
stage and bigger tent this year. There will be three evening
performances on the Workshop Stage in addition to the daytime workshops.
In ongoing improvements to the festival, the always packed Dance Tent's location
will be moved further back so that it faces away from the Main Stage,
allowing for more separation between the two areas.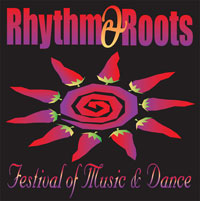 2012 Artist Lineup
Hosted by 4-time Grammy Nominees
The Pine Leaf Boys (Fri/Sat/Sun) website |
~ and proudly presenting ~
Hugh Laurie and the Copper Bottom Band (Sat) website |
Nanci Griffith (Sun) website |
David Bromberg Big Band (Sun) website |
Carolina Chocolate Drops (Sat) website |
La Bottine Souriante (Sat) website |
Steve Riley & the Mamou Playboys (Sat/Sun) website |
The Duhks (Sat/Sun) website |
Donna the Buffalo (Fri) website |
Andre Thierry & Zydeco Magic (Sat/Sun) website |
The Gourds (Fri/Sat) website |
Geno Delafose & French Rockin' Boogie (Fri/Sat) website |
Blackie & the Rodeo Kings (Sat/Sun) website |
Roddie Romero & the Hub City All-Stars (Fri/Sat) website |
Johnny Nicholas & Hellbent (Sat) website |
Sarah & the Tall Boys (Fri/Sat/Sun) website |
Dennis Stroughmatt & Creole Stomp (Sat/Sun) website
Golden Triangle (feat. David Greely, Johnny Nicholas, Sam Broussard) (Sun) website |
Planet Zydeco (Sat/Sun) website
Magnolia Cajun Band (Sat/Sun) website
Hot Tamale Brass Band (Sun) website |