The Tucson Jazz Festival | January 16th – 28th, 2015
by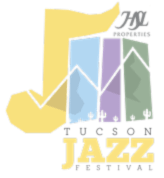 HSL Properties
Presents the INAUGURAL
Tucson Jazz Festival
In JANUARY 2015
Features 12 DAYS OF MUSIC INCLUDING GUEST OF HONOR JIMMY COBB,
ROBERT GLASPER, DIANNE REEVES, JD SOUTHER, BILLY CHILDS AND MORE
Tucson, AZ (December 1, 2014) —The mission of the first HSL Properties Tucson Jazz Festival is to present jazz of all genres, to bring thousands of people to historic downtown and to attract new winter visitors to sunny Tucson. The festival runs from Friday, Jan. 16 until Wednesday, Jan. 28, 2015; the average daytime high temperature during that same time in 2014 was 74.5 degrees. The Festival is, primarily, a downtown event with locations at the historic Fox and Rialto theatres and a free outdoor Downtown Tucson Fiesta on Martin Luther King Day, Jan. 19, with two stages featuring local musicians. Information can be found at www.tucsonjazzfestival.org.
"We've lined up some of the very best jazz artists from around the United States and locally," said Yvonne Ervin, Executive Director of the HSL Properties Tucson Jazz Festival. "There will be a little bit of something for everyone and January in Tucson is the perfect time of year to enjoy and celebrate jazz music!"
The special guest artist for the festival is drummer Jimmy Cobb who will turn 86 during the festival. An NEA Jazz Master, Cobb is the only living member of the Miles Davis band that recorded "Kind of Blue," the most popular jazz album in history. Cobb will perform with the Tucson Jazz Institute award-winning Ellington band and the Joey DeFrancesco group at the opening concert (Jan. 16). He will be in residence throughout the festival and festival producers expect other artists to invite the great drummer to "sit in."
Highlights of the festival include a unique performance on Jan. 24 by jazz pianist Billy Childs with singer/songwriter JD Souther, who is best known for penning hits for the Eagles. The Grammy Award-winning Robert Glasper Experiment, whose crossover hit "Black Radio" won for best R&B album in 2013, will take the stage at the Rialto on Jan. 17. Jazz vocalist Allan Harris will sing a Tribute to Nat "King" Cole at the Fox Theatre on Jan. 25; the opening band will be the Tucson Hard Bop Quintet (featuring trumpeter Jason Carder and saxophonist Brice Winston) with special guest, guitarist Dave Stryker.
Included as part of the festival line-up are two UApresents jazz shows at the Fox Tucson Theatre: vocalist Dianne Reeves and The Hot Sardines.
In a special arrangement with the Consul of Mexico in Tucson, the festival will present International Contemporary Jazz with Aguamala at the Rialto Theatre on Jan. 22.
The festival will be promoting "Jazz in January" for the entire month beginning at midnight on Jan. 1, with "Rick Braun's New Year's Eve" at the JW Marriott Star Pass Resort. The festival will also support local jazz at restaurants and clubs in the two weeks leading up to the festival kick-off.
The festival will end on Jan. 28 with a special joint production between the Rialto Theatre and the festival: the legendary composer of pop and jazz standards, Burt Bacharach, will take the Fox stage with his 11-piece ensemble.
Musicians who grew up in Arizona and are making their careers in jazz in New York City and elsewhere will be featured in special concerts: pianist Rachel Eckroth, saxophonist Tony Malaby and flugelhornist Dmitri Matheny.
Complete Festival Schedule
Friday, January 16—8 p.m. Fox Tucson Theatre
17 W Congress St, Tucson, AZ 85701
The Tucson Jazz Institute Ellington Band featuring alumni Arco Iris Sandoval, Alex Weitz and Max Goldschmid with special guest drummer Jimmy Cobb.
The Joey DeFrancesco Quartet with Jimmy Cobb
Price: $15 – $75
Saturday, January 17—8 p.m. Rialto Theatre
318 E Congress St, Tucson, AZ 85701
Robert Glasper Experiment
Price: $12.50 – $65.00
Sunday, January 18— 7 p.m. Fox Tucson Theatre
17 W Congress St, Tucson, AZ 85701
Dianne Reeves (a UApresents concert)
Price: $46 – $65
Sunday, January 18— 9 p.m. Hotel Congress (Copper Room)
311 E Congress St, Tucson, AZ 85701
Dmitri Matheny Jazz Noir
Price: $25 – $35
Monday, January 19—11 a.m. to 5 p.m. Free Downtown Jazz Fiesta
33 S 5th Ave, Tucson, AZ 85701
Free Concerts on two stages and several indoor clubs downtown featuring more than a dozen local bands from Dixieland to swing to blues and R&B.
MLK Stage:
11 a.m. Arizona Soul Circuit with Kevin and Tanisha Hamilton
12 p.m. Rafael Moreno y Descarga
1 p.m. Crystal Stark with the Pete Swan Trio featuring Max Goldschmid
2 p.m. Manteca
3 p.m. George Howard Band
4 p.m. Under Toad with special guest, Jimmy Cobb
Connect Stage and smaller indoor stages:
11 a.m. Diane Van Deurzen and Lisa Otey
12 p.m. Arizona Roadrunners
1 p.m. Boone Family Band
2 p.m. Matt Mitchell
3 p.m. Tony Frank Quintet
4 p.m. Jazz Telephone
Homero Ceron at Playground Bar and Lounge
Tuesday, January 20—8:00 p.m. Arizona Inn Tucson Room
2200 E Elm St, Tucson, AZ 85719
Pianists Armen Donelian and Angelo Versace
Price: $30 – $50
Wednesday, January 21—7:30 p.m. Crowder Hall
University of Arizona, School of Music
1017 N Olive Rd, Tucson, AZ 85719
Clarinetist Dave Bennett in a tribute to the Clarinet Kings with the Jeff Haskell Trio
Price: $5-$35
Thursday, January 22—7:30 p.m. Rialto Theatre
318 E Congress St, Tucson, AZ 85701
International Contemporary Jazz from Mexico with Aguamala
Price: $25
Friday, January 23—8 p.m. Fox Tucson Theatre
17 W Congress St, Tucson, AZ 85701
The Hot Sardines (a UApresents Concert)
Price: $32 – $45
Saturday, January 24—8 p.m. Fox Tucson Theatre
17 W Congress St, Tucson, AZ 85701
JD Souther with special guest Billy Childs
Price: $25 – $90
Saturday, January 24— 10 p.m. The Screening Room
127 E Congress St, Tucson, AZ 85701
Tony Malaby and Paloma Recio
Price: $25 – $35
Sunday, January 25—11 a.m. The Westin La Paloma Resort & Spa Pavilion
3800 E Sunrise Drive, Tucson, AZ 85718
Big Band Brunch: "A Tribute to Frank Sinatra" with Joe Bourne and Big Band Express
Price: Single Seat $82.50, Table of 10 (save $100) $725.00
Sunday, January 25 —2 p.m. Tucson Jazz Institute
6061 E Broadway Blvd. Ste 121, Tucson, AZ 85710
Tony Malaby and Paloma Recio jazz workshop
Free
Sunday, January 25—7 p.m. Fox Tucson Theatre
17 W Congress St, Tucson, AZ 85701
Tucson Hard Bop Quintet with special guest Dave Stryker
Allan Harris Band: Long Live the King: Nat "King" Cole
Price: $15 – $75
Tuesday, January 27 – 7:30 p.m. The Screening Room
127 E Congress St, Tucson, AZ 85701
Rachel Eckroth Trio
Price: $25 – $35
Wednesday, January 28 – 7:30 p.m. Fox Tucson Theatre
17 W Congress St, Tucson, AZ 85701
Burt Bacharach
Price: $45 – $122
FACT SHEET
Steering Committee Members
Dan Coleman
Yvonne Ervin
Elliot Glicksman
Jeff Haskell
Fletcher McCusker
Isaac Rothschild
Honorary Chair
Mayor Jonathan Rothschild
Title Sponsor
HSL Properties: Westin La Paloma, Embassy Suites and La Quinta Inn at Reid Park
Gold Sponsors
Jim Click Automotive Group
Allan and Alfie Norville
Nuanced Media
Tucson Jazz Society
Silver Sponsors
Arizona Web Media
Arizona Inn
Connect
Cox Communications
Edible Baja Arizona
Holualoa Companies
KOLD News 13
Mesch, Clark & Rothschild, PC
Rusing Lopez & Lazardi
Sinfonia HealthCare Corp
Visit Tucson
Copper Sponsors
Competitive Engineering
Desert Diamond Casino
Desert Leaf
Diamond Ventures
Elliot Glicksman
Hacienda del Sol
Udall Law Firm
Long Realty
Penca
Pima Medical Institute
Postnet on Tanque Verde
Law Office of JoJene Mills
Nova Home Loans
Udall Law Firm
Tucson.com
Other Sponsorships:
JazzTimes magazine is the official international magazine sponsor
Artist accommodations are provided by Arizona Inn
In-kind social media support provided by Yelp!
Funding for Billy Childs' appearance is from the National Endowment for the Arts and the Doris Duke Charitable Foundation through the Western Jazz Presenters Network
Executive Director
Yvonne Ervin is a professional fundraiser, non-profit manager and concert producer. She is currently the Executive Director of the Western Jazz Presenters Network and editor of Hot House magazine in NYC. She was an active board member of the International Association of Jazz Educators and also worked as a jazz journalist for print and radio, interviewing more than 150 jazz legends. Ervin was the founding executive director of the Tucson Jazz Society and marketing director for the Tucson Symphony Orchestra. She organized the Primavera Jazz Fest, the world's longest-running women's jazz festival and produced the first Jazz on the Border: The Mingus Project, a weeklong festival in Nogales Arizona and Sonora.
Artistic Directors
Dan Coleman is the composer in residence for the Tucson Symphony Orchestra and is founder and managing director of Modern Works Music Publishing. Coleman is originally from New York City and earned a bachelor's in music at University of Pennsylvania and a master's in music at The Juilliard School. He began his career as a composer, and his original concert music continues to be performed and recorded by leading American symphonies and chamber ensembles. Coleman has also composed arrangements for popular albums on the Geffen, A&M, and Atlantic record labels, including projects by Lisa Loeb and Calexico, and he has worked as an orchestrator for feature films.
Jeff Haskell is a lifelong musician that began as a scat-singing boy soprano in Philadelphia. He won the first American Collegiate jazz festival along with three L.A. Emmy Awards, and arranged two of Linda Ronstadt's albums. His Pastiche Americana was performed by The Little Orchestra in Lincoln Center and his Concerto for Jazz Band and Orchestra debuted with the Tucson Symphony Orchestra. He also conducted the world premiere of Billy Taylor's suite for jazz trio and big band, Fiesta In Tucson. He recently retired as a professor of music at the University of Arizona.
###
www.tucsonjazzfestival.org
Jazz Promo Services