The 16th Annual Roots On The River Festival | June 4th – 7th, 2015
by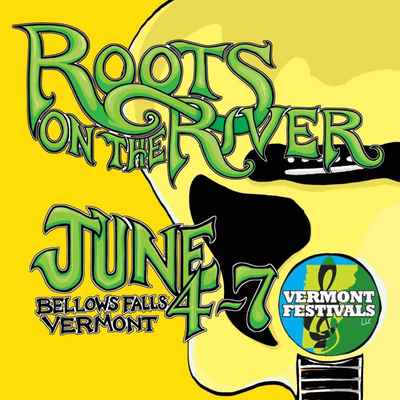 16th Annual Roots on the River Festival 2015
BELLOWS FALLS – Each year, the Roots on the River Music Festival brings a lively mix of artists, both veterans and newcomers, to our local stages, and the sixteenth annual event promises a memorable, fresh experience.
Southern Vermont's premiere music festival, produced by Vermont Festivals LLC, will take place June 4 to 7 in a number of venues around town, ranging from a massive tent at a mid-century motel to a 2030-year-old meeting house.
This year's artists include Grammy-nominated John Fullbright and festival favorite Mary Gauthier, as well as a delightful lineup of seasoned and upcoming talent rounding out the four-day event.
The last two years have been a whirlwind for Fullbright. At just 24, he received a Grammy nomination for his independently produced album "From the Ground Up, " created in three weeks on a shoestring budget.
Since then, whether appearing on "A Prairie Home Companion, " "Letterman, " or playing at a Rock and Roll Hall of Fame tribute, he has slowing edged his way in the mainstream music buzz amid a flurry of critical and popular acclaim for his music and stunning lyrics.
Heartfelt lyrics are also a strong theme in the work of Mary Gauthier. Gauthier plays the final Roots concert each year at the Rockingham Meeting House, an all-acoustic show that is one of the most popular events of the weekend, a winding down and contemplation of all the energies of the previous days.
"I've been playing the Sunday Meetinghouse show at the Roots on the River Festival for a long time now, " Gauthier said. "Lots of years, a whole lot of shows. And I keep coming back every year for one reason – the amazing audience of true music lovers who show up for this event. They make me want to do my best for them, and I am looking forward to heading back this year with my friend Sam Baker on board."
Baker is a remarkable songwriter who offers up gentle, compelling lyrics crafted from the heart. In 1986, he was nearly killed in a train bombing in Peru, and emerged from that experience and recuperation more connected with his art, poetry, and music.
The lineup this June also includes returning artists The Black Lillies, Caitlin Canty, Heather Maloney, the Meadows Brothers, Haley Reardon, and Roger Marin, who is the only artist to appear at every ROTR festival thus far.
Look for newcomers Domenic Cicala (who attended as a fan for the last four years, and will now appear on the stage), New England's Pesky J. Nixon, The No Fuss and Feathers Roadshow, Buffalo, N.Y.'s Davey O., Ida Mae Specker and the Honest Mistakes, and Josh Brooks.
Roots on the River Festival is volunteer driven and staffed. In addition to the dedicated all-volunteer staff, an additional 75 weekend volunteers make it work. The festival could not possibly be produced without their unfailing support. Many volunteers have returned for 15 years or more!
For more information, and to purchase tickets, please go to www.rootsontheriver.com.