The 38th Annual COTA Jazz & Arts Festival | Sept. 11th-13th, 2015
by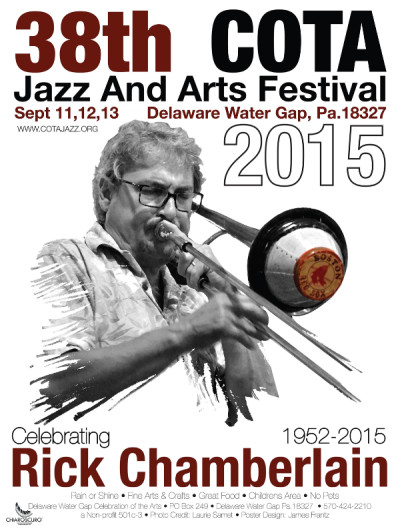 The 38th Annual COTA Jazz & Arts Festival – Sept. 11th, 12th & 13th, 2015
From September 11-13th, Delaware Water Gap Celebration of the Arts (COTA) will present the 38th annual Jazz and Arts Festival celebrating the exciting art form of jazz with not only live music, but also dance, visual arts, and food. Music fans in-the-know make it a point to be at this yearly festival featuring musicians who make the Poconos their home base.
But this festival is "local" only in name, because COTA artists perform worldwide. "Besides being fun, it's an incredible deal," says one regular attendee. "You hear 7 or 8 great bands each day, for less than the cost of a bus ticket to New York."
The Festival opens Friday night with a free art show at the Dutot Museum followed by a show combining dance, theater and classical music at the neighboring Church of the Mountain. Saturday and Sunday, rain or shine, there are daytime and evening concerts spanning the full range that jazz music has to offer: swing, funk, Brazilian, big band, vocals, avant-garde, Latin and more.
Since this year's programming honors the legacies of COTA's recently-passed Rick Chamberlain and Eric Doney, attendees also will have the chance to see some of the young musicians mentored by Rick and Eric, before they become famous.
Between the stage and the outdoor food court is a children's area with supervised musical and art activities, open till sunset. Stroll down Delaware Ave. (closed to traffic) to check out the paintings, sculpture, jewelry and clothing created by talented Pocono artists. Please leave Fido at home, though—pets are not permitted on the grounds.
38 years is a long time to keep a festival going. How did it all begin? Delaware Water Gap Celebration of the Arts (COTA) was founded in 1978 by world-renowned jazz artist and composer Phil Woods, trombonist Rick Chamberlain, and local legend Ed Joubert. They wanted to share with their community the art created by the many world-class musicians and artists that call the area their home.
Inspired by a love for jazz, the COTA Board of Directors says the Festival seeks to reflect the creative vortex of Pennsylvania's Pocono Mountain resident artists. The Festival also is noted for gathering a variety of art forms side by side, in an intimate and thrilling Festival experience.
Delaware Water Gap Celebration of the Arts is a not-for-profit corporation supported solely through the generosity of individual donations, institutional grants, and concert income. Dates, artists and programs are subject to change.
TICKETS
Friday night at the Dutot Museum: Free
Friday night general admission at Church of the Mountain: $10.00
Saturday and Sunday one-day tickets: $28.00
Saturday and Sunday two-day tickets: $40.00
Students and seniors (65+): $15.00/day Children 5-12 years old: $10.00/day
Children 4 and younger: Free
Friday
6:00 – 8:00 Music Motif Show Opening Reception at the Dutot Museum
7:00 – 9:30 Dance, Classical and Theater at the Presbyterian Church of the Mountain
Saturday
12:00 – Nancy Reed Trio
1:15-3:15 – A tribute to the magical keys of
the late Eric Doney, in sets led by
Zach Brock, Bobby Avey & more
3:45 – The New Quintet
5:00 – COTA Festival Orchestra
6:30 – Expansions – The Dave Liebman Group
7:45 – Tom Hamilton's A Work In Progress
Sunday
10:00am – Jazz Mass(free)
12:15 – Su Terry Group
1:30 – Dixie Gents
2:45 – COTA Cats Volume XXXV
4:15 – Adam Niewood's Paradigm Shift
5:30 – Bob Dorough Quartet
6:45 – Brass Arts Collective
8:00 – The Bobby Syvarth Combo
Find out more about the Festival
www.cotajazz.org
Tweet @COTA_jazz
www.facebook.com/pages/COTA-Celebration-Of-The-Arts/234094683405815
Jazz Promo Services