The Jazz Legends for Disability Pride Jazz Concert | Jan . 14th, 2016
by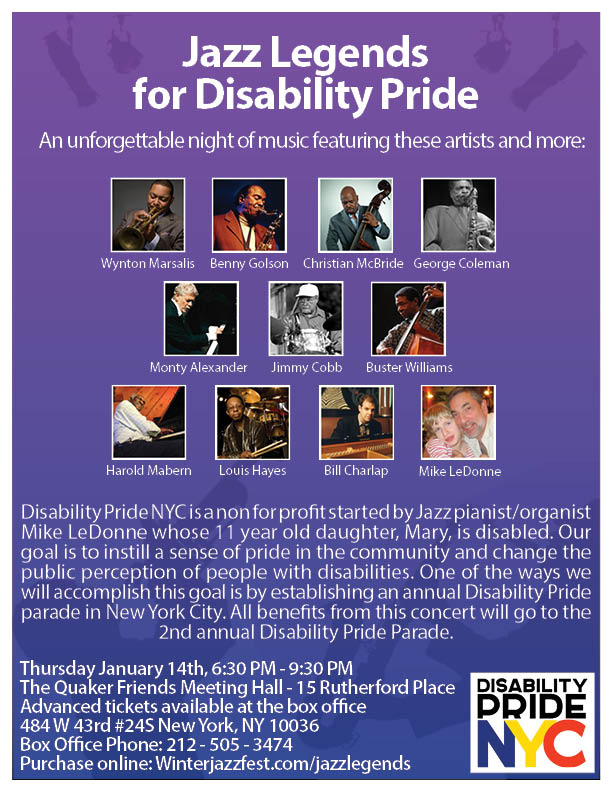 Jazz Legends for Disability Pride is a fund raiser Jazz concert on Jan 14, 2016 in partnership with the 2016 NYC Winter Jazzfest. Jazz greats Wynton Marsalis, Benny Golson, Christian McBride, Jimmy Cobb, Harold Mabern, George Coleman, Buster Williams, Louis Hayes, Bill Charlap, Monty Alexanderand many others will be featured. Because of this fund raiser last year Disability Pride NYC was able to realize the first annual Disability Pride Parade in New York City held on July 12, 2015. This is a night of music you will never forget because you will be part of something much deeper than simply a Jazz concert. All proceeds from this concert will benefit the 2016 Disability Pride Parade to be held in NYC on July 10, 2016. You will experience a night of music that features the finest Jazz musicians in the world coming together and donating their talents in support of a very important and worthy cause. When that happens there's a depth that is added to the music, and the night, that is truly unique.
Disability Pride NYC is a not for profit started by Jazz pianist/organist Mike LeDonne whose 11 year old daughter, Mary, is disabled. Our goal is to instill a sense of pride in the community and change the public perception of people with disabilities. One of the ways we will accomplish this goal is by establishing an annual Disability Pride parade in New York City. We aim to support people with disabilities in whatever way we can.
Thursday, January 14, 2016
6:30pm – 9:30pm
@ The Quaker Friends Meeting Hall
15 Rutherford Place, NYC 10003
(212) 475-0466
http://15stfriends.quaker.org/
The Meetinghouse is wheelchair accessible, at 15 Rutherford Place entrance and through the Fifteenth Street side gate.
A call to the Quarterly Meeting office at (212) 777-8866 during office hours 9am to 5pm Mon-Fri (except holidays) can help clarify the layout.
**All ticket purchases are tax deductible
For tickets:
http://www.winterjazzfest.com/schedule/
For more information about the organization:
www.disabilitypridenyc.org