"The Valentine Love" Concert in Georgia | Feb. 14th, 2016
by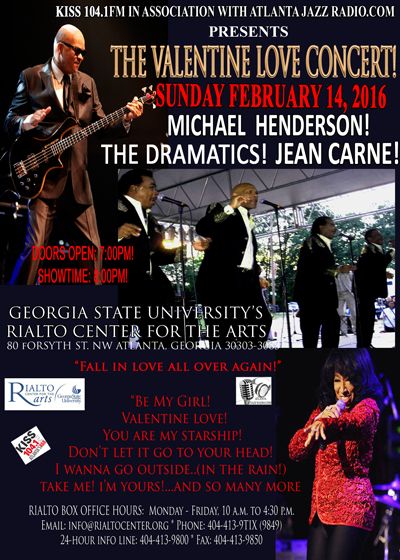 Michael Henderson! The Dramatics! Jean Carne! Perform Valentine's Day at Rialto Center For The Arts in Atlanta!
In what is sure to be an incredible evening of entertainment at it's finest by these Legends of R&B/Soul Music, this Valentine's Day will prove to be filled with love & warm memories as the artists envelope you in beautiful chart-topping music!
ATLANTA – Dec. 18, 2015 – PRLog — Having sold millions in record sales, four time GRAMMY NOMINEE, Michael Henderson, The Dramatics, and Jean Carne bring their special blends of musical artistry to esteemed Georgia State University's Rialto Center for The Arts for a very SPECIAL evening of love and music, "The Valentine Love" concert! Having just received the award for "LIFETIME ACHIEVEMENT" in music, four (4) time GRAMMY NOMINEE (former bassist with Stevie Wonder, Miles Davis, Aretha Franklin Dr. John and others) Michael Henderson boldly states, "This is just the beginning of the second half!" Henderson, a revolutionary Fusion Bassist, Singer, Songwriter and Producer who with good friend Miles Davis, altered the course of the genre' "Jazz Fusion", is known for hit records such as, "You Are My Starship" "Take Me, I'm Yours" "In The Night-time" "Valentine Love" "Can't We Fall In Love Again" (duet with late great Phyllis Hyman) and more!
Today his music is Sampled by a new generation of musicians ie., Jermaine Dupris, Beyonce', Jay-Z, Neo, Snoop Dogg, LL Cool J, Tamia, Jagged Edge and so many more!!
Before assuming the name THE DRAMATICS, the vocal group comprised of Willie Ford, Rob Davis, Ron Banks, Larry Reed, Robert Ellington, Larry "Squirrel" Demps, and Elbert Wilkens initially released two singles as "THE DYNAMICS" on the Wingate imprint, soon thereafter, the group changed their name to THE DRAMATICS. They migrated to the Sport label and in 1967 released their first single to hit the charts, "All Because of You," which peaked at number 42 on the R&B charts. By the end of 1971, the group went on to record their 1st major national hit, peaking at number 3 "Whatcha See Is Whatcha Get" for producer/songwriter Tony Hester, Michael Henderson played an unforgettable and very funky bass riff on this tune! That single was followed by the R&B Top Ten single "Get Up and Get Down!" Again Henderson delivers his unmistakable bass grooves to the soulful sound of The Dramatics!" The following year The Dramatics released "In the Rain," which was also penned by Hester, who along with the group knew Henderson would unquestionably be the "go to" guy when it came to adding the groove! The single torpedoed its way to the number one spot on the R&B charts, maintaining that position for four consecutive weeks; the single also peaked at number five on the pop charts! 1973 saw the release of the R&B Top Ten single "Hey You! Get Off My Mountain!" …Henderson lending a signature bassline that has often been imitated, never duplicated! The Dramatics' success continued the release of the Michael Henderson penned/produced "Be My Girl" which charted #3 (R&B Singles Billboard 1976! With mainly R&B Top 20 hits during the heyday of disco, cracking the R&B Top Ten with "Welcome Back Home" The Dramatics continue to amaze and dazzle concert-goers with years of experience and showmanship that only a seasoned veteran could deliver!
Chanteuse! A Singers' Singer! An internationally recognized vocalist, Jean Carne is a vocalist credited with a five octave vocal range! She's recognized for her unique vocal ability and has proven herself to be an extraordinary vocalist of unlimited depth and dimension! Ms. Carne has worked with some of the most prolific soul artists, producers and songwriters over the years, including Michael Henderson, (the dynamic duo singing the Henderson penned/produced top ten hit single "Valentine Love") Dizzy Gillespie, Norman Connors, The Temptations, Glenn Jones, the late great Phyllis Hyman, Kenneth Gamble, Leon Huff, among other stellar musicians. Ms. Carne has also acted as record/vocal producer and arranger on her own projects and for others in the music fraternity. In 2008, she was among the Philly artists featured in the two-part PBS television special "Love Train, The Sound of Philadelphia" which celebrated the musical legacy of Kenny Gamble & Leon Huff and Philadelphia International Records.
The movie "PRECIOUS", released in November 2009, produced by Oprah Winfrey and Tyler Perry, starring Mariah Carey and comedienne Mo'Nique, features Jean Carn's disco single "Was That All It Was!"
This Valentine's day promises to be an extra special historic musical event!! Not just a musical journey with these incomparable artists, but an evening of love, romance and FUN! …So bring your dancin' shoes, it's gonna be a party! Bring out the kid in you, sing the songs you know and grew up with!!