The Nearness of You Benefit Concert in N.Y.C. | Jan 25th, 2017
by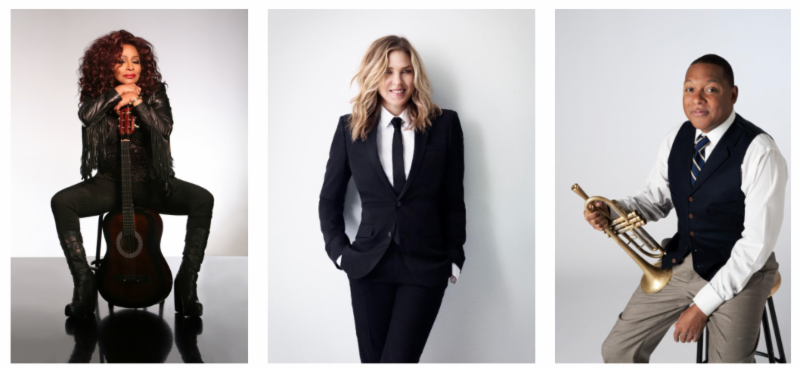 CHAKA KHAN DIANA KRALL
WYNTON MARSALIS
WEDNESDAY, JANUARY 25 / JAZZ AT LINCOLN CENTER
The Nearness of You Concert
A CANCER RESEARCH FUNDRAISER IN HONOR OF MICHAEL BRECKER
Featuring David Sanborn, Joe Lovano, Ravi Coltrane,
Dave Liebman and very special guests
Tickets On Sale Now
On Wednesday, January 25, 2017, Chaka Khan, Diana Krall, Wynton Marsalis and other special guests will honor the memory of their friend and colleague, 15-time Grammy-winning saxophonist Michael Brecker, at The Nearness of You benefit concert in New York City.
Time Magazine selected Wynton Marsalis, a nine-time Grammy Award-winner, as one of the most influential people in America. Marsalis is also the first jazz musician to win the Pulitzer Prize for Music. One of the best selling artists of her time, multi-Grammy Award-winner Diana Krall has sold more than 15 million albums worldwide–unheard of for a jazz artist. "The Queen of Funk," 10-time Grammy Award-winner Chaka Khan began her career as the front-woman of the funk band Rufus, and ranks #17 in VH1's original list of the 100 Greatest Women of Rock & Roll.
Bassist Will Lee is the musical director. Lee was discovered by Michael and his brother Randy Brecker while Lee was a student at the University of Miami. Among the most-in-demand session players today, Lee also performed for over 30 years with Paul Shaffer on Late Night with David Letterman.
Proceeds from the concert will support cancer research at Columbia University Medical Center (CUMC) and the work of Azra Raza, MD, and Siddhartha Mukherjee, MD, PhD. Dr. Raza is director of the Myelodisplastic Syndromes (MDS) Center at CUMC and is a consultant to Vice President Biden's Cancer Moonshot Task Force. Dr. Mukherjee is an internationally renowned physician and researcher who is the author of The Gene and The Emperor of All Maladies: A Biography of Cancer, for which he won a Pulitzer Prize.
TICKET INFORMATION: The concert will occur at 7.30pm in The Appel Room at Jazz at Lincoln Center's Frederick P. Rose Hall. Tickets start at $200 and are available by calling Center Charge at 212-721-6500. Tickets are also available online at jazz.org or at the Jazz at Lincoln Center box office, located on the ground floor of the Time Warner Center (Broadway & 60th).
DL Media