Vision Festival 22: Free Jazz Festival for a Just Future | May 28 – June 3, 2017
by

ARTS FOR ART PRESENTS
Vision Fest 22:
Free Jazz Festival for a Just Future
May 28 – June 3, 2017
Presenting A Full Spectrum of Jazz Today
And Highlighting The Socio-Political Context of The Music And Its Practitioners
Vision Festival 22 Celebrates the Career of Multi-Instrumentalist,
Instrument Designer, and Educator:
COOPER-MOORE
Performing on Monday, May 29
On Memorial Day, May 29, 2017, Arts for Art officially opens Vision Festival 22 at historic Judson Memorial Church in Greenwich Village. This first night will honor Cooper-Moore for his Lifetime of Achievement. The renowned multi-instrumentalist, educator and raconteur Cooper-Moore, is an artist whose music has been informed by his own struggle for freedom and who personifies the ideals upheld by AFA.
Born during segregation in Southern Virginia, Cooper-Moore came of age playing his music on piano in church. In his early 20s, he was an active member of the civil rights and peace movements, often aligning himself with radical Catholics such as the Berrigan Brothers in their protests for nuclear disarmament. Upon moving to New York in the late 1960s, Cooper-Moore became a pivotal member of the free jazz movement. His tenure with the late saxophonist and visionary David S. Ware began in 1970s as part of the Jazz Loft at 501 Canal Street. Cooper-Moore's primary instrument is the piano, but he has become well-known for the many instruments he has designed and built, most notably the diddley-bow, a long-necked single string bass or dulcimer played horizontally while seated.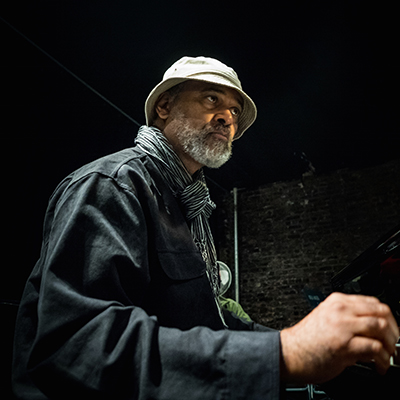 Cooper-Moore by Peter Gannushkin
Cooper-Moore is an important educator who has inspired generations of young artists, from his work with the very young at Head Start to numerous music programs around the world. "Cooper-Moore exemplifies the deep dedication, idealism, and integrity which make for a truly great artist," Nicholson explains. "He resists definition and continues to shape our cultural landscape."
Cooper-Moore will be featured in a number of configurations throughout the Vision Festival – including his collaborative project Digital Primitives. Much of Cooper-Moore's contributions have been as a key member in other groups, therefore he chooses to curate his evening with his two favorite bands: William Parker's In Order to Survive and Gerald Cleaver's Black Host. A short documentary on his life and work will be screened at the Anthology Film Archives on May 28.
The rest of the festival's days will be packed with a veritable who's who of free jazz from across the world – the multifaceted, chameleonic Miya Masaoka; the fire-breathing alto warrior Darius Jones; the celebrated collective Farmers by Nature featuring William Parker, Gerald Cleaver and Craig Taborn; former AACM president and flute innovator Nicole Mitchell in a collaborative trio alongside cellist and recent New York transplant Tomeka Reid and drummer, composer and impresario Mike Reed, playing the music of AACM forbears such as Muhal Richard Abrams, Steve McCall; French upright bass pioneer Joelle Leandre; drummer and bandleader Tomas Fujiwara's recently convened Double Trio; BassDrumBone the 40-year-old collective featuring Gerry Hemingway, Mark Helias and Ray Anderson; and the iconoclastic pianist, Matthew Shipp.
Also featured throughout Vision 22 are undeniable living legends of this music: drummer Andrew Cyrille whose influence on successive generations is immeasurable; saxophonists David Murray, Joe McPhee, Charles Gayle, Odean Pope, Oliver Lake, all of whom possess wildly different, singular approaches to the instrument and the singular visionary drummer Hamid Drake, among others.
A notable aspect of VISION 22 is their day-long collaboration, May 28, with Lower East Side theater Anthology Film Archives, which will screen short films on Cooper-Moore, David S. Ware; the now-legendary 1985 documentary Rising Tones Cross, which features Charles Gayle, Peter Kowald and Patricia and William Parker gearing up for Vision Fest precursor, Sound Unity Festival; as well as explicitly political films about The Black Panthers movement, and The People's Revolutionary Government of Grenada.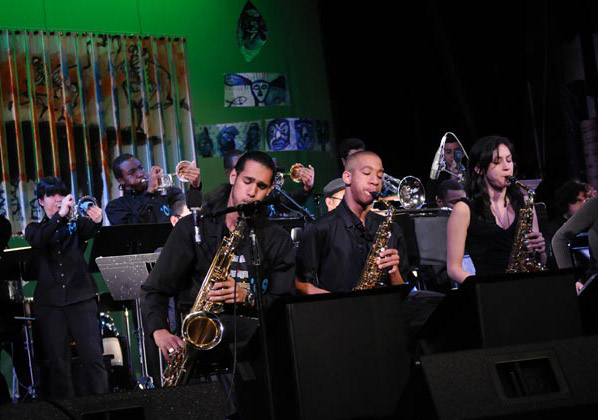 Visionary Youth Orchestra by Stefania Errore
Community outreach to youth is another key component of the AFA mission. Accordingly, the opening set on May 31 will feature the Visionary Youth Orchestra (VYO). VYO is an after-school program started by AFA in 2010 led by musicians Jeff Lederer and Jessica Jones that provides cost-free opportunities to underserved and ethnically-diverse musicians, ages 11 to 18, who are interested in learning and performing the music of celebrated free jazz luminaries. The students are primarily drawn from the Manhattan and Brooklyn. The group rehearses weekly from January to June at Brooklyn Friends School in Downtown Brooklyn, culminating in a performance each year at the Vision Festival. This year, the VYO will play the music of Charlie Haden, Ornette Coleman, Anthony Braxton and Charles Mingus and perform spontaneous improvisations based on digital artwork generated in real-time and projected on screen at the festival.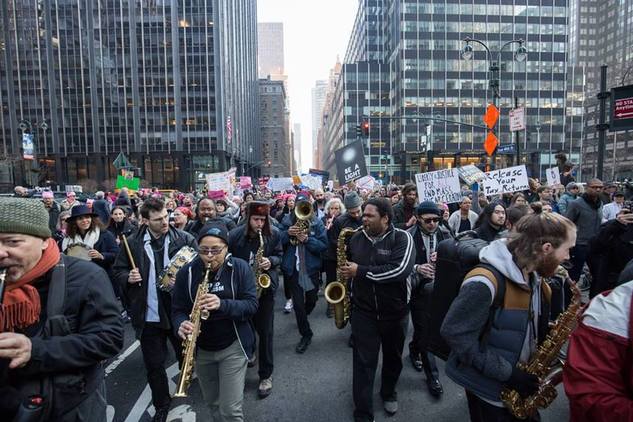 Artists for A Free World Marching Band At The Women's March NYC (Jan. 21)
by Sai Mokhtari
A focused politically charged spirit pervades the Artist for A Free World Marching Band (AFFW) which was recently convened in response to Donald Trump's presidency. The band premiered at the Women's March in New York in January and since has appeared at all of the major rallies in New York. The band consists of a fluid band with many horns, various percussion, and voices and dance. They bring their sounds to these demonstrations in the spirit of camaraderie and joy; spreading the tenets of AFA through infectious and cathartic music. The Finale of the Festival, "Songs for a Free World," will feature an expanded version of AFFW Marching Band with strings and a choir performing commissioned works by William Parker and Oliver Lake. The ensemble will also perform at a rally hosted by Arts for Art, to take place in Washington Square Park on Friday June 2, called "Envisioning a Just World."
ABOUT ARTS FOR ART AND THE VISION FESTIVAL
For over 30 years, Arts for Art founder and Artistic Director Patricia Nicholson Parker has been organizing and inspiring musicians and artists within New York City and beyond. In 1984 and 1988, she collaborated with William Parker and Peter Kowald to host the Sound Unity Festival which featured legendary talents Don Cherry, David S Ware, Frank Wright, Kowald, Peter Brotzmann and more. The Vision Festival would later grow out of Sound Unity.
​
Since its inception in 1996, the nonprofit Arts for Art (AFA), founded by Nicholson Parker, has advocated for human rights and justice while also advocating that "free jazz" should have a seat at the table in a different New York City landscape after the loft scene had crumbled and as neo-conservatism was sweeping the established jazz world. The concurrent founding of AFA's flagship annual event, The Vision Festival has given the "free jazz" community a notable and uncommonly visible platform from which to showcase these ideas and the musicians who are the inheritors of the oral traditions passed down by figures such as Albert Ayler, Ornette Coleman, Don Cherry, Frank Wright, Cecil Taylor, Leroy Jenkins, the Art Ensemble of Chicago and Sam Rivers. In the current political and cultural climate, Arts for Art's credo is felt more strongly than ever – using their powerful music and art as expressions of commitment to life and justice and organizing under banners and rhetoric that affirm those beliefs. Now in its 22nd year, Arts for Art and Vision Festival are dedicated more than ever to a just future.
Arts for Art's activities extend far beyond the Vision Festival. The organization hosts a highly esteemed recurring Evolving series at the historic Lower East Side arts center The Clemente, which mines from like-minded musicians who perform at Vision Fest, in a smaller, more intimate setting. They make a concerted effort to incorporate the voices of younger New York City based musicians and welcome them into the AFA community. Evolving Music and The Under_Line Salon series all have themes emphasized in concert materials and often the artists themselves reflect on deeper, more purposeful themes.
OFFICIAL FESTIVAL HASHTAG: #VISION22
http://www.artsforart.org/vf22
Official Lineup:
Digital Primitives
Cooper-Moore (piano, ashimba, etc.), Assif Tsahar (tenor sax),
Chad Taylor (drums), guest: Brian Pace (tenor sax)​
Black Host
Cooper- Moore (piano), Gerald Cleaver (drums), Brandon Seabrook (guitar),
Pascal Niggenkemper (bass), Trevor Dunn (second bassist), Darius Jones (sax)
In Order to Survive
Cooper-Moore (piano), William Parker (bass), Rob Brown (sax), Hamid Drake (drums)
Three Stories
Miya Masaoka (koto), Robert Dick (flute), Joëlle Léandre (bass)
Jazz & Poetry Choir Collective
Michael T.A. Thompson (conduction, percussion), E.J. Antonion (poet),
Rosie Hertlein (violin, poet), Chistopher Dean Sullivan (bass), Golda Solomon (poet),
Phylisha Villanueva (poet), Warren Smith (drums, poet)
Tomas Fujiwara Double Trio
Tomas Fujiwara (drums), Gerald Cleaver (drums), Ralph Alessi (trumpet),
Taylor Ho Bynum (cornet), Mary Halvorson (guitar), Brandon Seabrook (guitar)
Trio Three
Andrew Cyrille (drums), Oliver Lake (sax), Reggie Workman (bass)
Dickey / Maneri / Shipp
Mat Maneri (violin), Matthew Shipp (piano), Whit Dickey (drums)
Jason Kao Hwang's Burning Bridge
Taylor Ho Bynum (cornet), Jason Kao Hwang (violin), Joe Daley (tuba), Steve Swell (trombone), Wang Guowei (erhu), Sun Li (pipa), Ken Filiano (bass), Andrew Drury (drums)
Charles Gayle Trio
Charles Gayle (sax), William Parker (bass), Michael T.A. Thompson (drums)
Odean Pope Saxophone Choir
Odean Pope (solo tenor), Gene Ghee (1st tenor), Terry Lawson (2nd tenor),
Julian Pressley (1st alto), Louis Taylor (2nd alto), Robert Landham (3rd alto),
Joe Sudler (baritone), Lee Smith (bass), Tom Lawton (piano), Craig McIver (drums)
Darius Jones & Farmers by Nature
Gerald Cleaver (drums), William Parker (bass), Craig Taborn (piano), Darius Jones (sax)
Artifacts
Tomeka Reid (cello), Nicole Mitchell (flute), Mike Reed (drums)
Chicago Plan
Gebhard Ullmann (tenor sax, bass clarinet), Steve Swell (trombone),
Fred Lonberg-Holm (cello), Michael Zerang (drums)
Joe McPhee's The Dream Book
Joe McPhee (sax, trumpet), Daniel Carter (sax, trumpet, flute), Dom Minasi (guitar),
Dominic Duvall Jr. (bass), Jay Rosen (drums), Larry Roland (bass)
Dave Burrell Quartet
Dave Burrell (piano), Kidd Jordan (sax), William Parker (bass), William Hooker (drums)
BassDrumBone
Mark Helias (bass), Gerry Hemingway (drums), Ray Anderson (trombone)
Positive Knowledge
Oluyemi Thomas (bass clarinet, sax), Ijeoma Thomas (poet, percussion),
Special Guest: Andrew Cyrille (drums)
Malaby / Maneri / Levin
Tony Malaby (saxophones), Mat Maneri (viola), Daniel Levin (cello)
Ivo Perelman Quartet
Matthew Shipp (piano), Ivo Perlman (sax), Michael Bisio (bass), Whit Dickey (drums)
David Murray Trio
David Murray (sax), Gerry Eastman (bass), Kahlil el'Zabar (percussion)
————————————————————————————————–
VISION FESTIVAL 22 GENERAL SCHEDULE & TICKETING:
***TICKETS AVAILABLE NOW***
VISION FESTIVAL 22 – May 28 Schedule at Anthology Film Archives
Anthology has collaborated many times with Arts For Art on the occasion of their annual Vision Festival, and we are proud once again to host a day of film screenings relating to the event. The films will speak to what the Vision Festival represents: community, creativity, and social justice. This year's festival will recognize multi-instrumentalist and educator Cooper-Moore, and the film program will include a brand-new short documentary produced specifically for these screenings, as well as films about Grenada, the NYC loft jazz scene, the Black Panthers, and David S. Ware.
Arts For Art celebrates 22 years of the multi-arts FreeJazz Vision Festival in New York City. The one-week program, running from May 28 to June 3, will present global artists ranging from new talents to legendary artists in music, dance, visual art, film, and poetry. Additionally, the festival will include panel discussions on challenges within the art world, as well as social responsibilities and justice.
​For more info about Vision Festival 22 visit: www.artsforart.org.
​PROGRAM 1:
Sun, May 28 at 3:45.
Samori Marksman, Nana Ashhurst, and John Douglas
GRENADA: THE FUTURE COMING TOWARD US
1984, 55 min, digital
On March 13, 1979, while Eric Gairy was out of Grenada, "the real revolutionaries" of the New Jewel Movement (NJM), under the leadership of Comrade Maurice Bishop, masterminded "a successful armed takeover of the True Blue army barracks and the island's sole radio station." On that day, the People's Revolutionary Government of Grenada (PRG) was born. Completed just months prior to the 1983 U.S. invasion, this documentary examines the aims and accomplishments of the New Jewel Movement led by Maurice Bishop and the reasons for the American military action.
PROGRAM 2:
Sun, May 28 at 5:30.
Ebba Jahn
RISING TONES CROSS
1985, 111 min, digital
"The early 1980s were a period of transition for the avant-garde in New York. The loft scene era – in which Ornette Coleman's home on Prince Street and Sam Rivers's Studio Rivbea provided workshops for experimenters to develop their art – was drawing to a close, and the arrival of the Knitting Factory and its explosive impact on the Downtown scene was still a few years away. It fell to the artists themselves to create new opportunities. As chronicled in RISING TONES CROSS, two such motivated visionaries were bassist William Parker and dancer Patricia Nicholson. The film centers around the Sound Unity Festival, a precursor to the couple's current Lower East Side bash, the Vision Festival." –Bruce Gallanter, DOWNTOWN MUSIC GALLERY
Preceded by:
Michael Lucio Sternbach [COOPER-MOORE FILM] 2017, 15 min, digital
Born in segregated Virginia, Cooper-Moore has been a pivotal member of the FreeJazz movement since the early 1970s. The primary instrument of this master multi-instrumentalist is the piano, though he has also designed and built a variety of instruments. He has performed with David S. Ware, William Parker, Hamid Drake, and Gerald Cleaver, among many others. This film features interviews of Cooper-Moore and his peers, live concert footage, and video taken during his trip to Ethiopia for The Festival of a Thousand Stars. On May 29, as part of the Vision Festival, Arts for Art will recognize Cooper Moore for his extraordinary achievements.
PROGRAM 3:
Sun, May 28 at 8:30.
Stanley Nelson
THE BLACK PANTHERS: VANGUARD OF THE REVOLUTION
2015, 90 min, digital
This is the first feature-length documentary to explore the Black Panther Party, its significance to the broader American culture, the cultural and political awakening it represented for black people, and the painful lessons wrought when a movement derails. Nelson goes straight to the source, weaving a treasure trove of rare archival footage together with the voices of the people who were there: police, FBI informants, journalists, white supporters and detractors, and Black Panthers who remained loyal to the party and those who left it. Featuring Kathleen Cleaver, Jamal Joseph, and many others, it is an essential history and a vibrant chronicle of the pivotal movement that birthed a new revolutionary culture in America.
Preceded by:
Amine Koulder DAVID S. WARE: A WORLD OF SOUND 2011, 13 min, digital
Saxophonist/composer/bandleader David S. Ware began a mentor/musical relationship with saxophone colossus Sonny Rollins, who taught him circular breathing, in 1966. Following his arrival in the NYC loft jazz scene of the early 70s, word of his potent voice on tenor sax spread quickly. He soon became a member of the Cecil Taylor Unit, with whom he toured throughout Europe, the U.S., and Canada. In 1989 he formed the David S. Ware Quartet and over the course of 17 years, the music David made with this band added immeasurably to the language of jazz. In this film, David discusses music as a form of meditation and spiritual practice.
***May 29 – June 3 Events Take Place at
Judson Memorial Church, 55 Washington Square South***
Monday May 29, 2017
7:00 PM – Digital Primitives
8:00 PM – Black Host
9:00 PM – Carl Hancock Rux (poet)
9:45 PM – In Order to Survive
Tuesday May 30, 2017
6:30 PM – Yoshiko Chuma and the School of Hard Knocks:
Dead End, Hey! Women
7:00 PM – Three Stories
8:00 PM – Jazz & Poetry Choir Collective
9:00 – Tomas Fujiwara Double Trio
10:00 – Trio Three
Wednesday May 31, 2017
6:30 PM – Visionary Youth Orchestra,
directed by Jeff Lederer and Jessica Jones
7:00 PM – Dickey / Maneri / Shipp
8:00 PM – K.J. Holmes (dance) / Jeremy Carlstedt (drums)
8:30 PM – Jason Kao Hwang's Burning Bridge
9:30 PM – Tracie Morris (poet)
10:oo PM – Charles Gayle Trio
Thursday June 1, 2017
9:oo AM – 5:oo PM – Columbia University Conference:
On the Sound of Resistance
*At Columbia University*
7:00 PM – Odean Pope Saxophone Choir
8:00 PM – Jesús Papoleto Meléndez (poet)
8:30 PM – Darius Jones & Farmers by Nature
9:00 PM – Djassi DaCosta Johnson (dance) / Shayna Dulberger (bass)
10:oo PM – Artifacts
Friday June 2, 2017
4:30 PM – A Creative Rally for a Just World in Washington Square Park
with Artists for a Free World and Rise and Resist
7:oo PM – Chicago Plan
8:00 PM – Joe McPhee's The Dream Book
9:00 PM – Fred Moten (poet)
9:30 PM – Dave Burrell Quartet
10:30 PM – BassDrumBone
Saturday June 3, 2017
3:oo PM – Forum: Creating a Just World
6:30 PM – Positive Knowledge
7:30 PM – Malaby / Maneri / Levin
8:30 PM – Ivo Perelman Quartet
9:30 PM – Dave Murray Trio
10:30 PM – Songs for a Free World
VISION FESTIVAL 22 TICKETING OPTIONS:
Individual Tickets & Festival Passes:
General Daily Admission: $40 ADV / $45 DOE
Students & Seniors: $25
Full Pass: $200
Admission for all nights May 29 – June 3
VIP Pass: $300
Admission for all nights, including Vision Films on May 28
Includes reserved seating, access to special events, and gift bags
FOLLOW US FOR UPDATES:
Website: www.artsforart.org/vf22
Twitter: twitter.com/artsforart
Facebook: facebook.com/ArtsforArt
Instagram: instagram.com/artsforart
Fully Altered