The San Diego Smooth Jazz Festival | July 7th-9th, 2017
by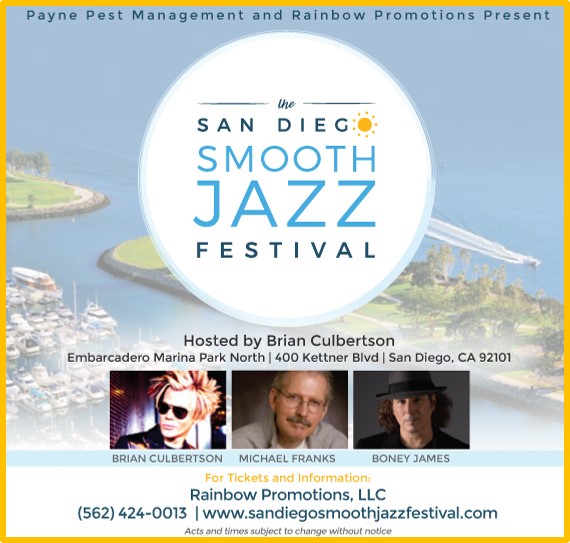 Payne Pest Management and Rainbow Promotions LLC present…
The San Diego Smooth Jazz Festival
July 7 – 9, 2017
#SDSmoothJazzFest
Embarcadero Marina Park North
400 Kettner Blvd., San Diego, CA 92101
The San Diego
Smooth Jazz Festival
July 7 – 9, 2017
#SDSmoothJazzFest
Hosted by: Brian Culbertson
The San Diego Smooth Jazz Festival unites music lovers from around the world at
the picturesque site of Embarcadero Marina Park North in the San Diego Marina.
This two-day event combines the soothing sounds of smooth jazz, a variety of delicious cuisine, and an amazing atmosphere that create an unparalleled experience.
ARTIST LINE-UP
FRIDAY, JULY 7th
6:00pm – 9:30pm
An Intimate Evening Under the Stars with Eric Darius Unplugged with Monty Seward
This private event is available only as an add-on for $89.00 per ticket
with the purchase of a VIP ticket for Saturday and/or Sunday.
Only a limited number of tickets are available for this event.
Please note: Tickets for Friday's event are not available
as a single ticket purchase.
SATURDAY, JULY 8th
12:00pm – 7:30pm
BRIAN CULBERTSON
MICHAEL FRANKS
PETER WHITE, KEIKO MATSUI, EUGE GROOVE
NICK COLIONNE
THE L.A. COLLECTIVE
SUNDAY, JULY 9th
2:00pm – 9:30pm
BONEY JAMES
WEST COAST JAM with RICHARD ELLIOT,
RICK BRAUN & NORMAN BROWN
GERALD ALBRIGHT, JONATHAN BUTLER
ERIC DARIUS
CURTIS BROOKS
TICKETS AND INFORMATION
Click Here
For more information visit our website
sandiegosmoothjazzfestival.com
or call
Rainbow Promotions LLC
(562) 424-0013