The 40th Annual Playboy Jazz Festival | June 9th-10th, 2018
by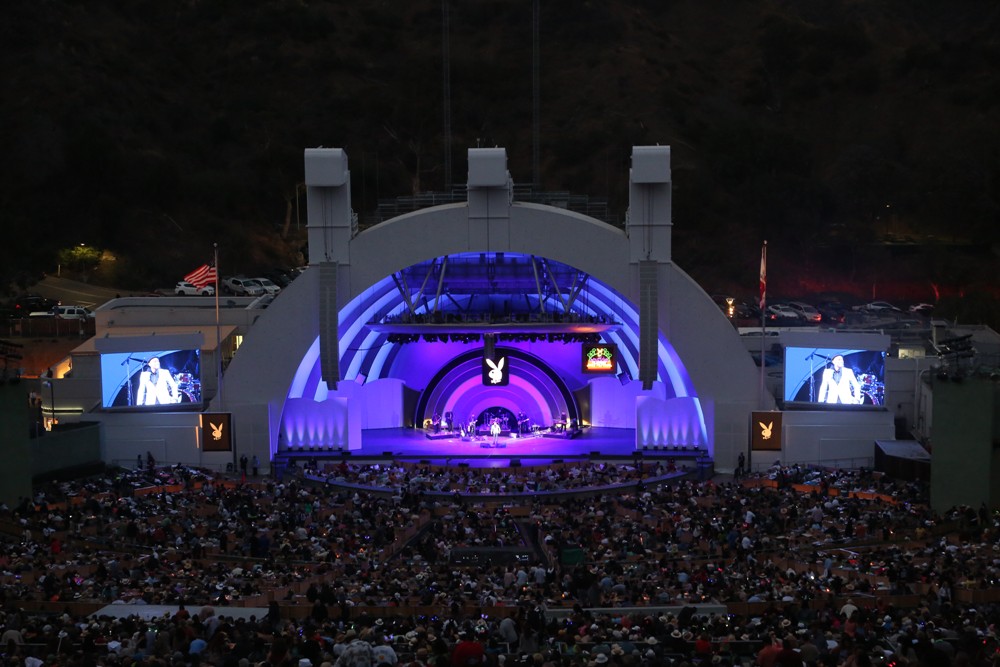 LOS ANGELES PHILHARMONIC ASSOCIATION
TO PRESENT 2018 PLAYBOY JAZZ FESTIVAL
Artists scheduled to perform include (Updated Feb 26th, 2018):
CHARLES LLOYD & The Marvels with special guest LUCINDA WILLIAMS, THE RAMSEY LEWIS QUINTET, LEE RITENOUR and DAVE GRUSIN, ANTHONY HAMILTON, SNARKY PUPPY, JAZMINE SULLIVAN, TOWER OF POWER, KNEEBODY, DAYMÉ AROCENA and ROY GAINES
Annual Playboy Jazz Festival
June 9-10, 2018, at the Hollywood Bowl
Hosted by George Lopez
Tickets on sale Wednesday, February 21, 2018
Los Angeles, CA (January 4, 2018) – (Updated Feb 26th)
The Los Angeles Philharmonic Association will present the 40th annual Playboy Jazz Festival June 9-10, 2018, at the Hollywood Bowl. It is the LA Phil's fifth year presenting the event, and in keeping with tradition, the Festival will feature a first-rate slate of emerging jazz artists as well as renowned superstars of the genre. Performers scheduled to appear include the legendary CHARLES LLOYD & The Marvels with special guest LUCINDA WILLIAMS featuring Bill Frisell, Stuart Mathis, Reuben Rogers and Eric Harland; THE RAMSEY LEWIS QUINTET; LEE RITENOUR and DAVE GRUSIN; R&B singer-songwriter ANTHONY HAMILTON; songstress JAZMINE SULLIVAN; millennial crowd-pleasers SNARKY PUPPY; fabled R&B-based horn section and band TOWER OF POWER celebrating their 50th anniversary; THE MILES ELECTRIC BAND; THE EDMAR CASTANEDA QUARTET with special guest GRÉGOIRE MARET; THE COUNT BASIE ORCHESTRA under the direction of Scotty Barnhart; Afro-Cuban singer DAYMÉ AROCENA from Havana; Camaroon's RICHARD BONA and MANDEKAN CUBANO; Blues legend ROY GAINES; genre-benders KNEEBODY; 17-year-old wunderkind MATTHEW WHITAKER performing with his Trio; Colombian gypsy jazzers MONSIEUR PERINÉ; PARLOR SOCIAL with DESSY Di LAURO x RIC'KEY PAGEOT, THE L.A. COUNTY HIGH SCHOOL FOR THE ARTS JAZZ BAND and THE LAUSD/BEYOND THE BELL ALL-CITY JAZZ BIG BAND under the direction of Tony White and J.B. Dyas.
A special 80th Birthday Celebration honoring the late Freddie Hubbard will also take place – HUBTONES: FREDDIE HUBBARD'S 80TH BIRTHDAY CELEBRATION featuring Randy Brecker, Nicholas Payton, Jeremy Pelt and David Weiss.
The full lineup of talent will be announced February 21 in tandem with the schedule for the complete Hollywood Bowl Summer 2018 season. George Lopez will once again host the event, marking the sixth year of his involvement with the Festival.
Tickets go on sale February 21, 2018.
About the Hollywood Bowl
One of the largest natural amphitheaters in the world, with a seating capacity of nearly 18,000, the Hollywood Bowl has been the summer home of the Los Angeles Philharmonic since its official opening in 1922, and plays host to the finest artists from all genres of music. It remains one of the best deals anywhere in Los Angeles; to this day, $1 buys a seat at the top of the Bowl for many classical and jazz offerings. The venue offers something for everyone. In February 2017, the Hollywood Bowl was named Best Major Outdoor Concert Venue for the 13th year in a row at the 28th Annual Pollstar Concert Industry Awards. For millions of music lovers across Southern California, the Hollywood Bowl is synonymous with summer.
http://www.HollywoodBowl.com
Muse Media