The 32nd Annual Long Beach Bayou Festival | June 23rd-24th, 2018
by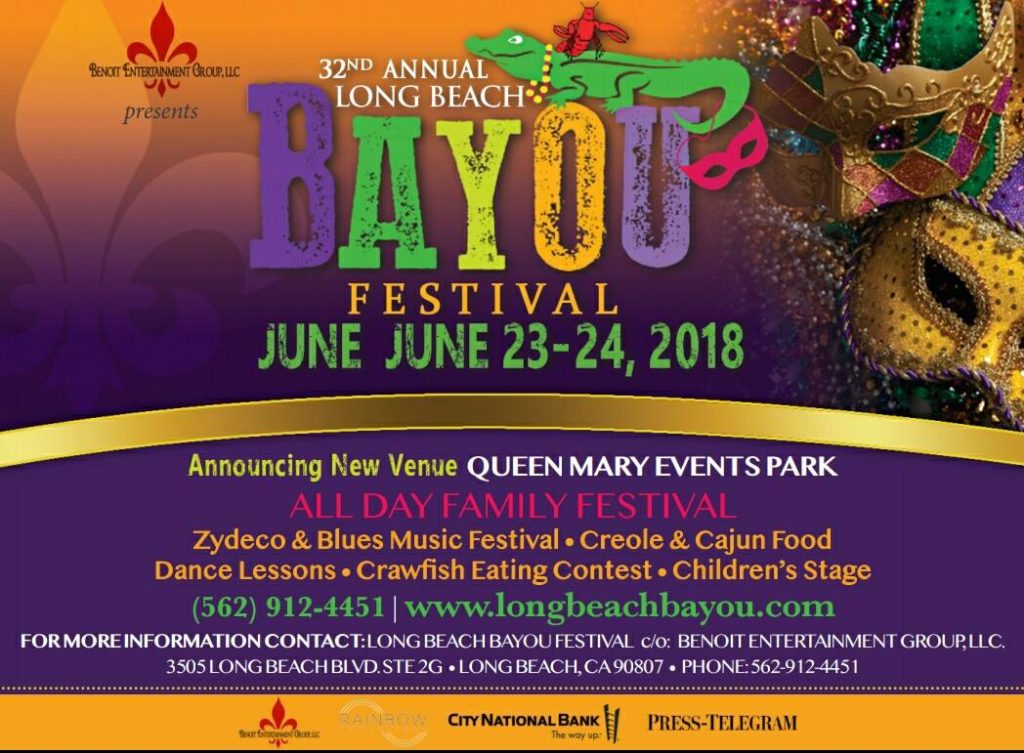 LONG BEACH BAYOU FESTIVAL IN A NEW LOCATION
AT THE QUEEN MARY EVENTS PARK, LONG BEACH, CA!
Saturday & Sunday, June 23-24, 2018
New Orleans Blues, Jazz, R&B, Soul, Zydeco and Cajun Music
Cajun & Creole Cuisine, Dance Instruction & Continuous Dancing,
Mardi Gras Parade, Crawfish & Watermelon Eating Contests,
Activities for Kids and Teens
The Long Beach Bayou Festival will be in a new location this year! Adjacent to the Queen Mary and facing the scenic downtown Long Beach Skyline, the Queen Mary Events Park is an ideal new home for the Bayou Festival with its Mardi Gras atmosphere and colorful French Quarter marketplace featuring Cajun & Creole cuisine and other delicacies, set to the sounds of New Orleans Blues, R&B, Jazz, Zydeco and Cajun music. Here are the pertinent details: (a full music lineup is below)
Long Beach Bayou Festival, June 23-24, 2018
Queen Mary Events Park, 1126 Queens Hwy, Long Beach, CA
Sat: 11 am -­ 9:00 pm, Sun: 11 am – 7:00 pm
Ticket purchase and Info: www.longbeachbayou.com, (562) 912-4451
Tickets: Adults: $30/day-advance, $35/day-gate;
Seniors (60+): $25/advance, $35 at the gate, Children 12 & under: free
Active Duty, Retired and Reservists of the Military: free with current, valid Military ID
Known for top-notch artists in Blues, Cajun and Zydeco and more, the festival features simultaneous stages of music and has plenty of activities for kids. As always the large shaded wooden dance floor will be filled all weekend long. The easy dance instruction for all ages is always a popular feature and includes group participation dances that everyone can enjoy.
Popular festival traditions continue with a colorful costumed Mardi Gras parade led each day by the New Orleans Traditional Jazz Band, and a delectable French Quarter marketplace with gumbo, crawfish etouffee, jambalaya, hush puppies and other Cajun and Creole delights, plus coffees and desserts such as sweet potato pie, beignets and an array of cobblers. The popular crawfish and watermelon eating contests also return this year.
Children of all ages appreciate the Kids Corner featuring storytelling, sing-a-longs, arts and crafts, magic, and costume and mask making for the Mardi Gras Parade. The Kids Corner also features kids shows and games and activities for older kids are also featured.
This year's lineup on the CAJUN/ZYDECO STAGE: includes
Jeffery Broussard and the Creole Cowboys (Saturday, Sunday)
T-Broussard and the Zydeco Steppers (Saturday, Sunday)
Jo Jo Reed (Saturday)
Acadien Cajun Band (Saturday, Sunday)
New Orleans Traditional Brass Band (Saturday, Sunday)
Bonne Musique Zydeco (Sunday)
Crawdaddio (Saturday)
NEW ORLEANS STAGE
South Side Slim (Saturday)
Ray Goren (Sunday)
Shari Puorto Band (Saturday)
Sonny Green Blues Band (Sunday)
Corney Mims & The Knowitallz (Sunday)
McKee Brothers (Saturday)
The Oreo Divas (Saturday)
Marguaret Love & The Lovetts (Saturday)
The event is presented by Benoit Entertainment Group. A portion of the profits will benefit LALA (Louisiana to Los Angeles), a non-profit organization which raises educational funds for local youth to attend college.