The 3rd Annual Riverfront Jazz Festival in Dallas, TX | Aug. 30th – Sept. 1st, 2019
by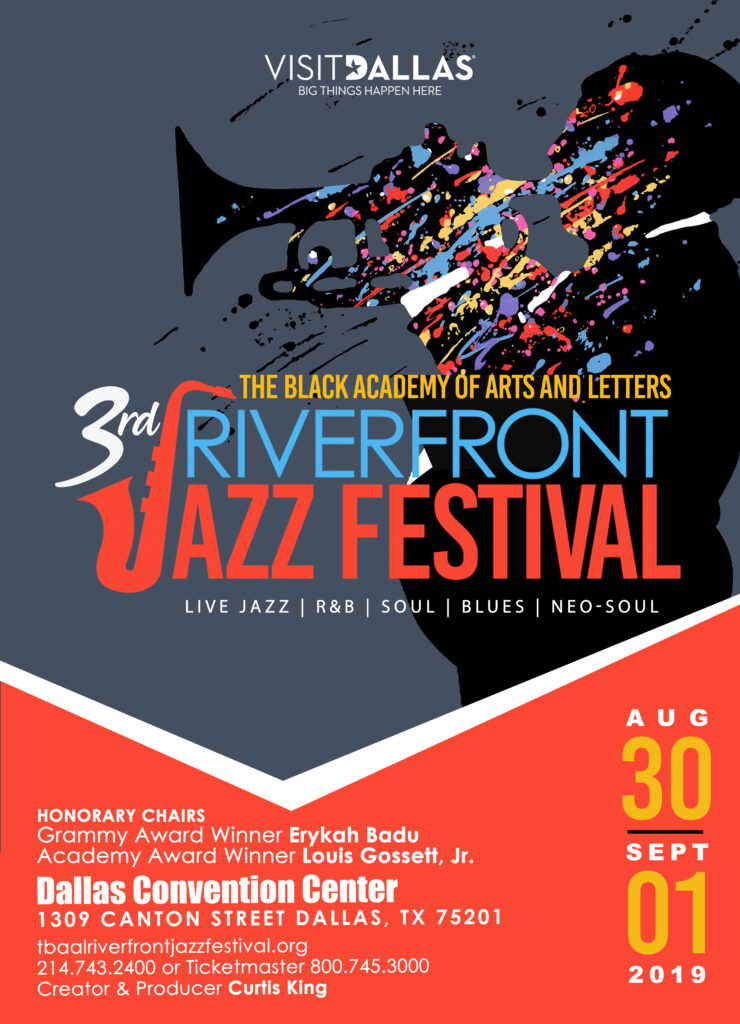 ACADEMY AWARD WINNER LOUIS GOSSETT, JR. AND GRAMMY
WINNER ERYKAH BADU CHAIRS BLACK ACADEMY OF ARTS AND
LETTERS' THIRD ANNUAL RIVERFRONT JAZZ FESTIVAL
DALLAS, TX – Academy award winner LOUIS GOSSETT, JR. and Grammy winner and
Dallas native ERYKAH BADU are co-chairing THE BLACK ACADEMY OF ARTS AND
LETTERS' (TBAAL) 3rd Annual Riverfront Jazz Festival scheduled for Labor Day
Weekend, Friday, August 30 through Sunday, September 1, 2019 at The Kay Bailey
Hutchison Convention Center, 1309 Canton Street, Dallas, TX 75201. TBAAL, one of
Dallas' largest cultural arts institutions, whose mission is designed to promote, foster,
cultivate, perpetuate and preserve the arts and letters of the African-American,
Caribbean and African experience in the Performing, Literary, Visual and Cinematic arts,
created the festival to support its youth Arts-and-Education programs and the institution's
long term sustainability.
This year's stellar lineup of over 25 major musical acts includes: Erykah Badu, Jennifer
Holliday; America's Original Dreamgirl, Raheem DeVaughn, Tito Puente, Jr., Avery
Sunshine, Will Downing, Hiroshima, Benny Golson, Leela James, Jonathan Butler,
Oleta Adams, Roy Ayers, Bilal, Rhonda Ross, Rodney Kendrick, The Yellowjackets, Loose Ends featuring Jane Eugene, Nnenna Freelon, Eddie Henderson, Ahyonz featuring Kenya C, Six Brothers on Sax featuring Joseph Vincelli, Jason Davis, Art Sherrod, Jr., Mark Felton, Tom Braxton and Keith Anderson; The Dallas Hot Band, Dallas Jazz Collective remembering Jazz Legend Nancy Wilson featuring Mike Phillips, Nestor Torres, Cassandra Wilson and The Nasty Brass Band. Members of the Dallas Symphony Orchestra will close the
Festival with a special guest artist to be announced.
For two and one-half days, Festival goers will enjoy day and nightly concerts on three
stages: Visit Dallas Jazz Stage, TBAAL Pop/Blues/Soul Stage and the Office of Cultural
Affairs' Promising Young Artists stage and can attend free after-festival entertainment at
some of Dallas' finest hotel. Festival partners include: Aloft Dallas, Hotel Indigo,
Magnolia Hotel, Homewood Suites by Hilton Dallas, Hilton Garden Inn Dallas Market
Center, Sheraton Suites Dallas Market Center, Fairfield Inn and The Statler.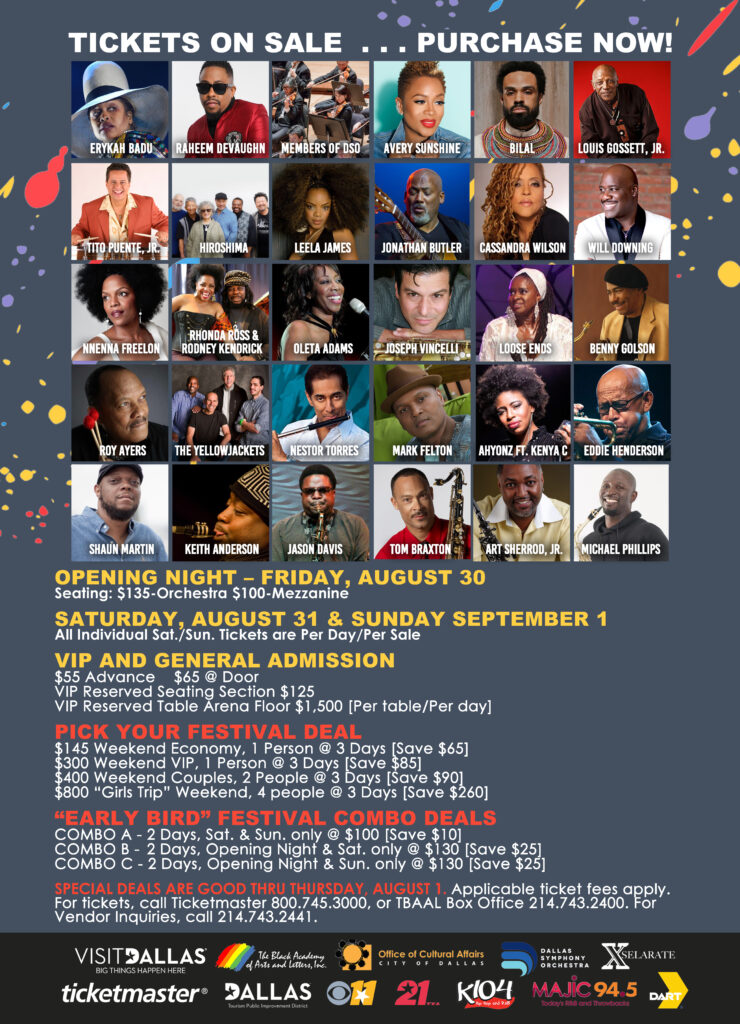 Click The Poster Above To Purchase Tickets!
With VisitDallas as one of the Festival's lead sponsors, multi-Grammy Award winner
Erykah Badu said, "I'm glad to be a part of this annual festival. As a hometown artist, I'm
also thrilled to be a co-chair of this year's festival with one of the greatest actors of our
time, Louis Gossett, Jr." Both Badu and Gossett said that they are delighted to support
an Institution like TBAAL, which trains thousands of young people in the arts.
The 2017 and 2018 Festival attracted over 28,000 attendees from as far away as
California to Connecticut. The montage and varied styles of Jazz, Pop, Neo-Soul, Soul,
Hip-Hop, Blues, R&B and Contemporary music is "just the kind of Festival Dallas has
always wanted," said Mayor Pro Tem Casey Thomas. "The Festival organizers continue
to do a magnificent job to incorporate an array of artists that reflect the growing diversity
of our city," Casey continued.
"After more than 16 years of exploration before the first Riverfront Jazz Festival was
launched, we believe this project has the probability to sustain the longevity of TBAAL;
this festival is the perfect venture to do it," said the brainchild and producer of the
Riverfront Jazz Festival, Curtis King. "It's a 'must do' for us and a 'gift of need' for Dallas.
With the state of America's fluctuating economy, we have no choice but to be creative
entrepreneurs to seek avenues and find ways to generate additional revenue to keep
TBAAL doors open."
Grammy nominee and Festival performer Oleta Adams said, "Curtis King has a heart for
American Black Music and for the people of Dallas. He's showcased so many of us in
our beginnings and our ends. This Institution is dear to me and to so many people around
the country and world.
"Dallas is a magnificent metropolitan area for tourists and music enthusiasts from around
the city and globe to come and relax for this Labor Day Weekend get-away," said
Congresswoman Eddie Bernice Johnson. "The culture and diversity of the arts and
entertainment in Dallas is layered with a music heartbeat that keeps downtown Dallas
and other parts of the city active and vibrant. This year's Festival promises to be even
better and I'm proud to support this Institution and the enormous 2019 Festival lineup."
For more Festival information, updates, ticket discounts and package deal specials, visit
the Festival website at tbaalriverfrontjazzfestival.org. Tickets can be purchased by
calling TBAAL Box Office 214.743.2400 or Ticketmaster 800.745.3000. To purchase
Festival booths, call 214.743.2441.
All proceeds from the Festival will benefit TBAAL's Youth Arts-and-Education program
and the Institution's long-term sustainability.
The Festival is supported in part by VISIT DALLAS, Dallas' Office of Cultural
Affairs, Dallas Tourism Public Improvement District, DART and Member of the
Dallas Symphony Orchestra.
FESTIVAL MEDIA PARTNERS: CBS-11/TXA 21, Univision, Majic 94.5, K104,The
Dallas Weekly, Downtown Business News, Texas Metro, Garland Journal,
NTHEKNOW, The Downtown Business News, I-MessengerNews.com, The Garland
Journal, Texas Metro News, Dallas Gospel Connection, The Dallas Examiner, The Post
Tribune, The North Dallas Gazette.
The Black Academy of Arts and Letters Inc. 2018-2019 42nd Season programs are
supported in part by the City of Dallas Office of Cultural Affairs, TPIDD, CBS-11/TXA21, Urban Radio-Dallas and Evans Engraving