The 12th Annual Pittsburgh International Jazz Festival | Sept. 16th-18th, 2022
by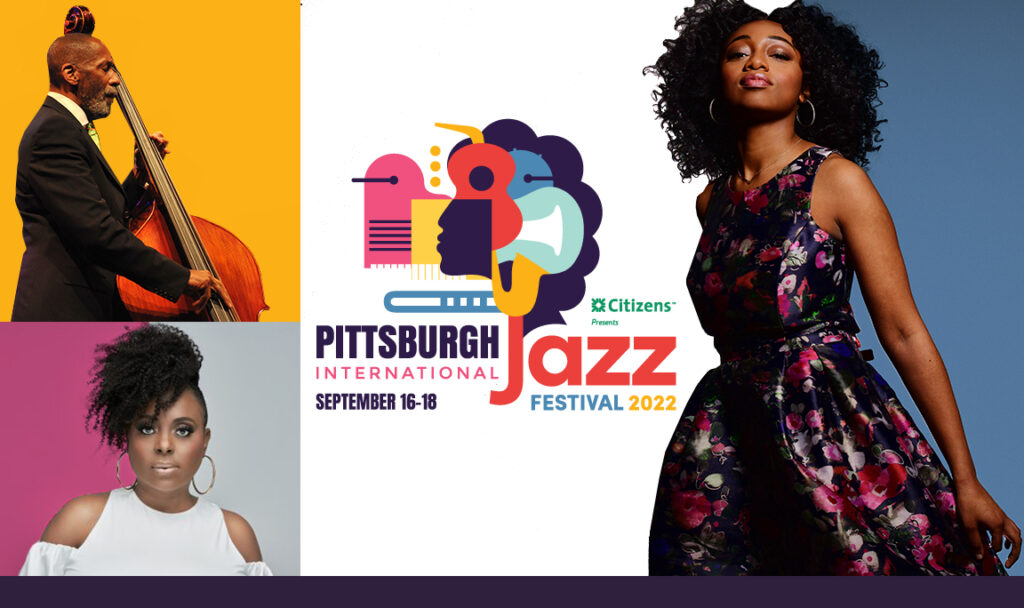 PITTSBURGH: A City Where Jazz History Leads the Future
Celebrate the Legacy of Jazz at the 2022 Pittsburgh International Jazz Festival,
Produced by the August Wilson African American Cultural Center
and Presented by Citizens Bank, September 16 – 18
at AWAACC and Highmark Stadium
PITTSBURGH, PA, August 29, 2022 – Never just a stop on the circuit, Pittsburgh has long been a town that has grown jazz, cultivated it, celebrated it and called it its own. One need not look any further than the storied Hill District – once known as the "Crossroads of the World" and "Little Harlem." To have walked down Wylie Avenue in its heyday, on any given night one might have moved from the Crawford Grill to the Savoy Ballroom to the Hurricane Club to the Bambola Social Club, grooving to the likes of Basie or Ellington, swooning over Ella, or bopping with Coltrane, Mingus, or Dizzy. It was all there. The spirit and energy of jazz was never just a visitor to Pittsburgh, but always a permanent resident of the city.
And, man, was Pittsburgh growing those residents. Musicians who became jazz royalty cut their teeth in this town, people like Ray Brown, Art Blakey, George Benson, Earl "Fatha" Hines, Mary Lou Williams, Billy Eckstine, Ahmad Jamal, Stanley Turrentine and Roger Humphries—just to name a few. In the clubs and venues on the Hill and later in downtown Pittsburgh, they drew inspiration from each other, found their voices, and nurtured sounds that they would soon take out into the world, evolving music in new and innovative ways.
When reflecting about life on the Hill, the great August Wilson once said about a Bessie Smith 78-rpm, "It gave the people in the rooming house where I lived, and also my mother, a history I didn't know they had. It was the beginning of my consciousness that I was the carrier of some very valuable antecedents." And now, more than a half-century since so-called urban renewal demolished daily life in the Hill District, Wilson's sentiments couldn't be any truer. The authorities may have razed the buildings and taken up the streets, but they still couldn't bulldoze its spirit – one that lives on through the 2022 Pittsburgh International Jazz Festival, produced by the August Wilson African American Cultural Center (AWAACC) and presented by Citizens Bank, September 16 – 18 at AWAACC (Highmark Stadium (510 W. Station Square Drive).
A STELLAR LINEUP
The 2022 Pittsburgh International Jazz Festival is not just about a past tradition that looks backward. It's about showcasing some of the greatest living artists out there, as well as the ones we'll be talking about for years to come. Just take a look at the lineup. On almost any given day of the festival stages, you'll see GRAMMY® award winners and nominees, legends and some of the most talked about up-and-comers.
Looking for legends? How about Ron Carter, Stanley Clarke, Average White Band or a tribute to the renowned Donald Byrd and the Blackbyrds. Maybe something more contemporary? Check out Ledisi, Chief Adjuah (formerly Christian Scott), Nate Smith + KINFOLK, Butcher Brown or Incognito featuring Maysa Leak. Maybe you want to make a discovery? Then come hear the likes of Vanisha Gould, Dan Wilson, Laurin Talese or Samara Joy.
And these are but a few of the artists that will be appearing over September 16-18 at the 12th annual Pittsburgh International Jazz Festival. For the complete roster, please check out the daily lineup.
Come Down, Come Home
"Jazz is synonymous with Pittsburgh," says Janis Burley Wilson, President & CEO of the August Wilson African American Cultural Center. "It was important for me to share this strong jazz lineage, and to invite jazz lovers home to Pittsburgh for this annual festival – to celebrate who we've been, who we are, and who we can be." So, come on down to this year's Pittsburgh International Jazz Festival to hear jazz in all of its varieties and variations – an art form that is as diverse as the artists who are making it. And come on home to Highmark Stadium to celebrate a weekend in which the sounds of jazz are more than passing melodies over Pittsburgh, but instead a permanent soundtrack of our identity and heritage – a central part of the soul and spirit of the city, past and present.
TICKET INFORMATION
Tickets for Ron Carter Foursight at the AWAACC on Friday, September 16 start at $55, and are available for purchase here. Tickets for A Taste of Jazz, starting at $47.25, are available for purchase here.
One-day Jazz Fest passes for Saturday or Sunday are available starting at $45, and two-day Jazz Fest passes are available starting at $85 for performances taking place at Highmark Stadium. For more details, and to purchase tickets, please follow this link.
Student one-day passes for $30 and two-day passes for $55 will be available for purchase in-person at the venue, as well as $12 tickets for children (ages 4-12) and free Lap Passes for children under 3. These tickets must be purchased in person at the Highmark Stadium box office.
SPONSORS
The Pittsburgh International Jazz Festival would like to thank its sponsors, including Citizens, Highmark Blue Cross Blue Shield, UPMC, UPMC Health Plan, UPMC Center for Engagement and Inclusion, the Doris Duke Charitable Foundation, Advanced Auto Parts, P&W Motors, Pittsburgh Custom Wraps, Xfinity, Allegheny County Airport Authority, AARP, River's Casino, The Wilson Group and the Libation sponsor, Bacardi. Partners include JazzCorner, Downbeat Magazine, JazzTimes Magazine, Flyspace Productions, Adda Coffee, Uncle Nearest Premium Whiskey and others. A special thank you to the Pittsburgh International Jazz Festival and Highmark Blues & Heritage Festival special media sponsor, The Comcast Corporation.
ABOUT CITIZENS FINANCIAL GROUP, INC.
Citizens Financial Group, Inc. is one of the nation's oldest and largest financial institutions, with $226.7 billion in assets as of June 30, 2022. Headquartered in Providence, Rhode Island, Citizens offers a broad range of retail and commercial banking products and services to individuals, small businesses, middle-market companies, large corporations and institutions. Citizens helps its customers reach their potential by listening to them and by understanding their needs in order to offer tailored advice, ideas and solutions. In Consumer Banking, Citizens provides an integrated experience that includes mobile and online banking, a full-service customer contact center and the convenience of approximately 3,300 ATMs and more than 1,200 branches in 14 states and the District of Columbia. Consumer Banking products and services include a full range of banking, lending, savings, wealth management and small business offerings. In Commercial Banking, Citizens offers a broad complement of financial products and solutions, including lending and leasing, deposit and treasury management services, foreign exchange, interest rate and commodity risk management solutions, as well as loan syndication, corporate finance, merger and acquisition, and debt and equity capital markets capabilities. More information is available at www.citizensbank.com or visit us on Twitter, LinkedIn or Facebook.
ABOUT AUGUST WILSON AFRICAN AMERICAN CULTURAL CENTER
The August Wilson African American Cultural Center is a non-profit cultural organization located in Pittsburgh's cultural district that generates artistic, educational, and community initiatives that advance the legacy of Pulitzer Prize-winning playwright August Wilson. One of the largest cultural centers in the country focused exclusively on the African American experience and the celebration of Black culture and the African diaspora, the non-profit organization welcomes more than 119,000 visitors locally and nationally. Through year-round programming across multiple genres, such as the annual Pittsburgh International Jazz Festival, Black Bottom Film Festival, AWCommunity Days, TRUTHSayers speaker series, and rotating art exhibits in its galleries, the Center provides a platform for established and emerging artists of color whose work reflects the universal issues of identity that Wilson tackled, and which still resonate today. htpp://www.awaacc.org
Don't miss the Highmark Blues & Heritage Festival, also produced by AWAACC, September 14-15 at Highmark Stadium. For more information, including the daily schedules, go to http://blues.awaacc.org.
Carolyn McClair Public Relations