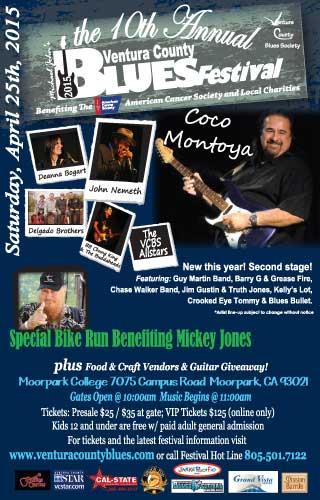 10TH ANNUAL VENTURA COUNTY BLUES FESTIVAL BLENDS AWARD-WINNING ACTS, POPULAR FESTIVAL PERFORMERS FROM THE PAST; SPECIAL 'BENEFIT RIDE' FOR MICKEY JONES; NEW "SECOND STAGE" OF CONTINUOUS LIVE MUSIC; BENEFITS THE AMERICAN CANCER SOCIETY

Saturday, April 25, 2015 – 11:00 A.M. to 8:00 P.M.

(MOORPARK, CALIF) – Excitement is building for Southern California's longest-tenured Blues festival, the 10th Annual Ventura County Blues Festival, taking place Saturday, April 25 on the grounds of beautiful Moorpark College, 7075 Campus Rd. in Moorpark, California. Gates open 10 a.m.; music begins at 11 a.m.