The G.M.W.A. 47th Annual Convention in Atlanta, GA | July 26 – Aug. 1, 2014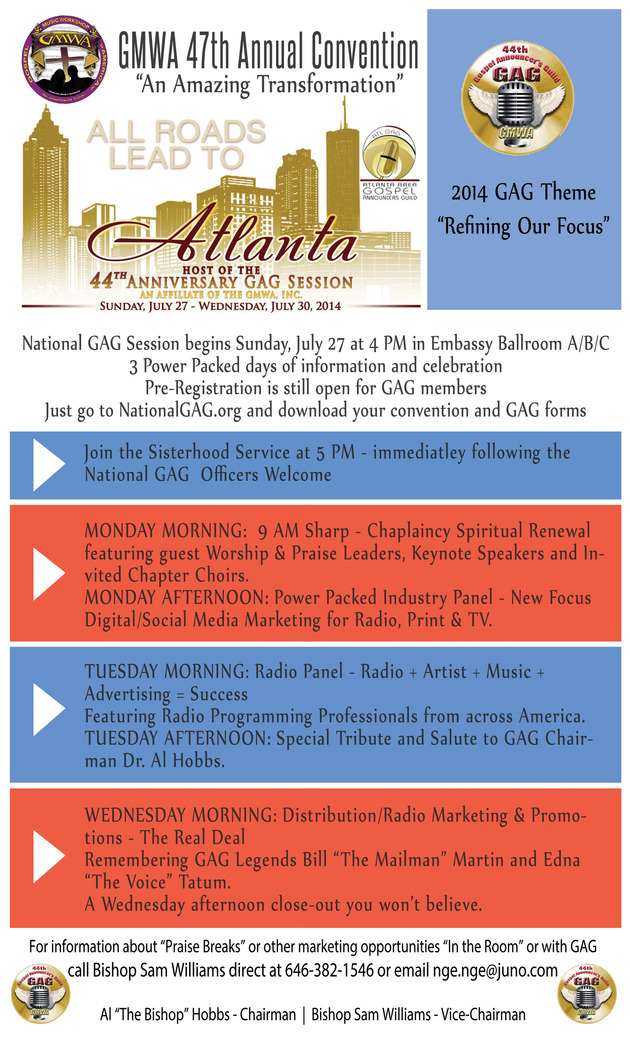 The largest Gospel Music gathering will soon be underway. The Gospel Music Workshop Of America 47th Annual Convention is set to surge into Atlanta, GA July 26 – August 1. In its forty-seventh year, the GMWA was founded in 1967 by Rev. James Cleveland as a means to bring people together who love gospel music. Delegates, supporters and industry executives from all over the world participate in the conference, academic music and ministry sessions, live recordings and new artist showcases.
The Gospel Announcers Guild (GAG), an affiliate of the GMWA, will host a series of industry roundtables and panel discussions focusing on radio, marketing, social media and music ministry. The National GAG sessions will run from July 27 – 30. For more information and registration for the GAG sessions, visit http://www.nationalgag.org/.
GMWA is offering special early bird registration prices for delegates and non-delegates. To register for the GMWA Convention click here and we will see you in ATLANTA!
The Bellamy Group