The Classical Side of Cuban Music Concert in L.A. | June 19th, 2015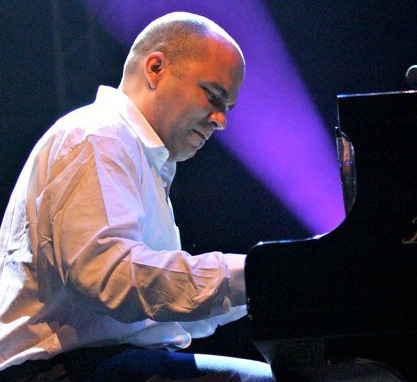 ACCLAIMED CUBAN PIANIST DANIEL AMAT AND TOP LATIN MUSICIANS CELEBRATE THE CLASSICAL SIDE OF CUBAN MUSIC IN LIVE CONCERT, FRIDAY JUNE 19th AT MARK TAPER FORUM
Celebrating the extraordinary heritage of Cuban music, acclaimed Cuban pianist Daniel Amat, accompanied by some of the most sought after Latin musicians in Los Angeles, will pay tribute to Cuba's most prolific composers in a special concert, Friday, June 19th. The event will be held at the Mark Taper Forum in the Music Center, (located at 135 N. Grand Avenue,) in downtown Los Angeles from 8:00 p.m. to Daniel Amat at JavaJazz10:00 p.m. Showcasing the classical side of Cuban music,(reminiscent of the "Buena Vista Social Club") from Contradanza to the Mambo, the concert will feature the music of Ignacio Cervantes,(1895-1963), Ernesto Lecuona,(1895-1963), and Israel 'Cachao' Lopez, (1918-2008),creator of the modern Mambo and and master of thedescarga, (improvised Cuban jam sessions). Ticket prices range from $35 to $65 and can be purchased at the Mark Taper Forum box office or on the music center website at www.musiccenter.org.
The tribute concert will feature the exceptional talents of pianist Daniel Amat, who will be joined by multi-instrumentalist Justo Almario, percussionist Angelo Rodriguez, violinist Dayren Santamaria, cellist Giovanna Clayton, violinist Pablo Mendez, violist Jorge Moraga and bassist Eddie Resto.
With strong musical roots in Spain and West Africa, including influences from Europe, France, West Africa, Jamaica, and the United States, Cuba has long been immensely influential in the creation of many musical genres in 19thand 20thCentury music. Today, the Cuban influence can be heard not only in jazz and salsa, but also in Argentinian Tango, Afro-beat, Spanish
nuevo flamencomusic and more.
An internationally recognized artist, pianist Daniel Amat performs in prestigious venues throughout Europe and Latin America. He has recorded with the renowned Chucho Valdeś and Orlando Valle aka Maraca, played with famed trumpeter Arturo Sandoval, actor/musician Andy Garcia, the Spanish Harlem Orchestra and many others. Surrounded by the rhythms and harmonies of Cuba growing up, he was heavily influenced by his father, the renowned Pancho Amat, one of Cuba's most importantTres(Cuban guitar) players who passed on the diverse traditions of Son, Trova, Danzon, and Rumba. A classically trained graduate of the National School of Music in Cuba, Amat has a unique, authentic style fusing the formal elements and balance of classical music with the freedom of jazz, reminiscent of Oscar Peterson or Art Tatum. His debut CD, "El Piano Que Ilevo" received the 2005 Cubadisco prize for Instrumental Music album his second CD, "Bilbao-La Habana y Vuelta" was also nominated for the prize in 2010, and a new soon to be released CD is in the works.
Acclaimed Colombian multi-instrumentalist and composer Justo Almario, who plays soprano and tenor sax, clarinet and flute, will bring the unique stylistic fusion of Latin, Afro-Cuban, South American, funk and jazz rhythms he is famous for. A graduate of the prestigious Berklee School of Music, he has performed with a who's who of artists, starting with Mongo Santamaria, to everyone from George Duke and Tito Puente to Alex Acuña, TOLU, Queen Latifah, Chaka Khan, Herb Alpert, Billy Higgins, the Los Angeles Master Chorale at Disney Hall, Patrice Rushen's Grammy Awards Orchestra and many more. He was an integral part of the famous Newport Jazz Festival Tour produced by George Wein, and is a featured player on numerous Grammy-winning and Grammy-nominated recordings.
Percussionist Angelo Rodriguez is recognized for his evocative style. A standout on the New York and L.A. nightclub circuit, Rodriguez has toured as a featured performer with such superstars as Jennifer Lopez, Nelly Furtado, Britney Spears, and the Dave Matthews Band, to name a few. A topflight musician and performer, he fronts an all- star band, Lucky 7 Mambo and his newest CD release, "Chapter 1" can be found on iTunes.
Adding to the group's international lineage is violinist Dayren. Another Cuban native, (and also the daughter of a professional musician,) Dayren began playing at the age of 8, ultimately becoming the concertmaster of Cuba's Camerata Romeu and playing numerous extended engagements with the National Symphonic Orchestra of Havana. She has played with such highly respected artists as Gumbi Ortiz, Fred Johnson, world-music group Wassalou and more. Now living in Los Angeles, she has performed with actor/musician Andy Garcia, Latin jazz ensemble Mongorama (she is also featured on their Grammy-nominated CD), and a variety of other groups.
Born in Mexico, cellist Giovanna Moraga Clayton grew up surrounded by music and made her solo debut at the tender age of 14. A versatile artist and well-known face in the Hollywood music scene, she has recorded and played with such superstars as Celine Dion, Whitney Houston, Andrea Bocelli, Alicia Keys, and Stevie Wonder in addition to such world-renowned artists as Yo-Yo Ma, Pinchas Zukerman, Pierre Boulez and Daniel Barenboim among many others. After a fellowship with the Chicago Symphony, Clayton returned to L. A. where she won positions with the Los Angeles Chamber Orchestra, the Hollywood Bowl Orchestra and more.
For further tickets and further information, please call: The Mark Taper box office (213) 628-2772 or visit www.emersonbranmanagement.com.
Nina Gordon PR