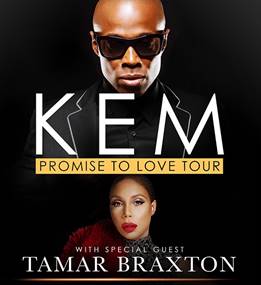 TICKETS ON SALE TODAY FOR KEM's 2015 U.S. HEADLINING "PROMISE TO LOVE" TOUR!

THREE-TIME GRAMMY®-NOMINATED R&B ARTIST KEM
PREPARES TO HIT THE ROAD THIS NOVEMBER!

WITH SPECIAL GUEST: TAMAR BRAXTON

TOUR TICKETS GO ON SALE TODAY, FRIDAY, SEPTEMBER 18 AT 10AM EST
VISIT www.MusicByKEM.com FOR TICKET & VIP PACKAGE INFO

TICKET PURCHASES INCLUDE A COPY OF KEM's 'PROMISE TO LOVE' CD!
FOR EVERY TWO (2) TICKETS PURCHASED, FANS WILL BE ABLE TO REDEEM A CERTIFICATE FOR
ONE (1) PHYSICAL CD & ONE (1) CD DOWNLOAD
(offer not available in all cities – see below for info)


September 18, 2015 Detroit, MI – Three-time GRAMMY®-nominated Motown Artist, KEM, has announced dates for his 2015 U.S. Headlining "PROMISE TO LOVE TOUR" with special guest, TAMAR BRAXTON. KEM's "PROMISE TO LOVE TOUR" kicks off on Friday, November 6 in Los Angeles, CA and is named for his current CD by the same name. Tickets go on sale to the public today, Friday, September 18, 2015 at 10:00am EST. Ticket and VIP package information is available at MusicByKEM.com.