The 2016 NAMM Show in Anaheim, CA | Jan. 21st-24th, 2016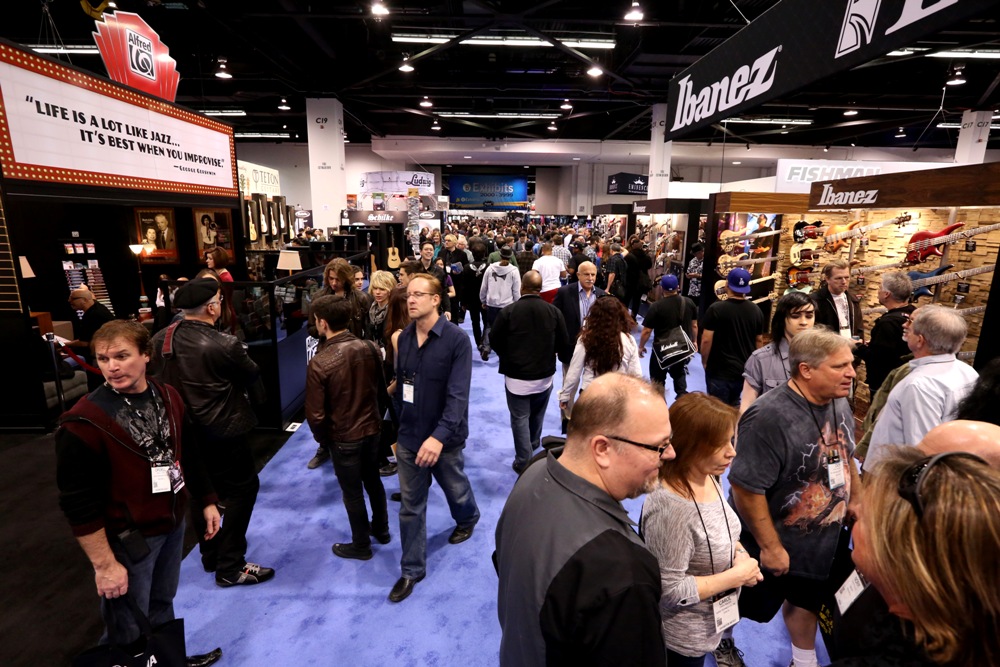 The 2016 NAMM Show Prepares For Largest Global Presence In Show's History
NAMM unveils 2016 floor plan including new networking, educational and exhibit features
Carlsbad, CA, October 2, 2015 – The global music products industry can expect to see thousands of business opportunities and expanding member benefits on arrival to Anaheim for the 2016 NAMM Show. The more than 96,000 people expected to attend from January 21 to 24 will have the chance to experience the latest in music instruments and products, while learning from fellow industry leaders about the best music-business practices. The 2016 NAMM Show floor plan posted today, offers a first look at new features, pavilions, education areas and more.
"This crazy little thing we call the music industry is changing and evolving incredibly fast, but the human desire to make and enjoy music is stronger than ever," said Joe Lamond, president and CEO of NAMM. "NAMM members from around the world are embracing this change and will gather once again in Anaheim to celebrate new product innovations, share ideas and learn at NAMM U. They will also enjoy the networking and camaraderie that has made this event the four most vibrant days on the industry calendar."
With more than 650 international companies exhibiting in Anaheim, the global presence at the 2016 NAMM Show is the largest of any NAMM Show yet. There will be international exhibit pavilions for China, Germany, Spain and the United Kingdom, with Argentina's doubling in size this year. In total, 1,600 NAMM member companies representing over 5,100 brands of instruments, music products and technology, including Yamaha Corporation, Fender Music Instrument Corporation, Roland Corporation, Gibson Brands, and U.S. Music Corporation are expected to show at the 2016 event.
The number of small to medium-sized companies exhibiting at the show is surging in 2016. At the upcoming show, 350 new NAMM member companies are planning to make their NAMM Show debut. Established exhibiting companies including Pioneer DJ Americas, Inc. are expanding their displays to feature more instruments and music technology.
Growth in acoustic instrument sales continues to be reflected in the NAMM Show exhibit mix. In 2016, the growth is even more apparent as several NAMM member companies, including Taylor Guitars, expand their exhibit space. There will also be an increase in boutique, handcrafted instruments on display.
Synthesizers will also have an increased presence at the show in 2016, following the notable resurgence in 2015. The boom in demand from synthesizer manufacturers is so phenomenal that NAMM is dedicating a new space on the floor for that category. Another new area Software.NAMM, The Music Software Community presented by NAMM and IMSTA, will bring together music-related software providers.
TEC Tracks, which replaces The H.O.T Zone on the second floor of the convention center, will host more than 70 educational sessions geared toward recording, live sound, lighting, DJ and entertainment technology professionals. TEC Tracks will feature keynote speakers, including record producers Eddie Kramer and Tony Brown. Attendees will also be exposed to future-forward education sessions in such areas as game, Internet and app audio, and for the first time in Anaheim, A3E (Advanced Audio + Applications Exchange) will host a program on the future of audio on Saturday, January 23.
The NAMM Idea Center will relocate to the lobby giving members more room to enjoy the educational sessions. This new, centrally located complex will feature a robust educational schedule, revamped design and a lounge where members can network and interact.
The NAMM Member Center will relocate to Lobby B as it also expands. For the first time ever, it will offer a new digital content creation area designed to help music fans create unique stories to engage their local communities and customer bases while at the NAMM Show. There will be access to more focused Wi-Fi, plus extra room for people to connect. Both the NAMM Idea Center and the NAMM Member Center will incorporate new graphic designs and interactive elements to enhance the member experience.
The NAMM Show smartphone app is available now for download on iOS and Android. Users can create profiles and connect with other members while attending the show. The updated app includes a new "What's Happening Now" section that informs users about events in real time.
Work has begun on the eagerly anticipated expansion to the Anaheim Convention Center. The new exhibit space will be open to the music industry starting in 2018. NAMM's trade show teams are working diligently to ensure that the impact of the expansion's construction is minimal during 2016 show.
NAMM members are encouraged to register for badges by January 6, 2016 – at which point, badge registrations will cost between $50 and $100, depending on the badge type. There's still time to reach the world's most important music products buyers and decision makers by securing exhibit space at the 2016 NAMM Show.
Source: NAMM