Warren Hill's Cancun Jazz Festival in Riviera Maya, Mexico | Aug. 31st – Sept. 3rd, 2017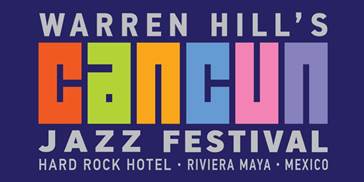 Scores of jazz fans planning a summer fling in Cancun
Star-studded lineup, exotic tropical location, luxurious accommodations and the new Stay & Play option have made Warren Hill's Cancun Jazz Festival the hot ticket for Labor Day Weekend.
AGOURA HILLS (10 July 2017): With more than a decade of planning music vacation experiences in alluring locales on land and at sea around the world, it should come as no surprise that in his second full year at the helm, Warren Hill has already doubled the number of festivalgoers preparing to end summer with a trek to his Cancun Jazz Festival at the five-star Hard Rock Hotel in Riviera Maya, Mexico over Labor Day Weekend (August 31-September 3, 2017).
The chart-topping saxophonist knows that his crowd covets value and all-inclusive packages just as much as they value the names on the marquee, that the location really does matter, that posh accommodations and amenities are a must, that most of the performers should be jazz artists if you bill the event as a jazz festival, and that sound, lighting and production values are not to be skimped upon.
The star power Hill has assembled to perform at this year's Cancun Jazz Festival rivals or eclipses the lineup at any event on land or at sea and is comprised of smooth and contemporary jazz legends and royalty – from the seminal George Benson and Kenny G to charismatic crossover artist Chris Botti. Smooth R&B singer-songwriter Brian McKnight will be featured along with instrumental luminaries Rick Braun, Norman Brown, Jesse Cook, Candy Dulfer, Richard Elliot, Euge Groove, Keiko Matsui, Paul Taylor and Peter White. Fan favorites Eric Darius, Michael Lington, Brian Simpson and Elliott Yamin complete the bill.
"I really wanted to keep the artists close to the format. I believe that if you are a core fan of smooth and/or contemporary jazz, this is the festival for you. I even feel that Brian McKnight has a tremendous amount of jazz influences in his music. He can riff and improvise as well as any jazz musician I have ever heard. And for those who want to stretch their musical boundaries even further, we have virtuosos such as Chris Botti, Jesse Cook and Keiko Matsui to keep you on the edge of your seat," said Hill.
Along with the four-night festival package, new for 2017 is the seven-night Stay & Play option. In addition to four nights of concerts, Stay & Play (August 28-30) adds three days of excursions to Cozumel, Tulum Mayan ruins, Cenotes cave pools and shopping in Playa del Carmen along with a Cirque du Soleil performance to the front end of the vacation. Both packages are all-inclusive and cover reserved concert seating, casual meals and a la carte dining, beverages (including alcohol), access to all festival events and after parties, and resort credits that can be applied to a variety of amenities such as golf, spa treatments and tours.
"The best part of this event is that you have an all-inclusive package. Your wallet never has to leave your room. And there is a very relaxed atmosphere. You have the days to spend at your own leisure – either exploring Mexico or just chilling on the private white sand beach," said Hill, who co-promotes Rock Getaway at the same location October 26-November 1 headlining Don Henley, Santana, Steve Miller Band, Roger Daltrey, Bad Company, Foreigner, REO Speedwagon, Pat Benatar, Cheap Trick and many more.
In addition to his award-winning recording career, Hill has been producing first-class music vacation experiences ever since he launched the first smooth jazz cruise in 2004. "There weren't very many options for musical vacations back then. Now there are multiple cruises and destinations. But I feel the Cancun Jazz Festival overshadows all the other options in terms of the experience. The festival is growing every year as people begin to understand the incredible value that the event has to offer."
As a world-class performer himself, Hill understands the importance of presenting the talent in the finest settings with premier production values. "Our production quality is second to none. Staging, sound, lights and venues are all top notch. Even though the festival takes place south of the border, we procure some of the best production on the continent. As an artist who has performed in every type of venue – from small clubs to The Hollywood Bowl – this is as good as it gets. And why stop at just great production? Last year's closing ceremony featured Mayan dancers and fireworks. We put the 'Can' in Cancun, baby!"
To book a festival package or for more information, please call 805.491-JAZZ or visit https://cancunjazz.com/.
Great Scott P.R.oductions