Pre-4th of July Old School Jam in Washington, DC | July 3rd, 2017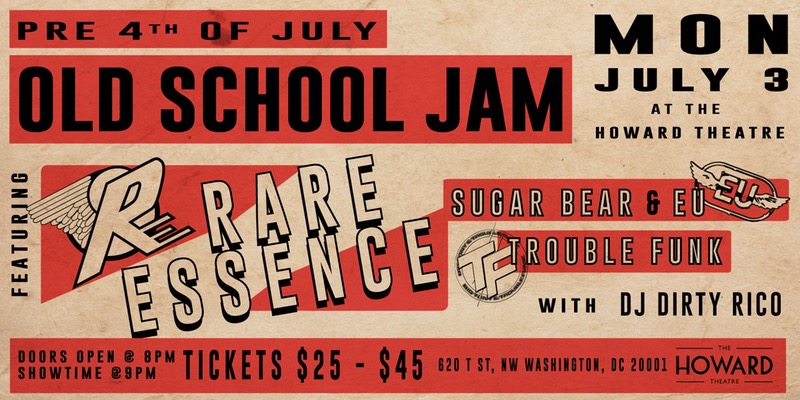 Pre-4th of July Old School Jam feat. Rare Essence, Sugar Bear & EU and Trouble Funk
at The Howard Theater
620 T Street, NW • Washington, DC 20001 • • (202) 803-2899
w/ DJ Dirty Rico
Monday, July 3, 2017
Showtime @ 9:00 PM
Doors open @ 8:00 PM
Tickets $25 – $45
21+
VIP Reserved Booths on Floor
• $45 per Ticket – Must Buy Entire Booth
• Booth for 4 = $180
• Booth for 6 = $270
General Admission – Standing Room
• $25 Advance / $30 Day of Show
• Limited Seating Available
• Full Dinner Menu Available
• $10 Minimum Per Person, For All Tables
• Premium Valet Parking Tickets Available on Ticketmaster.com
• Review Our FAQ @ thehowardtheatre.com/faq
Rare Essence
Rare Essence, Washington's premier Go‑ Go band going on four decades has built a devoted fan base that spans multiple generations.
Originated in the mid '70s by the late Godfather of Go-Go, Chuck Brown, Go-Go links songs together over percussion breakdowns—a raw, non-stop party groove fueled by congas, cowbells and timbales, with call and response interactions that obliterated divisions between a band that doesn't stop playing and audience that won't stop dancing.
Sugar Bear & EU
EU (Experience Unlimited) is one of the original WashingtonDC Go-Go bands. Fronted by founding member Gregory "Sugar Bear" Elliott, the original members all attended Ballou High School (currently the subject of a critically acclaimed documentary). The band chose the name Experience due to their respect for the Jimi Hendrix Experience, and Unlimited because they did not want to limit the range of their music. Their early regional hits included EU Freeze, Lock Your Butt, and Knock 'Em Out Sugar Ray. Although they are best known for their Grammy nominated, massive worldwide hit Da-Butt from Spike Lee's "School Daze" soundtrack, EU scored hits with Salt & Papa (Shake Your Thang), with rap innovator Kurtis Blow (Party Time), and on their own with Buck Wild and Taste of Your Love. Da Butt won Soul Train's best R&B/Soul Single, Group in 1989.
Trouble Funk
Trouble Funk, a musical group born on the streets of Washington, D.C., is synonymous with the emergence of the non-stop, percussion driven, best seen live, experience the party, audience participatory call and response, grassroots, homegrown music called Go-Go. As the world wide ambassadors of the musical genre, Go-Go, a distant but older cousin of Hip-Hop, Trouble Funk has taken their sound from the gritty streets of D.C. to the clubs of the nation and the festivals around the world for the past 35 years.
Click HERE for more ticket purchase and additional information.