Norman Brown's Joyous Christmas Tour at Dimitriou's Jazz Alley | Dec. 21st-23rd, 2017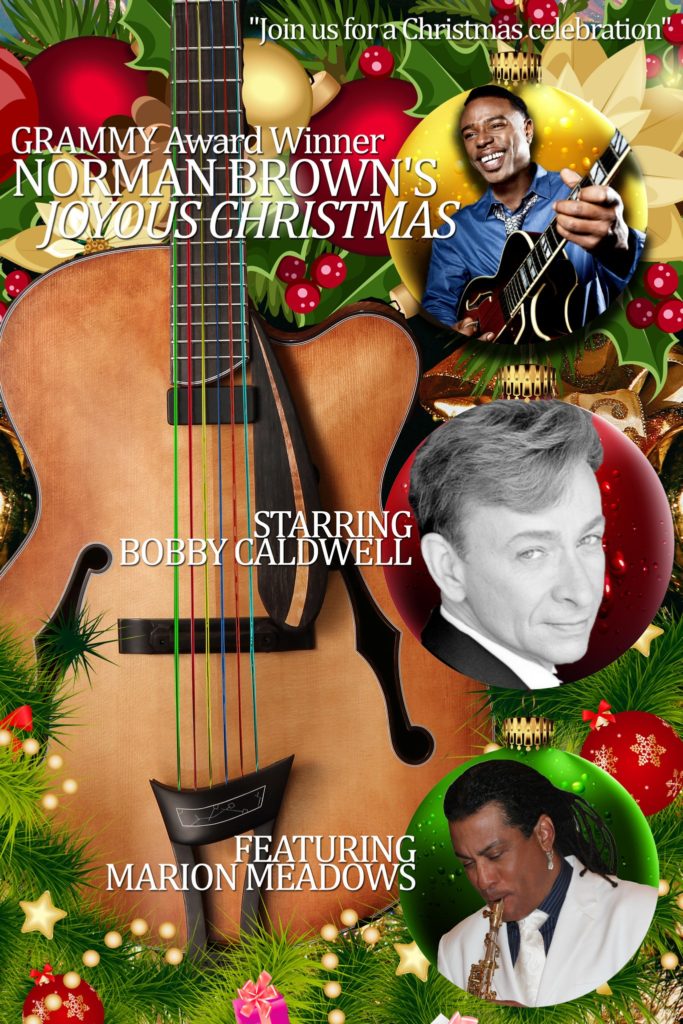 Norman Brown's Joyous Christmas Tour with Bobby Caldwell & Marion Meadows
December 21 – 23, 2017
FROM: The Pacific Jazz Institute at Dimitriou's Jazz Alley
2033 6th Avenue, Seattle, WA, 98121
CONTACT: Rachael Millikan, 206-441-9729, [email protected]
SHOW ADMISSION: $50.00 (includes $6.00 service fee)
The Pacific Jazz Institute at Dimitriou's Jazz Alley welcomes Norman Brown, Bobby Caldwell, and Marion Meadows for three nights of a Joyous Christmas. Show times are Thursday at 7:30pm, Friday and Saturday at 7:30pm and 9:30pm. Doors open at 6:00pm Thursday and 5:30pm Friday and Saturday.
The holidays have been an important time to Jazz almost since the inception of the genre. From the early days of Billie Holiday and Louis Armstrong, to the classic Vince Guaraldi A Charlie Brown Christmas, all the way to contemporaries such as Dave Koz, Diana Krall, and Wynton Marsalis, Christmas and Holiday music has been a massive vehicle for jazz music. This holiday season, guitarist and vocalist Norman Brown brings his blissful Christmas show to Seattle for 3 nights and 5 shows.
Norman Brown is a multi-talented guitarist, composer, and singer who offers tasty sonic tidbits of classic R&B and contemporary jazz. He has earned both critical acclaim and off-the-charts record sales, not least of all his 2003 Grammy Award for Best Pop Instrumental Album with Just Chillin' and his 2005 compilation, The Very Best Of Norman Brown, which was the best-selling smooth jazz albums of that year. His Christmas show finds him delivering classic Christmas hits such as "The Christmas Song" alongside blockbuster collaborators Bobby Caldwell and Marion Meadows.
Bobby Caldwell's live performances are always electrifying. As a singer, Caldwell has a successful career with numerous solo releases and collaborations, earning him accolades and selling over 40 million records. Caldwell's timeless classic, "What You Won't Do For Love," has been recorded and sampled by more than 100 artists, and his song, "Open Your Eyes," appeared in the Grammy-nominated platinum hit by Common. Caldwell regularly sells out his own shows here in town, including his smash holiday show at Jazz Alley back in 2014.
Smooth jazz-styled soprano saxophonist Marion Meadows is also no stranger to the holiday performance. This 2017 marks Meadow's 25th consecutive Christmas show at Toad's Place in Connecticut, so it's no surprise that he would be a shoe-in for this all-star holiday cast. With a career that has spanned almost 4 decades, Meadows played sideman and session musician for a series of greats before his solo debut in 1990, For Lovers Only. Never ceasing in his desire to express himself, Meadows is also an accomplished fine-artist, graphic designer, and semi-pro cyclist. His ambition and dedication to his craft and to the holiday spirit will speak volumes on stage this December.
www.normanbrown.com www.bobbycaldwell.com www.marionmeadows.com
Video and more: https://www.jazzalley.com/www-home/artist.jsp?shownum=3854
Dimitriou's Jazz Alley