Pittsburgh International Jazz Festival 2022 – A Special Virtual Presentation | Jan. 4th-5th, 2023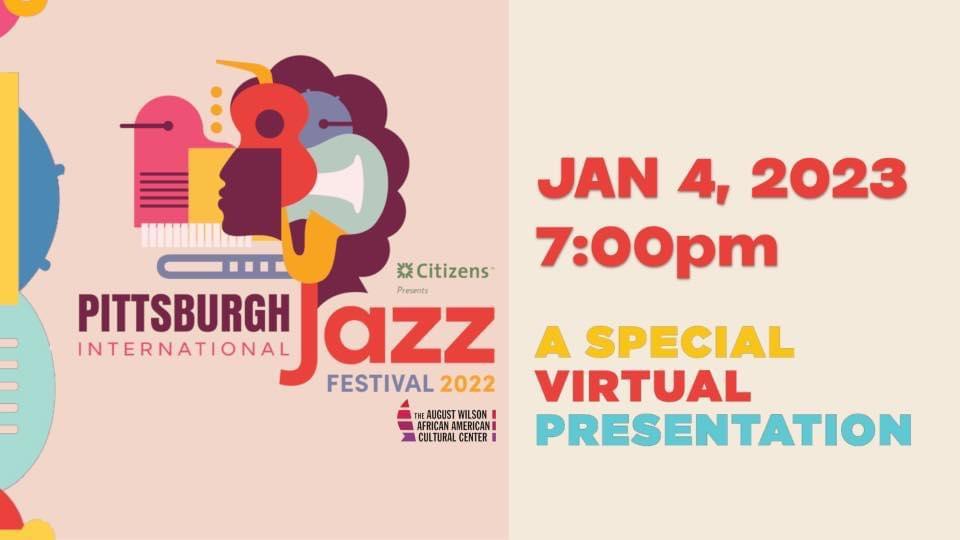 Pittsburgh International Jazz Festival Takes Another Bow
with Highlights from 2022 Concerts Airing over 24 Hours
Wednesday, January 4 – Thursday, January 5, 2023, 7:00 pm
PITTSBURGH, PA, January 2, 2022 – Jazz has always found a home in Pittsburgh, so musicians know to bring their musical A-games to the Steel City, particularly to the Pittsburgh International Jazz Festival (PIJF), presented by Citizens. If you missed this year's festival or want another look, tune in Wednesday, January 4, 2023, at 7:00 pm, through Thursday, January 5, at 7:00 pm when The August Wilson African American Cultural Center (AWAACC) airs a special virtual presentation featuring highlights from the September 16 -18, 2022 festival. (See Below)
The broadcast also can be viewed at pittsburghjazzfest.org and via Facebook Live at facebook.com/jazzcorner and facebook.com/pittsburghintljazzfest
"This year's festival featured an eclectic jazz panorama of styles and approaches that range from the straight-ahead to beyond, and we are thrilled to provide highlights from almost every performance," said Janis Burley Wilson, AWAACC President and CEO. "After working on the event throughout the year, it's always bittersweet when the last band takes it bow and the crew begins the load out. But, through this special 24-hour presentation, we all get another look, another opportunity to celebrate the music and share the joy of Jazz."
Bassist Stanley Clarke, co-founder of the iconic jazz fusion group Return to Forever set the stage on fire with his band N 4Ever that featured young saxophonist Emilio Modeste along with keyboardist Jahari Stampley, guitarist Collin Cook and drummer Jeremiah Collier.
D Byrd@90, an all-star tribute dreamed up by Festival producer Janis Burley Wilson, honored the pioneering Detroit trumpeter/educator Donald Byrd (1932-2017), whose career spanned from the hard bop of the 50s to the jazz fusion of the 70s and the hip-hop of the 90s, with hits like "Change," "Black Byrd" and "Dominoes." The tribute also featured Byrd collaborator saxophonist Gary Bartz, drummer Keith Killgo (member of Byrd's Howard University-formed group, The Blackbyrds) with trombonist Frank Lacy, bassist Endea Owens, drummer Nate Smith, guitarist Dan Wilson, vocalist Anita Brown Levels, pianists Brett Williams and Orrin Evans (who also led several spirited jam sessions at AWAACC), spoken word artist A. Orlando Watson, saxophonist Nathan-Paul Davis and trumpeter Sean Jones, who served as music director.
The British acid-jazz band Incognito, featuring their silky soul singer Maysa Leak, played a number of their high-energy, club friendly hits, including "Step Into My Life" and "Deep Waters." Hailing from Scotland, the legendary Average White Band, now in its fifth decade, got the crowd dancing to some of their classic tracks including "Person To Person," "Work to Do" and "Whatcha Gonna Do for Me."
It's always a pleasure to see now 23-year-old Samara Joy mesmerize everyone with her cool contralto, singing songs from her new album, Linger Awhile. The enthusiastic audience also partied hard with the New Orleans-born singer Ledisi, who performed songs brimming with feminine power, self-love and faith, with support from her musical director and Pittsburgh native Rex Rideout.
The broadcast will also offer up performances by Nate Smith + Kinfolk, Chief Adjuah, Melissa Aldana, Dan Wilson Quartet, Vanisha Gould Quartet and Butcher Brown.
In the words of drummer Lenny White, who played a blistering set with renowned bassist Buster Williams & Something More, "If you're not here, you should be." But, if you weren't there, don't miss the PIJF when it takes another bow on January 4-5 at 7:00 pm.
This broadcast gives August Wilson African American Cultural Center another opportunity to send a special thanks to its Pittsburgh International Jazz Festival sponsors: Citizens, Crawford Grill (Presenting Sponsor – Taste of Jazz), Highmark Blue Cross Blue Shield, UPMC, UPMC Health Plan, UPMC Center for Engagement and Inclusion, the Doris Duke Charitable Foundation, Advanced Auto Parts, P&W Motors, Pittsburgh Custom Wraps, Xfinity, Allegheny County Airport Authority, AARP, River's Casino, The Wilson Group and the Libation sponsor, Bacardi. Partners include JazzCorner, Downbeat Magazine, JazzTimes Magazine, Flyspace Productions, Adda Coffee, Uncle Nearest Premium Whiskey and others. A special thank you to the special media sponsor, The Comcast Corporation.
The 2023 Pittsburgh International Jazz Festival is set for September 15-17. For more information on August Wilson African American Cultural Center and all of its events and programs, please visit www.awaacc.org.
The August Wilson African American Cultural Center is a non-profit cultural organization located in Pittsburgh's cultural district that generates artistic, educational, and community initiatives that advance the legacy of Pulitzer Prize-winning playwright August Wilson. One of the largest cultural centers in the country focused exclusively on the African American experience and the celebration of Black culture and the African diaspora, the non-profit organization welcomes more than 119,000 visitors locally and nationally. Through year-round programming across multiple genres, such as the annual Pittsburgh International Jazz Festival, Black Bottom Film Festival, AWCommunity Days, TRUTHSayers speaker series, and rotating art exhibits in its galleries, the Center provides a platform for established and emerging artists of color whose work reflects the universal issues of identity that Wilson tackled, and which still resonate today. www.awaacc.org
Carolyn McClair Public Relations