The 24th Annual Super Bowl Soulful Celebration | February 8th, 2023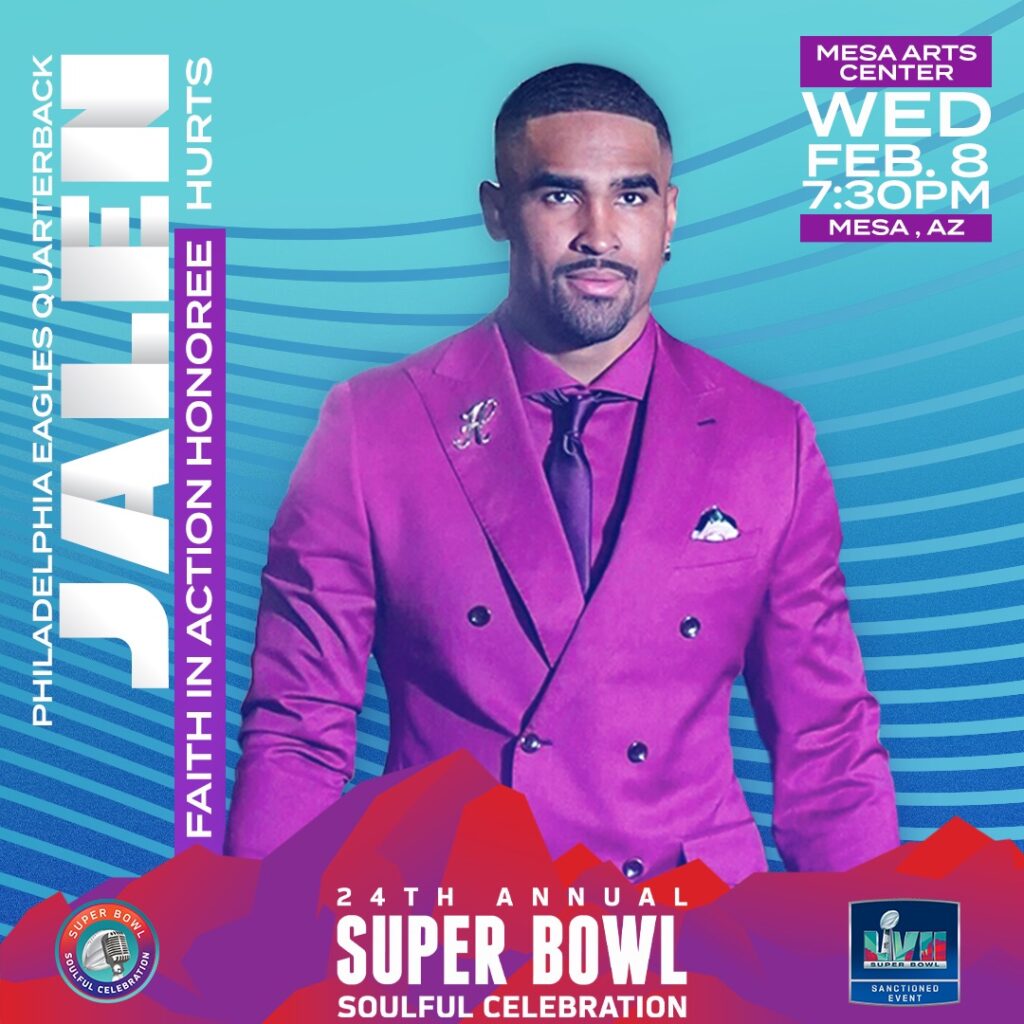 24th Annual Super Bowl Soulful Celebration Returns On Feb. 8 With Patti LaBelle, Israel Houghton & The Players Choir, Honoring NFL QB Jalen Hurts
Annual Super Bowl Week Highlight Event Returns with a Night of Music, Comedy, NFL Players and Soulful Inspiration to Arizona's Mesa Arts Center; Tickets Available Now
PHOENIX – Jan. 30, 2023 – PRLog — Marking its 24th year, the groundbreaking music and inspiration extravaganza "Super Bowl Soulful Celebration: An Evening of Inspiration and Culture," (formerly Super Bowl Gospel Celebration) returns during Super Bowl LVII week with a live taping on Wednesday, Feb. 8 at 7:30 p.m. at the Mesa Arts Center in Mesa, Arizona. The only multicultural program and community event sanctioned by the NFL during Super Bowl weekend, the highly anticipated night of music, comedy, NFL Players and soulful inspiration is themed "Unstoppable," with featured performances from the legendary Patti LaBelle, Israel Houghton, The Players Choir and more!
In addition to uplifting and inspiring audiences with musical tributes, Super Bowl Soulful Celebration highlights NFL players, their faith and philanthropy. The "Faith In Action" award honors current and former NFL players making an impact in their communities and in the lives of others off the field. This year's honoree is Philadelphia Eagles Quarterback and Super Bowl LVII contender Jalen Hurts, whose service to the Philadelphia community, numerous charities and his native Texas has aided countless individuals and institutions. Previous special honorees include Deion "Coach Prime" Sanders, Tim Brown, Russell Wilson, Tony Dungy and Troy Vincent, among others.
Originating at Super Bowl XXXIII in 1999, the annual event joins together key NFL Players, top Gospel/Contemporary Christian and mainstream GRAMMY® Award winning artists, and special guests all on one stage to bring audiences an evening of uplifting music, laughter, and inspirational messages. Past programs have featured show stopping performances from artists such as Yolanda Adams, CeeLo Green, Chloe Bailey, Kirk Franklin, Snoop Dogg, Pharrell Williams, Patti LaBelle, Erica Campbell, Gladys Knight, Fantasia, Donnie McClurkin, CeCe Winans, The Players Choir and Anthony Hamilton among others. Tickets are on sale now at superbowlsoulfulcelebration.com.
For fifteen years, the Players Choir has delivered one of the most spirit-filled, uplifting musical performances during the annual Super Bowl Weekend. Making its debut in 2008 in Phoenix, Arizona during the 9th Annual Super Bowl Gospel Celebration (now Super Bowl Soulful Celebration), the choir returns this year to the city where it all began. Launched with more than 40 active and former NFL players under the direction of Grammy Award-Winning artist, Donnie McClurkin, the collective was developed by Super Bowl Soulful Celebration Founder and Executive Producer Melanie Few with a core group of NFL players who wanted to share their faith through song.
Led by Grammy-winning Gospel producer Myron Butler, current and former NFL Players appearing with the choir during this year's show include: Isaiah McKenzie, Buffalo Bills; Jamon Brown, Philadelphia Eagles; Cameron Newton, Atlanta Falcons; Michael Gaines, Carolina Panthers; Bryan Scott, Buffalo Bills; Stephen Pierce, Cleveland Browns; Tully Banta-Cain, New England Patriots; Trey Williams, USFL (previously Dallas Cowboys); Nathan Palmer, 49ers, Broncos; KeShun Freeman, New Orleans Saints; Dwayne Wright, Buffalo Bills; Prince Amukamara, NY Giants; Willie Yarbary, USFL (previously LA Chargers) Michael Martin, Cincinnati Bengals; and Timothy Johnson, Las Vegas Raiders. This summer, the group delivered two fan-favorite performances on the highest-rated television variety competition show "America's Got Talent," (AGT) – the classic Bill Withers anthem "Lean on Me" and Justin Timberlake's chart-topping "Can't Stop The Feeling."
By: Super Bowl Soulful Celebration