The 14th Annual Montclair Jazz Festival (FREE) | Aug. 12th & Sept. 9th, 2023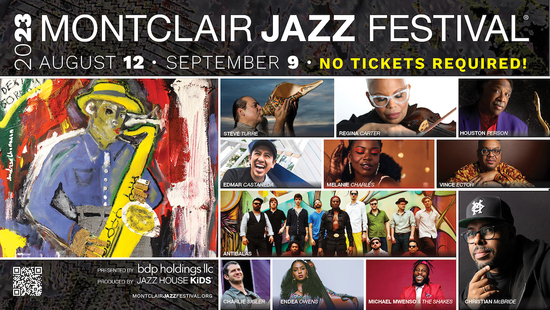 Montclair Jazz Festival Announces 2023 Lineup
for September 9th Downtown Jamboree
Headliners Include Christian McBride, Antibalas, Steve Turre,
Melanie Charles, Person to Person, Edmar Castaneda,
Vince Ector, Regina Carter, and Michael Mwenso
Festival Kicks off on August 12th
with the Lackawanna Plaza Block Party
Featuring Charlie Sigler, Endea Owens, and DJ Brother Mister
July 20, 2023: Today, the 14th annual Montclair Jazz Festival produced by the acclaimed Jazz House Kids, announced the lineup for their 2023 Downtown Jamboree on September 9th. This year, headliners include Regina Carter, Antibalas, Steve Turre, Melanie Charles, Person to Person with Eric Person and Houston Person, Edmar Castaneda, Vince Ector, Michael Mwenso and the Shakes, Jazz House Collective and Christian McBride, the festival's music director and curator. Accompanying the announcement are videos of McBride, Danielle Ponder, and JAZZ HOUSE alumni Matthew Whitaker performing at the 2022 edition of the Festival.
Montclair Jazz Festival is the most popular jazz festival in the greater NYC area that's free to the public, and one of the largest jazz festivals in the country. Music directed and curated by 8-time GRAMMY Award-winning bassist, Christian McBride, and comes on the heels of the famed Newport Jazz Festival where McBride is the artistic director. This year's festival returns to downtown Montclair, New Jersey this summer with two Soundcheck Series concerts + jam sessions, community events, and two marquee Saturdays brimming with live music on multiple stages – 50 acts, 250 artists, family jazz activities and 200 vendors with an expected 25,000 music fans and thousands more online. One of the hallmarks of the festival will be on the Jazz Cruise Alumni Stage @ Midtown, which features Jazz House alumni and their peers, some of the nation's top talent who trained at the JAZZ HOUSE, the nation's foremost jazz education and performance organization.
"What is so unique about the Montclair Jazz Fesival's downtown takeover is that it represents the coming together of Jazz House Kids' full mission to provide access, learning, career development and community building through the American artform of jazz," said Melissa Walker, founder & president of Jazz House. "Its treasured practitioners provide inspired mentorship for our emerging talent throughout the year and will create a joyous afternoon with incredible performances for thousands of fans."
"It's going to be yet another fabulous year at the Montclair Jazz Festival with such great artists, both up and coming and legendary, joining us," said Christian McBride. "Regina Carter, Antibalas, Steve Turre, Endea Owens, our Jazz House Collective and so many more, promise to make this year another hit."
"As the presenting sponsors of the Montclair Jazz Festival, we are so excited about the all-star lineup for the Block Party and the Jamboree at Lackawanna Plaza and downtown Montclair" says David Placek, Managing Partner of BDP Holdings, LLC. "We can't wait to see our neighbors and friends once again come together in a community celebration and are proud to help JAZZ HOUSE KiDS make it happen."
Ahead of the September 9th Downtown Jamboree, Montclair Jazz Festival officially kicks off on August 12th with ten hours of live music at the Lackawanna Plaza Block Party. Showcasing Jazz House Kids' mission in action, the Block Party festivities begin with 150 Jazz House emerging musicians performing in seven big bands and a vocal choir. The students are followed by a set from jazz guitarist Charlie Sigler, and finally GRAMMY-winning Endea Owens & the Cookout. After a day of live jazz, fans get on their feet for a funk and soul Dance Party DJ'd by Brother Mister, aka Christian McBride.
Sprinkled in between the two big dates are the Soundcheck Series on July 27th and August 24th. Held in the Jazz House Annex, the second floor of Jazz House Kids' hub in downtown Montclair, the July date features a set from versatile saxophone stylist and Jazz House teaching artist, saxophonist Bruce Williams and his band, with a student ensemble opening act and two-hour jam session. August 24 welcomes dynamic drummer and tenor saxophonist Roxy Cross.
For more information on how to become a sponsor, supporter, volunteer or vendor for the 14th annual Montclair Jazz Festival, visit the website and download the Montclair Jazz Festival App in the Google or Apple store.
Montclair Jazz Festival Dates:
July 27: Soundcheck Series – Jazz House Annex
August 12: Block Party – Lackawanna Plaza
August 24: Soundcheck Series – Jazz House Annex
September 9: Downtown Jamboree – Bloomfield Avenue (Between Fullerton Avenue and Lackawanna Plaza)
About Jazz House Kids
Born 20 years ago with its first jazz workshop in Newark Schools for students and their families on behalf of WBGO, Jazz House Kids transforms lives using the power and legacy of jazz through world-class education and performances that create avenues of access, learning, career development and community building. The organization and students have received more than 135 awards and honors for excellence in jazz and jazz education. Jazz House students are among the most sought-after in the nation, with 100% attending college and receiving significant merit scholarships. Every day of the week through a series of in-school and out-of-school programs in four counties in New Jersey and out-of-school programs in Montclair and New York City, the Jazz House helps young people gain an artistic edge, fostering community leaders and global citizens who help us build thriving communities. The Jazz House produces 150+ free public concerts per year to audiences close to 150,000, including the organization's far-reaching cultural signature program, the award-winning Montclair Jazz Festival, the largest free jazz festival in the NYC area, attracting 25,000+ attendees to downtown Montclair each year.
Follow Montclair Jazz Festival:
Follow Jazz House Kids: