The 16th Annual Angel City Jazz Festival | Oct. 13th–29th, 2023

16th Annual Angel City Jazz Festival Announces Final 2023 Lineup
In its 16th year, 501 (c)(3) Angel City Arts presents the Angel City Jazz Festival October 13 – 29, 2023, at diverse and popular venues such as REDCAT (Roy and Edna Disney/CalArts Theater), 2220 Arts & Archives, LACMA (Los Angeles County Museum of Art), The Moss Theatre, Zebulon, Zipper Hall and The World Stage. Tickets go on sale on July 1.
This year's fall event will host 17 concerts featuring live performances by the Mark Masters Ensemble featuring Billy Harper, the Destiny Muhammad Trio with Teodross Avery, Crump/Laubrock/Smythe, Jeong Lim Yang's Zodiac Trio, Gloria Cheng, Linda May Han Oh & Fabian Almazan, Jon Jang & Hitomi Oba, Kirk Knuffke Trio, Todd Sickafoose's Bear Proof, Tim Berne, Aurora Nealand and Hank Roberts, Harriet Tubman, Mat Maneri Quartet, Ennis Harris, NJL Awardees, Nicole Mitchell, Billy Mohler, Todd Cochran and Hubert Laws.
Jazz never stands still. Like improvisation, it's constantly evolving and reinventing itself. While some festivals focus with a nostalgic lens, Angel City unapologetically looks forward to encouraging and embracing metamorphosis of the genre. While providing a cradle to 1960s innovators Ornette Coleman, Eric Dolphy, and Charles Lloyd, Los Angeles never consistently hosted a festival dedicated to post-traditional improvisation until innovator Rocco Somazzi founded The Angel City Jazz Festival in 2008. The festival has helped establish LA as a jazz destination through 16 years of affordable and accessible live concerts throughout the city featuring artists such as Bill Frisell, Archie Shepp, Bennie Maupin, Roscoe Mitchell, Wadada Leo Smith, Vijay Iyer, Ravi Coltrane, Nels Cline, Tigran Hamasyan, Rudresh Mahanthappa and many others.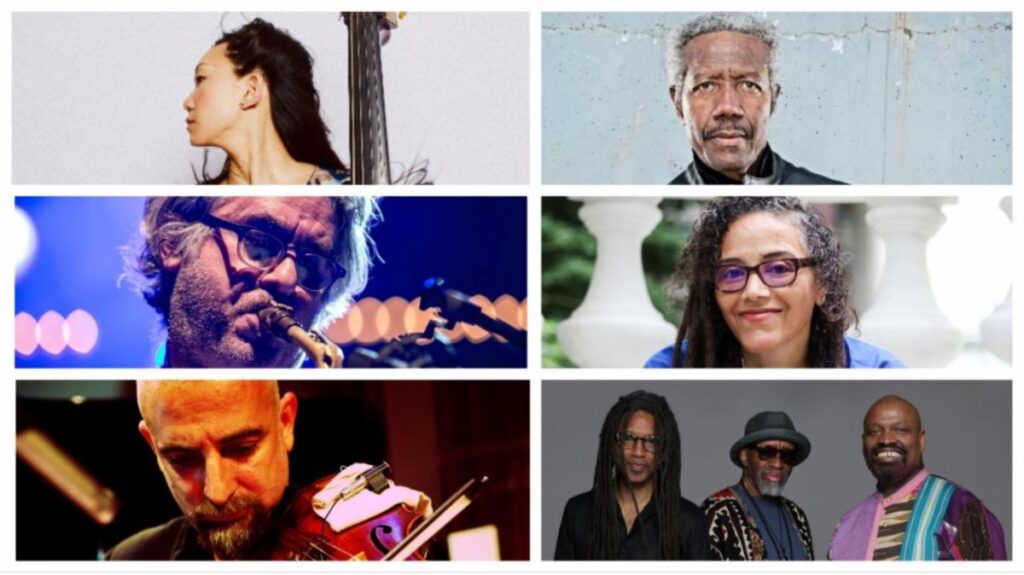 The festival kicks off Friday, October 13 at LACMA with a special 100th anniversary tribute to the musical legacy of Sam Rivers featuring a 13-piece ensemble with special guest sax legend Billy Harper led by arranger/composer Mark Masters.
The excitement continues Saturday, October 14 with Bay Area based jazz harpist Destiny Muhammad leading a trio and featuring local sax man Teodross Avery at the World Stage in Leimert Park. On Sunday, October 15, two highly original and adventurous NYC based trios will perform back-to-back sets at 2220 Arts. First up is up and coming bassist Jeong Lim Yang's Zodiac Trio, followed by seasoned improvisers Stephan Crump, Ingrid Laubrock and Cory Smythe. The festivities continue into Monday, October 16 with a special six-hour long performance featuring 20 LA based improvisers from three generations in duo and trio formats at the Oracle Tavern. Among the participants are Vinny Golia, William Rope, Dylan Fujioka and Motoko Honda.
The following weekend, on Saturday, October 21, Gloria Cheng will premiere six compositions for solo piano by prominent jazz composers: James Newton, Arturo O'Farrill, Anthony Davis, Linda May Han Oh, Jon Jang and Gernot Wolfgang. Many of these composers will be in attendance and Linda May Han Oh and Jon Jang will also perform with their respective duos.
The weekend will conclude on October 22 with a double bill featuring acclaimed trumpeter Kirk Knuffke in a trio with Angelica Sanchez and Micheal Bisio followed by Todd Sickafoose's all-star octet featuring Allison Miller, Jenny Scheinman, Adam Levy and Ben Goldberg among others.
The festival continues on Wednesday, October 25 with another double bill featuring two highly creative NYC based trios. Opening the night is OCEANS AND, a new trio led by saxman Tim Berne with vocalist/clarinetist Aurora Nealand and Hank Roberts on cello. Next up is Harriet Tubman, an avant-rock trio with Brandon Ross on guitar, Melvin Gibbs on bass and TJ Lewis on drums.
The festival's closing weekend begins on Friday, October 27 with a double bill at 2220 Arts + Archives. LA-based up and coming composer Ennis Harris will premiere "Images & Silhouettes" a commissioned composition for a 17-piece band. The Mat Maneri Quartet will perform material from his latest release "DUST" to close out the night. On Saturday, October 28, Nicole Mitchell will premiere a multimedia piece dedicated to her late mother entitled JBM: Images & Beyond. Opening the night there will be a showcase coordinated by New Music USA featuring grants from The Next Jazz Legacy program, which is devoted to increase opportunities for female or gender non-conforming musicians and is a partnership between New Music USA and the Berklee Institute of Jazz and Gender Justice with support from the Mellon Foundation and Joe & Nancy Walker.
The festival will conclude on Sunday, October 29 with a very rare appearance by NEA Jazz Master Hubert Laws featured as a special guest of piano legend Todd Cochran's TC3 trio with John Leftwich on bass and Lyndon Rochelle on drums. LA based bassist Billy Mohler will also perform with an all-star quartet featuring Mark Turner on sax, Shane Endsley on trumpet and Jonathan Pinson on drums.
Full schedule, tickets and details at www.angelcityjazz.com.
Friday, October 13:
LACMA, 5905 Wilshire Blvd., Los Angeles, CA 90036
6:00pm A Celebration of the Musical Legacy of Sam Rivers with Mark Masters and Billy Harper
Saturday, October 14:
The World Stage, 4321 Degnan Blvd., Los Angeles, CA 90008
8:00pm Destiny Muhammad Trio with special guest Teodross Avery
Sunday, October 15:
2220 Arts+ Archives, 2220 Beverly Blvd., Los Angeles, CA 90057
8:00pm Jeong Lim Yang's Zodiac Trio
9:15pm Crump/Laubrock/Smythe
Monday, October 16:
Oracle Tavern, 1640 N Spring St, Los Angeles, CA 90012
6pm Intergenerational Improvisation Night. Line up TBA
Saturday, October 21:
Zipper Hall, 200 South Grand Ave., Los Angeles, CA 90012
8:00pm Gloria Cheng + Jon Jang & Hitomi Oba
9:30pm Gloria Cheng + Linda May Han Oh & Fabian Almazan
Sunday, October 22:
The Moss Theatre, 3131 Olympic Blvd, Santa Monica, CA 90006
8:00pm Kirk Knuffke Trio
9:15pm Todd Sickafoose's Bear Proof
Wednesday, October 25:
Zebulon, 2478 Fletcher Dr, Los Angeles, CA90039
8:00pm OCEANS AND Tim Berne, Aurora Nealand and Hank Roberts
9:15pm Harriet Tubman with Brandon Ross, Melvin Gibbs and TJ Lewis
Friday, October 27:
2220 Arts+ Archives, 2220 Beverly Blvd., Los Angeles, CA 90057
8:00pm Ennis Harris' Images & Silhouettes
9:15pm Mat Maneri Quartet
Saturday, October 28:
REDCAT at Disney Hall, 631 W 2nd Street, Los Angeles, CA
8:00pm Next Jazz Legacy Showcase featuring:
Anaïs Maviel (2023 NJL Awardee)– voice**
Milena Casado (2023 NJL Awardee) – trumpet
Neta Raanan (2023 NJL Awardee) – saxophone
Kalia Vandever (2022 NJL Awardee) – trombone
Anastassiya Petrova (2022 NJL Awardee) – piano
Keyanna Hutchinson (2022 NJL Awardee) – guitar
Anna Butters (2022 NJL Semi-Finalist) – bass
Ivanna Cuesta (2022 NJL Awardee) – drums
9:15pm Nicole Mitchell's JBM: Images & Beyond
Sunday, October 29:
REDCAT at Disney Hall, 631 W 2nd Street, Los Angeles, CA
8:00pm Billy Mohler Quartet with Mark Turner, Shane Endsley and Jonathan Pinson
9:15pm Todd Cochran's TC3 with special guest Hubert Laws
For more information on the Angel City Jazz Festival, please visit:
www.angelcityjazz.com
DL Media