Kupferberg Center for the Arts Presents Live at the Gantries 2023 (FREE) | July 11th-Aug. 15th, 2023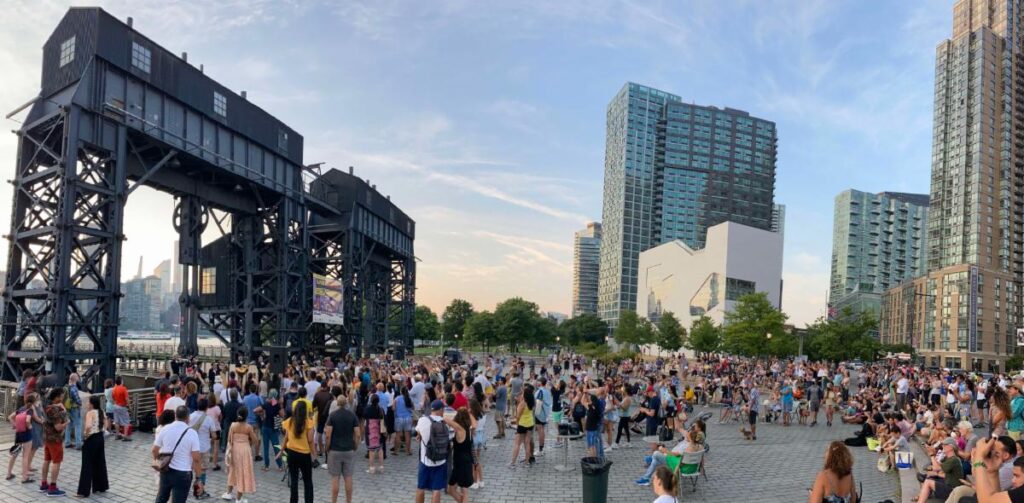 Kupferberg Center for the Arts
Presents
Live at the Gantries 2023
Enjoy Free live music and a spectacular view all summer long
at Live at the Gantries
Kupferberg Center for the Arts announces Live at the Gantries 2023
Tuesdays at 7:00 PM from July 11 – August 15 at Gantry Plaza State Park.
Experience the perfect combination of free live music and stunning waterfront views this summer at the 12-acre oasis that is Gantry Plaza State Park!
Introducing Live at the Gantries, a series of free outdoor performances featuring a diverse range of local talents that celebrate the unique cultures and communities of Queens.
Presented in collaboration with the New York State Office of Parks, Recreation and Historic Preservation, and with generous support from the Mathis-Pfohl Foundation, the Live at the Gantries kicks off on July 11 and continues every Tuesday through August 15.
Starting at 7:00 PM, each concert showcases the very best in local music talent and culminates in a breathtaking sunset over the East River. Whether you're a lover of music, a fan of the great outdoors, or simply looking for a fun night out, Live at the Gantries is the perfect way to spend your summer evenings.
"The beauty of Live at the Gantries is that it brings together the vibrant Queens community and showcases the incredible musical talent. It's a celebration of diversity, culture, and the power of music to bring people together," says Jon Yanofsky, Director of Kupferberg Center for the Arts.
The 2023 series promises a diverse and exciting lineup of music genres, ranging from West African soul and Afro-Caribbean beats to jazz, R&B, and funk.
Live at the Gantries 2023 Lineup
TUE, JUL 11, 7 PM: AJOYO (West African Sounds with Jazz, Electronic, and Pop Music)
AJOYO is a joyful ceremony of unrelenting groove and virtuosic improvisation spearheaded by Sarah Elizabeth Charles, Yacine Boulares, and Jesse Fischer. Their singular sound blends African traditions, jazz, and soul. It is a celebration of life, love and justice through music: music for the heart, the mind and the body, the kind that is soulful, sophisticated and that makes people want to dance. Their self-titled debut album was celebrated for its vibrant eclecticism and social conscience, paving the way for War Chant winning Best Global Music EP at the 2020 IMA.
TUE, JUL 18, 7 PM: Bartlett Contemporaries (R&B and Dance)
Bartlett Contemporaries with the Uptown Funk Sound is a dynamic urban contemporary band hailing from Queens, NY. Their music transcends genres, seamlessly blending Bebop with Hip Hop and everything in between to create a sound that is both timeless and fresh. The band's phenomenal vocalists and exceptional instrumentalists consistently deliver electrifying performances that leave audiences captivated. With a track record that includes playing at Spike Lee's Wedding Reception in NY and Oprah Winfrey's Book Party in Miami, Bartlett Contemporaries with the Uptown Funk Sound has proven time and time again that they are a force to be reckoned with.
TUE, JUL 25, 7 PM: Afro Dominicano (Afro-Caribbean Soul Music)
The funk-fusion combo Afro Dominicano infuses their songs with Afro-Caribbean soul: a blend of Dominican folkloric styles and pop influences that includes merengue, bachata, samba, reggae, punk and R&B, all filtered through a uniquely New York sensibility. The group's mix of sweet vocals, accordion, guitar, traditional percussion and electric bass sparks high-energy riffs and romantic balladry that eludes the pigeonhole of genre in favor of genuine human connection.
TUE, AUG 1, 7 PM: Linda EPO's Ensemble New Yorkino (Fusion of Jazz and Mexican Folk Music)
Linda EPO's enchanting voice and captivating melodies represent the melting pot she was born and influenced by growing up in Queens, New York City and Puebla City, Mexico. She has been on a worldwide tour with the Grammy nominated Heritage Blues Orchestra which received stellar reviews. Having a reputation of leaving everything on stage when she performs, Linda is honest with her words and unapologetic with her sound and stage presence. Each note she sings is filled with melancholic passion intertwined with natural melodic beauty, and every performance is filled with passion and depth.
TUE, AUG 8, 7 PM: Michael Olatuja & Lagos Pepper Soup (Afrobeat, Jazz, and Funk)
London-born, Lagos, Nigeria-raised, New York-based composer, bandleader, and bassist Michael Olatuja blends the sounds of these three cities into what he describes as a "cinematic Afrobeat." One of the most inventive and in-demand bassists on the scene today, Olatuja has worked and recorded with the likes of Diana Ross, Stevie Wonder, Shakira, and ​​Angelique Kidjo, among others. For this special concert Olatuja and a full band perform music from his recently released album Lagos Pepper Soup in an evening of high-energy Afrobeat, jazz, and funk.
TUE, AUG 15, 7 PM: Slavo Rican Assembly (Latin Jazz with South Slavic Sound)
Founded by Jan Kus, a saxophonist and composer hailing from Slovenia and based in New York City, this extraordinary seven-piece band Slavo Rican Assembly combines his expertise in the Latin jazz scene with his South Slavic musical heritage. With jazz as their foundation, Slavo Rican Assembly fearlessly explores the rich sounds of their own cultural roots. From bomba, salsa, and rumba to Slovenian harvest songs, Bosnian lullabies, and Serbian laments, their musical cocktail is a true reflection of the vibrant diversity of New York City.
Tickets are free and no reservation required. Learn more about the series and performers, please visit kupferbergcenter.org/live-at-the-gantries/
This free concert series is supported by the New York State Office of Parks, Recreation and Historic Preservation, and the Mathis-Pfohl Foundation. Kupferberg Center for the Arts' 2023-2024 Season is sponsored by New York Community Bank – A Division of Flagstar Bank, N.A. Major support is provided by the Max and Selma Kupferberg Family Foundation and the Howard Gilman Foundation. Additional funding is provided by Resorts World NYC. Kupferberg Center's presenting and outreach programs are supported, in part, by public funds from the NYC Department of Cultural Affairs in partnership with the NY City Council. Kupferberg Center's arts education programs are supported in part by the Milton and Sally Avery Arts Foundation.
Source: Kupferberg Center for the Arts