Kem's "Promise To Love Tour w/Special Guest Tamar Braxton | Kicks off Nov. 6th, 2015
by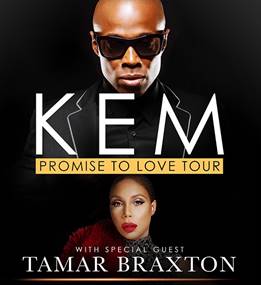 TICKETS ON SALE TODAY FOR KEM's 2015 U.S. HEADLINING "PROMISE TO LOVE" TOUR!
THREE-TIME GRAMMY®-NOMINATED R&B ARTIST KEM
PREPARES TO HIT THE ROAD THIS NOVEMBER!
WITH SPECIAL GUEST: TAMAR BRAXTON
VIP PACKAGES AVAILABLE FOR EXCLUSIVE ACCESS TO KEM DURING TOUR
TOUR KEM's TOUR BUS WITH KEM AS TOUR GUIDE! / PRE-SHOW RECEPTION and Q&A WITH KEM!
VIP Packages Available at www.MusicByKEM.com
TOUR TICKETS GO ON SALE TODAY, FRIDAY, SEPTEMBER 18 AT 10AM EST
VISIT www.MusicByKEM.com FOR TICKET & VIP PACKAGE INFO
TICKET PURCHASES INCLUDE A COPY OF KEM's 'PROMISE TO LOVE' CD!
FOR EVERY TWO (2) TICKETS PURCHASED, FANS WILL BE ABLE TO REDEEM A CERTIFICATE FOR
ONE (1) PHYSICAL CD & ONE (1) CD DOWNLOAD
(offer not available in all cities – see below for info)
'PROMISE TO LOVE' CD AVAILABLE IN STORES AND ON iTUNES & AMAZON
September 18, 2015 Detroit, MI – Three-time GRAMMY®-nominated Motown Artist, KEM, has announced dates for his 2015 U.S. Headlining "PROMISE TO LOVE TOUR" with special guest, TAMAR BRAXTON. KEM's "PROMISE TO LOVE TOUR" kicks off on Friday, November 6 in Los Angeles, CA and is named for his current CD by the same name. Tickets go on sale to the public today, Friday, September 18, 2015 at 10:00am EST. Ticket and VIP package information is available at MusicByKEM.com.
KEM's galvanizing live performances have captivated audiences for years and have catapulted him into the ranks as one of music's top touring acts. KEM promises to deliver an unforgettable experience to audiences that will include his classic hits such as "Love Calls," "I Can't Stop Loving You," "Share My Life" and "Why Would You Stay," along with new favorites from his 'PROMISE TO LOVE' CD, including the dynamic, chart-topping singles, "It's You" and "Nobody," and the CD's title track, "Promise To Love."
"I've been looking forward to hitting the road with my headlining 'PROMISE TO LOVE' tour all year," said KEM. "It's always such a thrill and an honor to perform new songs and provide new experiences for the steadfast fans who have been so dedicated in their love and support for the music throughout the course of my career."
VIP PACKAGES AVAILABLE
Fans will have the chance to gain exclusive access to KEM during the Promise to Love Tour with VIP Packages that are available for purchase. The VIP Packages contain elements including: Tour of KEM's tour bus with KEM as the guide; Pre-show reception with KEM; Early VIP access to the venue; Photos with KEM; Autographed items; KEM merchandise; etc. More information is available at www.MusicByKEM.com.
TOUR TICKET PURCHASES INCLUDE COPY OF 'PROMISE TO LOVE' CD
With the purchase of every two (2) tickets to the Promise To Love Tour, fans will receive one (1) physical copy of KEM's Promise To Love CD, along with one (1) download of the album. (Offer not available for tickets purchased for shows in the following cities: Baltimore; Columbus; Dallas; Louisville).
"PROMISE TO LOVE TOUR" DATES:
Tickets go on sale to the public today, Friday, September 18, 2015 at 10am EST.
Visit MusicByKEM.com for ticket and VIP package information.
*schedule subject to change*
Friday, November 6
Los Angeles, CA
Microsoft Theater
Thursday, November 12
Atlanta, GA
Fox Theatre
Friday, November 13
Greensboro, NC
Special Events Center
Sunday, November 15
Columbus, OH
Palace Theatre
Thursday, November 19
Richmond, VA
Altria Theater
Friday, November 20
Washington, DC
DAR Constitution Hall
Saturday, November 21
Louisville, KY
Palace Theater
Sunday, November 22
Chicago, IL
Arie Crown Theater
Wednesday, November 25 (on sale 10/2)
New York, NY
Theater at Madison Square Garden
Friday, November 27
Detroit, MI
Fox Theatre
Saturday, November 28
Cleveland, OH
State Theatre
Sunday, November 29
Baltimore, MD
Lyric Theater
Thursday, December 3 (on sale 10/2)
Grand Prairie, TX
Verizon Theatre
Friday, December 4 (on sale 10/2)
Baton Rouge, LA
River Center
Saturday, December 5 (on sale 10/2)
Nashville, TN
Municipal Auditorium
Sunday, December 6 (on sale 10/2)
Southaven, MS
Landers Center
PROMISE TO LOVE, KEM's fourth studio album on the Motown label, debuted at #1 on Billboard's R&B Albums chart and is the singer/songwriter/producer's 2nd #1 debut on the R&B chart (INTIMACY). PROMISE TO LOVE also debuted at #3 on the Top 200 Albums chart and spent 32 consecutive weeks (33 total weeks) in the Top 20 on billboard's R&B albums chart.
PROMISE TO LOVE is powered by two #1 hit singles, "It's You" and "Nobody," marking the first time KEM has had two #1 songs from the same CD.
The album's latest single, "Nobody," earned a third GRAMMY® nomination for KEM and was the #1 UAC song for 9 consecutive weeks, and topped the charts for a total of 10 weeks. The single was in the Top 10 for 37 consecutive weeks. The CD's first single, "It's You," was #1 atop the charts for 4 consecutive weeks, and spent 5 weeks total at #1. Additionally, KEM was one of the Top 5 Adult R&B Artists of 2014, according to Billboard.
The album includes guest appearances from Snoop Dogg on "Downtown," Ron Isley on "My Favorite Thing," and features Kemistry Records Artist, L Renee, with her debut single on "Don't Say Goodbye."
PROMISE TO LOVE is available at retail stores, on iTunes (http://smarturl.it/KemPTLDLX) and on Amazon (http://www.amazon.com/Promise-Love-Kem/dp/B00LRCVEU0/?TAG=capitrecor-20).
About KEM:
In 2001, KEM independently released his first CD, KEMISTRY, on his Kemistry Records label, selling nearly 15,000 units, after which, he was signed by Universal Motown. Motown re-released KEMISTRY in 2002, released KEM ALBUM II in May 2005 and INTIMACY in August 2010, which debuted at #2 on Billboard's Top 200 Albums list and was certified Gold in March 2012. KEM's first three studio albums on the Motown label garnered him national critical and commercial acclaim, including two GRAMMY® nominations, a Soul Train award nomination and a BET Centric Award nomination. Kemistry, Album II, and Intimacy have each been certified RIAA gold, and worldwide sales are in excess of 2.5 million copies. KEM's Christmas album, WHAT CHRISTMAS MEANS, was released on October 16, 2012. After the holiday season, the album had sold 76,000 copies, making it the #3 highest-selling Urban Christmas record in one season. KEM re-released his WHAT CHRISTMAS MEANS DELUXE project in October 2013, which included four bonus tracks. In December 2013, KEM presented the 'KEM & Friends: What Christmas Means Holiday Tour,' a holiday-themed concert with a storyline narrated by actor/comedian Anthony Anderson and featuring KEM & his R&B friends Patti LaBelle, Ronald Isley and Avery Sunshine. KEM's fourth studio album, PROMISE TO LOVE, was released on the Motown label on August 25, 2014 and debuted at #1 on Billboard's R&B Albums chart and at #3 on Billboard's Top 200 Albums chart. PROMISE TO LOVE produced two #1 hit singles ("It's You" and "Nobody"), marking the first time KEM had two #1 songs from the same album. KEM received his third career GRAMMY® nomination for "Nobody." Earlier in 2015, KEM toured the U.S. with Charlie Wilson on his 44-city 'Forever Charlie Tour.'
For more information on KEM, visit:
Website: www.musicbykem.com
Facebook: www.facebook.com/musicbykem
Twitter and Instagram: @MusicByKEM