The 17th Annual Healdsburg Jazz Festival | May 29th – June 7th, 2015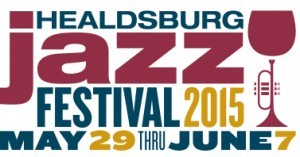 "Jazz and the Music of the Americas" Anchors 17th annual Festival
Eddie Palmieri, Pablo Ziegler, Luciana Souza with Romero Lubambo among international stars; Kenny Barron, Benny Green Trio and the Cookers plus others to play Healdsburg's annual classic
The acclaimed Healdsburg Jazz Festival returns for its 2015 edition, beginning Friday, May 29 and ending over a week later on Sunday, June 7. Long celebrated for its rich, varied and innovative programming, Healdsburg Jazz this year presents a two-day mini-festival on its opening weekend, under the title "Jazz and the Music of the Americas."
With appearances by prominent Latin musicians with strong jazz alliances, including Latin-Jazz legend Eddie Palmieri, "Nuevo Tango" master Pablo Ziegler, Brazil's Luciana Souza Duo with Romero Lubambo, and an enhanced Trio da Paz with NEA Jazz Master Kenny Barron, the Healdsburg Jazz Festival re-stakes its claim as the leading festival of its kind between San Francisco and Seattle.
Other artists in performance in the wine country mecca, increasingly recognized as one of the best small towns in America, include the Latin dance band Ritmos Unidos led by percussionist Michael Spiro, at the Healdsburg Tuesday in the Plaza free concert, Wayne Wallace and his Latin Jazz Quartet at Shed, the Benny Green Trio with David Wong and Rodney Green at the Raven Theater, and the explosive bebop jazz giants The Cookers on Saturday night, June 6.
Capping off the 17th Annual Healdsburg Jazz Festival on a high note, George Cables brings his powerful, swinging trio to the Raven Theater on Sunday, June 7. Joined by drummer Victor Lewis, bassist Essiet Essiet, plus guest saxophonist Craig Handy, one of jazz' great living pianists is in great company with this bold trio.
Our special outdoor event this year will be a special New Orleans Day on the Green Sunday June 7 at our new sponsor Dry Creek Vineyard. Get down with your second-line finery with St. Gabriel's Celestial Brass Band, the Dixie Giants, and our local Russian River Ramblers for this noon – 3 pm afternoon event.
Find the complete 2015 Festival Schedule online, with additional performances and venues including a tribute to John Coltrane and Johnny Hartman from the Ed Reed Quartet on opening night, May 29; a "Blues Brunch" with Terrie Odabi at Sonoma Cutrer Vineyards on Sunday June 1; mid-week dining and jazz events with the Randy Vincent Trio at DCK on June 1, Batacha on June 2 and Ben Stolorow Quartet on June 5 at Partake by K-J, the Adam Theis Mobtet featuring Tiffany Austin June 3 at Spoonbar; plus Sylvia Cuenca and Lorca Hart leading trios at our "after-hours" shows at the Hotel Healdsburg June 5th and 6th respectively.
Details including ticket information are included in the final festival program. You can also find ticket sales and other information on this website. Make your plans now to be a part of the Healdsburg Jazz Festival, May 29 – June 7.
Source: Healdsburg Jazz Festival