"Symphony Of The Heart" Benefit Concert in Northridge, Ca. | Jan. 29th, 2017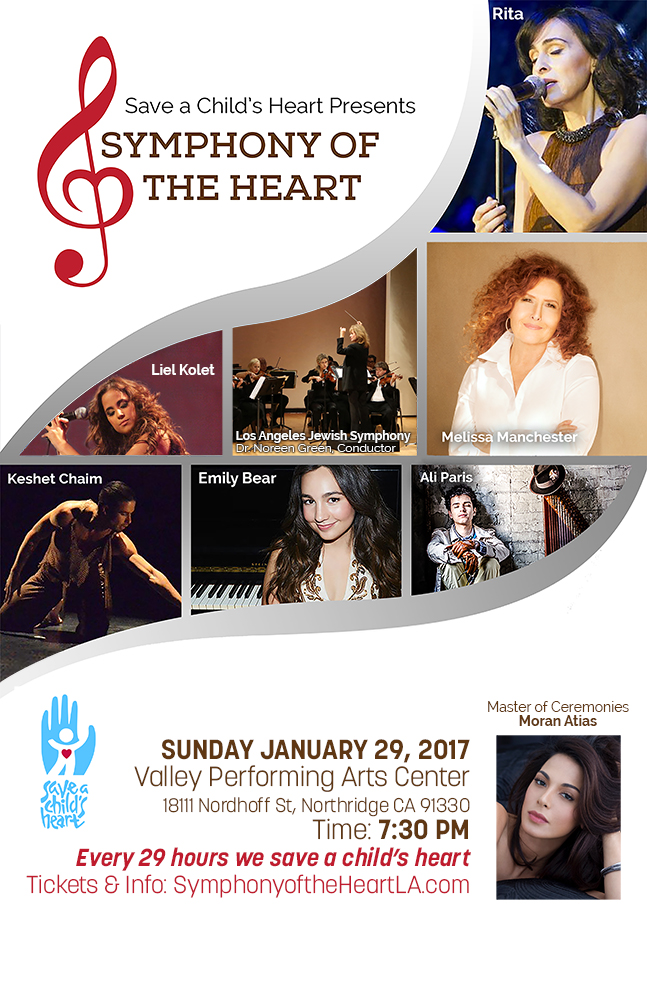 SAVE A CHILD'S HEART, AN INTERNATIONAL HUMANITARIAN ORGANIZATION, PRESENTS A BENEFIT CONCERT,'SYMPHONY OF THE HEART,' FEATURING ISRAELI SINGING SENSATION RITA, GRAMMY-WINNER MELISSA MANCHESTER, PRODIGY EMILY BEAR, AND A LINEUP OF INTERNATIONAL STARS, SUNDAY, JANUARY 29 TH, 2017 AT THE VALLEY PERFORMING ARTS CENTER IN NORTHRIDGE.
The Event…
SAVE A CHILD'S HEART (SACH), an international, humanitarian organization dedicated to providing life-saving pediatric heart surgery for indigent children from developing countries around the world, will present a benefit concert featuring a lineup of major international stars in a special evening of music and entertainment, Sunday, January 29th, 2017. The event will be held at the elegant Valley Performing Arts Center (located at located at 18111 Nordhoff Street in Northridge) at 7:30 pm.
Israeli singing sensation Rita, renowned worldwide for her powerful and passionate performances, is making a special trip from Israel to perform at the concert, which will also feature ever-popular Grammy-winning singer-songwriter Melissa Manchester, The Los Angeles Jewish Symphony, under the direction of founding conductor Dr. Noreen Green, and the exceptional 15 year old prodigy, pianist/composer/song-writer, Emily Bear. American-Israeli contemporary dance ensemble, Keshet Chaim, will bring their fusion of contemporary Israeli and traditional Jewish folk dance to the stage and will be joined by acclaimed young vocalist Liel Kolet. Kolet will sing with the group and perform a special song she helped compose. Adding to the international spirit of the show is eclectic Palestinian/Moroccan musical artist Ali Paris. Paris plays the qanun, a rare 76-string zither dating back to the 14th century, now played by only a handful of people in the entire world. Israeli actress Moran Atias, star of the popular FX series Tyrant, will serve as Mistress of Ceremonies for the concert.
Chaya Museri, Head Nurse for adult and pediatric heart surgery at Wolfson Medical Center in Israel, who has saved thousands of lives, will also be honored at the event for her unwavering dedication and professionalism over 30 years. She is a key leader of the medical team and has served on numerous medical missions to China, Romania, Ethiopia, Rwanda, Tanzania and Moldova. She was among the first to volunteer, working alongside SACH founder, the late Dr. Ami Cohen.
The Cause…Save A Child's Heart…
Based in Israel at Wolfson Medical Center, the mission of Save A Child's Heart is to improve the quality of pediatric cardiac care for children from countries around the world where the life-saving heart surgery they need is virtually unobtainable. SACH provides the best medical care that modern medicine has to offer at no cost to all children, regardless of race, religion, sex, color, cultural preference or financial status.
More than 4,500 children from over 50 countries have been saved by SACH's group of volunteer doctors and medical professionals, who donate their time and expertise to perform urgently needed surgery on children with congenital heart defects who have no chance of surviving in their native countries. Thousands more are receiving life-saving treatments from local medical personnel trained previously by SACH doctors during one of the group's many medical missions, or at Wolfson Medical Center as part of the hospital's medical outreach training program.
Tickets and Information…
Ticket prices range from $45 to $150. All proceeds from ticket sales benefit Save A Child's Heart and will help fund construction now underway on a new Children's Hospital at Israel's Wolfson Medical Center that will house the Middle East's first international pediatric cardiac care center. For more information and to purchase tickets, please visit symphonyoftheheartla.com, or call 818-677-3000. Tickets can also be purchased in person at the Valley Performing Arts Center box office, by fax at 818-677-3076, or by mail.
The Concert, The Artists…
A multi-platinum selling artist considered the top female vocalist in Israel, Rita continuously packs venues and stadiums around the world to capacity. During her career she has sold over a million copies of her albums, won dozens of awards and prizes, and has been celebrated as the biggest singing sensation in Israel. Internationally acclaimed for her unique voice, Rita has performed with such major stars as Andrea Bocelli, Eric Clapton, and Beck, as well as the Israeli Philharmonic conducted by Zubin Mehta and many other prestigious orchestras around the world. Known for her versatility and extraordinary voice, Rita will perform a diverse selection of Persian, Israeli and English songs as only she can do.
One of America's most popular and enduring artists, Grammy-winning Oscar- nominated vocalist Melissa Manchester is known for such blockbuster hits as "Don't Cry Out Loud," "Through the Eyes of Love." and "You Should Hear How She Talks About You," just to name a few. Manchester's extensive solo career has earned her critical praise, commercial success and many loyal fans around the world. Her most recent album, You Gotta Love The Life, (released in 2015) offers a variety of songs performed with such legendary artists as Al Jarreau, Stevie Wonder, Keb' Mo', Dave Koz and more. Continuing to explore musically, Manchester will perform a mix of her hits as well as new material.
The Los Angeles Jewish Symphony celebrates the richness of Jewish music and shares it with Southern California's many diverse audiences. Founded by Artistic Director and Conductor Noreen Green, The LAJS revitalizes the legacy of Jewish music by performing orchestral works of well known (and also not so well known) Jewish composers. Under Green's direction, the orchestra has performed at many of Southern California's most prestigious venues including Walt Disney Concert Hall, The Ford Theatre, The Saban Theatre, UCLA's Royce Hall, and more. Known worldwide for her knowledge and skill in presenting music with Jewish themes, Green has served as a guest conductor in the United States, Israel, South Africa and Canada. The LAJS will accompany all the artists on the program, in addition to their own performance.
At only 15-years-old, pianist/composer Emily Bear has achieved the kinds of accolades and triumphs that take many artists a lifetime to accomplish. She's performed at the most prestigious venues around the world, received numerous awards and honors, composed for film and television, made six appearances on The Ellen DeGeneres Show, been on Nightline, Good Morning America, garnered 30 million views on YouTube, played at the White House, Carnegie Hall and Lincoln Center, and been mentored by the legendary Quincy Jones – and that's only a partial list. Acclaimed as both a classical and jazz artist, Emily will perform her own compositions for piano and orchestra, including her jazzy take on the classic "Flight of the Bumble Bee". Her short CD "Into The Blue" will be released at the end of January.
Keshet Chaim is an American-Israeli contemporary dance company dedicated to celebrating the inclusive spirit of Israeli culture and Judaism. Founded in 1983 by Artistic Director Eytan Avisar, Keshet Chaim creates, develops and presents original choreography which fuses contemporary Israeli dance with Jewish folk dance traditions from across the Diaspora. Noted choreographer Kobi Rozenfeld has created a beautiful contemporary piece to "Tishmor Al Ha Olam Yeled" to honor the children SACH serves. They will be joined on the program by young singer-songwriter and peace advocate, Liel Kolet. Kolet captivated audiences around the world with her historic duet performed with former U.S. President Bill Clinton. Since then she has travelled the globe, performing with such stellar artists as Herbie Hancock, Patti LaBelle, and Julio Iglesias, as well as playing for many world leaders, including Hillary Clinton and the Dalai Lama. She will be performing her original rendition of the song, "Ray of Hope," which she composed to accompany the lyrics written by Shimon Pѐres.
Rounding out the lineup is Ali Paris, who captivates audiences worldwide with his unique fusion of Middle Eastern and Western musical styles, highlighted by both technical virtuosity and emotional expression. He accompanies his singing with his instrument, the qanun, a rare, 76-string zither dating back to the 14th century, now only played by a handful of people in the world.. Paris has performed internationally with such illustrious artists as Alicia Keys, Quincy Jones, and Bobby McFerrin. He will perform one of his original compositions for the qanun.
Co-chairs of SACH's west coast advisory board, Judy and David Shore and Mare Smooke and Suzanna Adler are heading the event committee, along with western regional director Jack Mayer. Production is by TEEV events.
For further information, please visit symphonyoftheheartla.com,