18th Annual Soul Beach Music Festival Hosted by Aruba | May 23rd-28th, 2018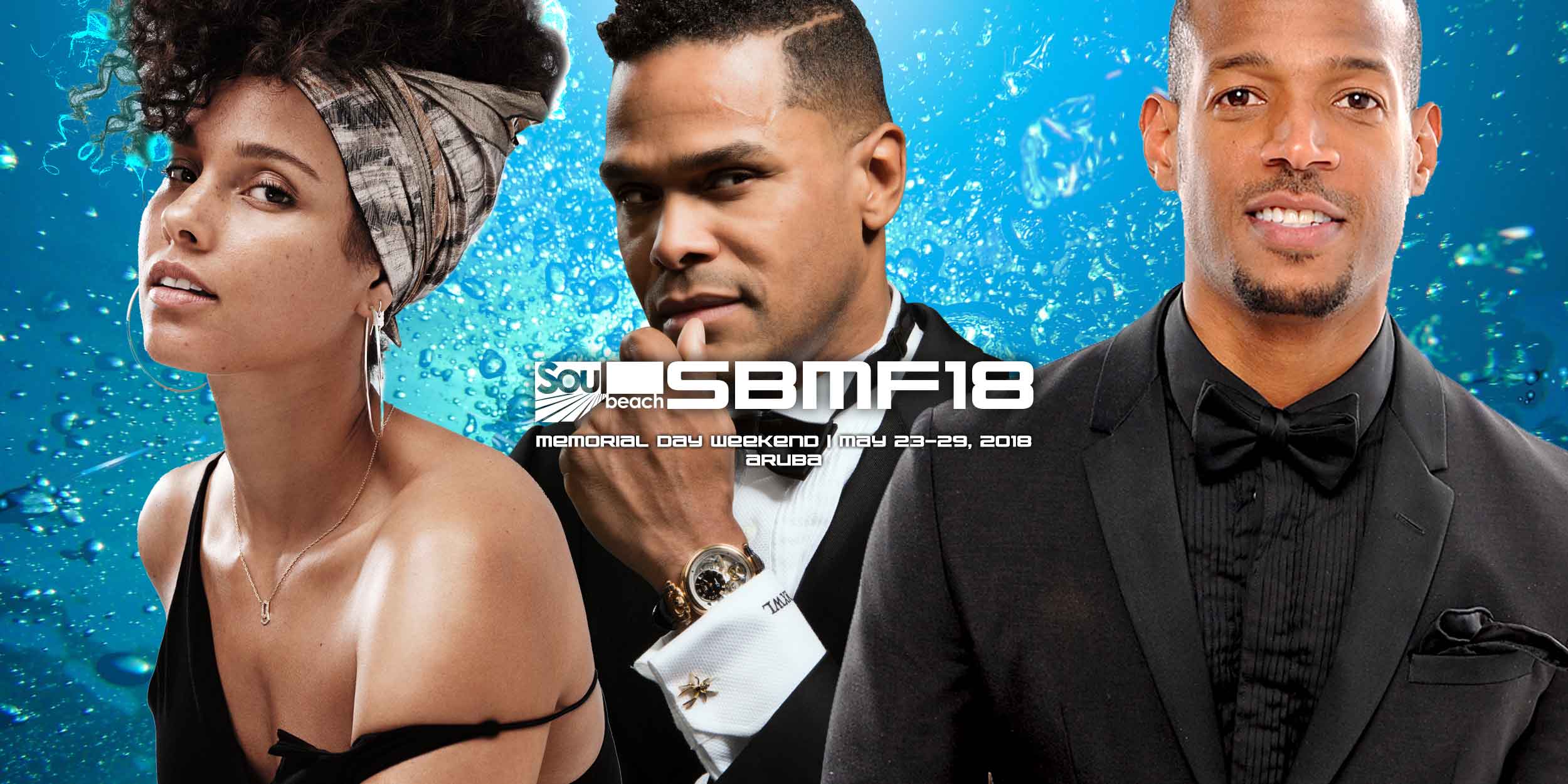 18th Annual Soul Beach Music Festival Hosted by Aruba Announces High Voltage Headliners: Alicia Keys, Maxwell & Marlon Wayans
Keep Your Head to the Sky and Elevate Your Soul!
Memorial Day Weekend May 23-28
COMEDY NIGHT AND LIVE MUSIC PERFORMANCES BY AN ARRAY OF ARTISTS
LOS ANGELES, March 16, 2018 /PRNewswire/ — The 18th Annual Soul Beach Music Festival hosted by Aruba is sure to have you seeing stars, Memorial Day weekend, May 23-28, 2018 with main stage concert headliners Alicia Keys, Maxwell and Marlon Wayans.
Alicia Keys, a 15-time Grammy® Award-winning singer/songwriter/producer, an accomplished actress, a New York Times best-selling author, an entrepreneur and a powerful force in the world of activism will set the stage on fire with her effortless grace and musical virtuosity to headline Saturday, May 26th. In 2016, Keys released her critically-acclaimed sixth studio album, Here. Featuring a composition of 16 songs, the album raises awareness around pivotal human rights issues at the forefront of controversy and debate. Keys launched We Are Here, a movement that empowers the global community around a host of issues and initiatives building a better world where all people are heard, respected, equal, and treated with dignity. She also co-founded Keep a Child Alive (KCA) and serves as Global Ambassador for the organization.
Maxwell, 3-time Grammy® Award-winning, singer, songwriter, producer and actor will bring the heat with his sumptuously anointed vocals and cosmic conveyance to headline Sunday, May 27th. Maxwell has artfully managed to transfix music lovers for more than two decades. The Grammy winner's latest album 'blackSUMMERS'night,' the second installment of his musical trilogy encompassing his 20+ year career, garnered praise from Rolling Stone, NPR, SPIN, Complex, and more, and earned him his third-Grammy (Best R&B Song for "Lake By The Ocean"), an NAACP Image Award (Outstanding Male Artist), a Soul Train Award (Best R&B/Soul Male Artist) and a 2018 NAACP Award nomination in the Outstanding Music Video/Visual Album category for "Gods."
Comedy night headliner, Marlon Wayans is an actor, producer, comedian, writer and film director phenomena known for the WB sitcom The Wayans Bros. and film credits Scary Movie, Scary Movie 2, White Chicks, Littleman, Dance Flick and G.I. Joe: The Rise of the Cobra to name a few. With no shortage of ingenuity, Wayans throws down in a new stand-up special filmed in Washington D.C. for Netflix. He continues to light up the screen, starring on a new hit NBC sitcom "Marlon," which debuted last summer as the #1 scripted series on the Big 4 networks and has been renewed for a second season. Ripping the audience with his audacious stage presence and comedic genius, Wayans' will deliver uproarious flames of pure brilliance on Friday, May 25th.
"Now in its 18th year, The Soul Beach Music Festival has become one of Aruba's most sought-after events, bringing together world-renowned musical artists and comedians over a span of five days," said Ronella Tjin Asjoe-Croes, CEO of Aruba Tourism Authority (ATA). "The One happy island welcomes visitors and locals alike to indulge in Aruba's natural beauty, including Eagle Beach, the No. 4 beach in the world, and cutting-edge arts scene."
A true cosmopolitan oasis with a mix of modern luxury and cultural charm, Aruba is a world-class destination where happiness is more than a buzz word, it's a driving force. Soul Beach Music Festival Hosted by Aruba, previously named #4 by USA Today readers' choice "10 Best Caribbean Celebrations" and #1 "Caribbean Summer Festival" by Jetsetter Magazine, boasts a truly unique and unforgettable three-in-one experience featuring live music performances, comedy shows and beach parties. Aruba knows how to bring the WOW factor from cutting-edge entertainment, to award-winning cuisine, to upscale retail, to over-the-top-scenic views from a variety of impressive settings. For the discerning traveler, Aruba is the perfect option putting both serenity and adventure at their doorsteps. Soul Beach is more than a music festival, it boasts the trifecta of a visually stunning atmosphere, a multifaceted event and the energy that comes with camaraderie of people across the globe who glow up together under a common theme; to make the heart sing and illuminate a joyful echo of oneness. It's no wonder festival goers return year after year to indulge the electric collaboration of Soul Beach Music Festivals' mega gathering and the incomparable experience of Aruba's paradise.
"We are thrilled to be back in Aruba with an impressive lineup featuring Alicia Keys, Maxwell, and Marlon Wayans," said Mark Adkins, Executive Producer of Soul Beach Festival Productions. "Soul Beach continues to provide an amazing time to hang out with friends and create memories that will last a lifetime. The island of Aruba elevates this event from a Music Festival to a Music Paradise."
The 2018 Soul Beach Music Festival, #SBMF18, will roll out more highly anticipated announcements of main stage performing artists in the weeks to come. For information about ticket sales, accommodations and the latest updates sign up for CLUB SOUL BEACH, by visiting www.soulbeach.com.
Join the Soul Beach Music Festival community: follow us on Twitter and Instagram @SoulBeachMusic and become a fan of the 2018 Soul Beach Music Festival on www.Facebook.com/soulbeach.
The 2018 Soul Beach Music Festival is sponsored by Aruba Tourism Authority; additional sponsors include Aruba Hotel & Tourism Association, Renaissance Aruba Resort & Casino, Divi Resorts, Tamrijn Aruba All Inclusive, Tropicana Aruba Resort & Casino and The Mill Resort & Suites Aruba.
Aruba
As one of the most revisited destinations in the Caribbean, Aruba — One happy island — is an island of contradictions, where pristine turquoise waters collide against the desert-like terrain of the north shore; where peace and relaxation coexist with wild and rugged adventures; where Dutch influence meets American ease and where a diverse history parallels a bright future. Nestled in the southern Caribbean outside the hurricane belt, the island is just a two-and-a-half-hour flight from Miami, a four-hour flight from New York City and boasts year-round cooling trade winds with an average 82-degree temperature. Aruba offers beach-lovers, adrenaline junkies, relaxation-seekers and everyone in between a slice of paradise with breathtaking beaches, a booming culinary scene of over 200 restaurants with 25+ located ideally on the water, world-famous festivals and events, exciting land and water activities, art galleries and museums, sumptuous spas, championship golf, exclusive shopping and signature experiences such as cooling off in Conchi, Aruba's natural pool— accessible only by foot or off-road vehicle. With all-inclusive options, boutique properties in charming Eagle Beach, high-rise branded resorts in Palm Beach and cosmopolitan city hotels in Oranjestad, the island of contradictions provides the perfect getaway for both first-time guests and loyal visitors. www.aruba.com
SOURCE Soul Beach Music Festival