Mariah Carey Live In Las Vegas (1st Ever Global Mobile & Digital Concert) | Oct. 10th, 2009
Mariah Carey in First Ever Global Mobile and Digital Concert "Mariah Carey Live In Las Vegas"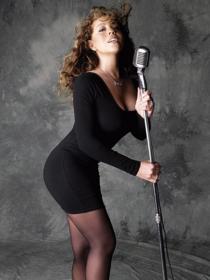 Premieres Saturday, October 10, 2009
LAS VEGAS, NV–(Marketwire – October 6, 2009) – Mariah
Carey will make history, Saturday, Oct. 10, when her performance "Mariah Carey Live In Las Vegas" becomes
the first concert to be simulcast to mobile (internet enabled phones) and
other digital devices worldwide. Presented by GDE Partners through their
www.iviago.com website, in association with the Island Def Jam Group, the digital
broadcast, also available in high definition on October 24, will be
delivered through Iviago's virtual
global stage, accessible in over 200 countries via more than 235 mobile and
digital partners including iClips and iTunes.


Virtual concert tickets will cost $9.99. They are available by texting
Mariah to 313131, through Mariah
Carey's official website www.MariahCarey.com and Facebook or
MySpace page by clicking on the "Mariah
Carey Live In Las Vegas" link, or by going directly to www.iviago.com,
where a sixty second preview is available for viewing. The concert stream
will be sent on the day of the event to anyone who purchases a ticket, and
can be viewed right away or saved for future one-time viewing. Like other
digital video services, the content may be paused mid-stream and continued
at a later time, but may not be rewound or replayed once it has been
viewed. In addition, starting October 20, the concert will be also be
available as downloadable video clips with a select number of mobile phone
carriers in North America, South America and Europe.


"Fans from all over the world can now share the excitement of a live
concert, wherever, whenever, and on whatever digital device they chose,"
explained Steve Bartels, President/COO, Island Def Jam Music Group.


"Mariah is a great performer to debut our global concert platform," says
Robert Kasher, a partner in GDE. "Her extraordinary worldwide popularity is
a perfect fit to showcase this new approach for the dissemination of live
music which we believe to be the future of live entertainment."


The long-awaited, sold-out concert is Mariah's first major performance in
three years. Recorded live on Friday, September 11 and Saturday, September
12, it is taken from the first two of her four exclusive concerts at the
Palms Resort in Las Vegas, which will conclude with two concerts October 9
and 10. The concert program being presented will be sixty minutes in
length including introduction and will feature her biggest hits, as well as
songs from her new CD, "Memoirs Of An
imperfect Angel," released September 29th on IDJ.


About Iviago

www.iviago.com is a platform of outlets in the digital and mobile sphere
that covers over 200 countries and 235 partners throughout the world for
the distribution and dissemination of audio, video and print content. As
part of GDE (Global Digital Entertainment) Partners (www.gdepartners.com),
Iviago represents the company's
virtual global stage, where users can access or download streaming
entertainment. GDE believes that the future success of live performance as
well as print, audio and video content lies in its efficient distribution
world-wide via mobile and digital formats. GDE is dedicated to making this
future happen. One world, one company, one solution to deliver any kind of
content to any kind of device anywhere, anytime.


About Island Def Jam Group


The Island Def Jam Music Group is home to a multi-cultural and diverse
family of artists and has fast become one of the most successful labels in
the industry. It is comprised of Island Records and Def Jam Recordings, and
is in partnerships with Disturbing Tha Peace and Slip N Slide. The roster
boasts an array of talented artists including Mariah Carey, Kanye West,
Fall Out Boy, The Killers, The-Dream, Fabolous, Melissa Etheridge, LL Cool
J, NAS, Chrisette Michele, Bon Jovi, Ludacris, Lionel Richie, Rihanna,
Hoobastank, Jeremih, Sum 41, Rick Ross, Young Jeezy and Ne-Yo.