The 90's Block Party 2018 Tour with Special Guests GUY, Monica, Ginuwine, 112, & Next | Kicks Off Feb. 14th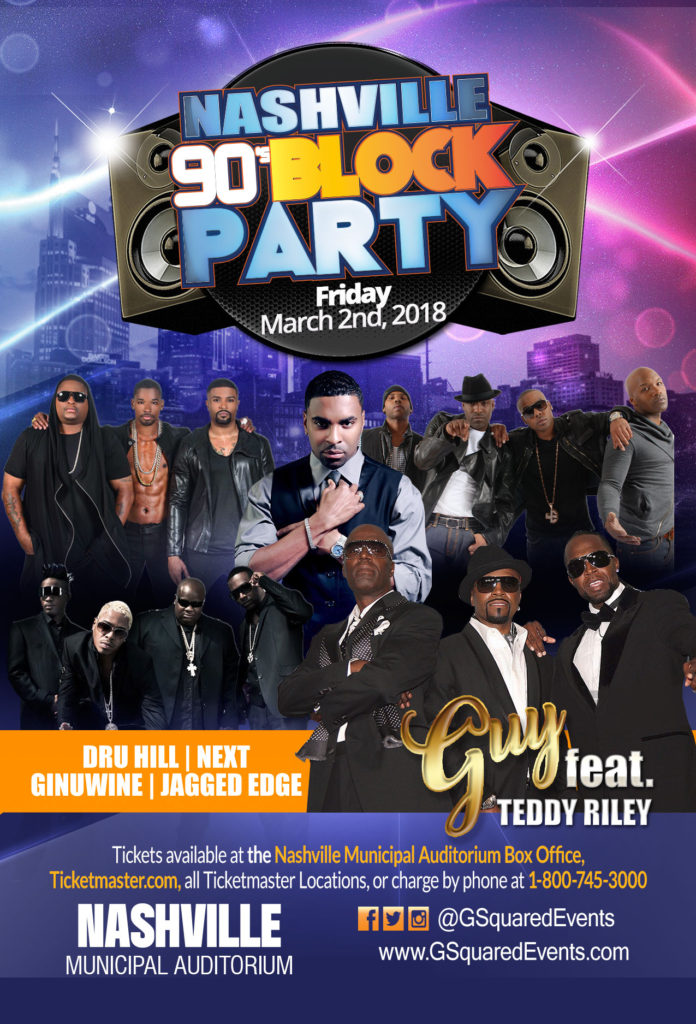 "THE 90'S BLOCK PARTY TOUR"
ANNOUNCES NASHVILLE, TN TOUR STOP
with special guests GUY feat. TEDDY RILEY, 112, GENUINE AND NEXT
FRIDAY, MARCH 2nd DOORS OPEN AT 6:30PM
NASHVILLE MUNICIPAL AUDITORIUM
TICKETS ON SALE NOW
TICKET MASTERS
HOUSTON (December 11, 2017) –The "90's Block Party" has announced a new North American tour stop in New York City, NY, produced by G-Squared Events. The 90's Block Party Tour will span across 40 cities between February and April 2018. The 90's Block Party Tour invites attendees to reminisce about the most incredible R&B music from that decade. A time when music was fun, and everyone was able to party and have a good time. The New York City 90's Block Party Tour stop will feature performances by Guy, a legendary 90's R&B Band, whose members include Teddy Riley and brothers Aaron and Damion Hall. Adding to the excitement, Guy will be joined by tour special guests Monica, Ginuwine, 112, and Next. Talent may vary by market.
Rolling off sold-out tour stops in Louisville, Houston, and Jacksonville, fans proclaim that Guy and the other acts on the tour, "Have not lost an ounce of their greatness from the 90's."
The 90's Block Party 2018 Tour kicks off on February 14 th at the Bellco Theatre in Denver, Colorado, hits major markets across North America, and concludes in Houston, TX, at the Smart Financial Centre. Check your local listings or go to http://gsquaredevents.com for more information.
THE 90'S BLOCK PARTY – 2018 TOUR SCHEDULE (ANNOUNCED DATES)
Wed, Feb 14- Denver, CO – Bellco Theatre- Guy, Jagged Edge, 112, Ginuwine, and Next
Thu, Feb 22- Fresno, CA- Selland Arena- Guy, Ginuwine, 112, and Next Sat, Feb
24- Oakland, CA- Paramount Theatre- Guy, Ginuwine, 112, and Next
Fri, Mar 2- Nashville, TN- Municipal Auditorium – Guy, Jagged Edge, Ginuwine, Next, and
Dru Hill
Sat, Mar 3- Mobile, AL- Mobile Civic Center- Guy, Jagged Edge, 112, and Next
Sun, Mar 4- Bossier City, LA- Century Link Center- Guy, Jagged Edge, 112, Ginuwine, and Dru Hill
Thu, Mar 8- Pittsburgh, PA- Petersen Events Center- Guy, Jagged Edge, 112, and Ginuwine
Fri, Mar 9- Washington DC- DAR Constitution Hall- Guy, Jagged Edge, 112, Ginuwine, and Next
Sat, Mar 10- New York, NY- Theater at Madison Square- Guy, Monica, 112, Ginuwine, and Next
Sun, Mar 11- Hartford, CT- Bushnell Theatre- Guy, Jagged Edge, Ginuwine, and Next
Fri, Mar 16- Raleigh, NC- PNC Arena- Guy, Jagged Edge, 112, Ginuwine, and Next
Sat, Mar 17- Charleston, SC- N. Charleston Coliseum- Guy, Jagged Edge, 112, and Next
Sun, Mar 18- Montgomery, AL- Acadome- Guy, Jagged Edge, Ginuwine, and Next
Thu, Mar 22- Columbus, OH- Palace Theatre- Guy, 112, Ginuwine, and Next
Sat, Mar 24- Cincinnati, OH- US Bank Arena- Guy, Monica, Jagged Edge, Ginuwine, and Dru Hill
Thu, Mar 29- Minneapolis, MN- Armory- Guy, Jagged Edge, Ginuwine, and Next
Sat, Mar 31- Indianapolis, IN- Bankers Life Field House- Guy, Monica, Jagged Edge, 112, and Ginuwine
Thu, Apr 5- Savannah, GA- Savannah Civic Center- Guy, Jagged Edge,112, Ginuwine, and Next
Fri, Apr 6- Charlotte, NC- Spectrum Center- Guy, Tank, 112, Ginuwine, and Next
Sun, Apr 8- Macon, GA- Macon Coliseum- Guy, Jagged Edge, Dru Hill, Ginuwine, and Next
Thu, Apr 12- Boston, MA- Wang Theater – Guy, 112, Ginuwine, Next, and Dru Hill
Sat, Apr 14- Richmond, VA- Richmond Coliseum- Guy, Jagged Edge, 112, Ginuwine, and Next
Fri, Apr 20- Greensboro, NC- Greensboro Coliseum- Keith Sweat, Guy, Jagged Edge, and 112
Sat, Apr 21- Houston, TX- Smart Financial Centre- Keith Sweat, Guy, Jagged Edge, and 112
About G-Squared Events
G-Squared Events is a national touring company based out of Houston, TX, specializing in live
entertainment. G-Squared Events is best known for bringing high-quality production events with some of the nation's biggest entertainers including Charlie Wilson, Tyrese, Steve Harvey, Keith Sweat, Brian McKnight. For additional information, visit http://www.gsquaredevents.com .
G-Squared Events:
http://gsquaredevents