The 6th Annual TD Niagara Jazz Festival | July 19th-21st & July 26th-28th, 2019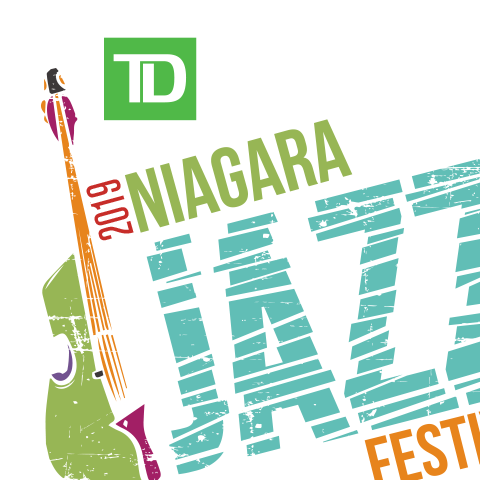 The 2019 TD NIAGARA JAZZ FESTIVAL
JULY 19-21 and JULY 26-28
(www.niagarajazzfestival.com)
announced the exciting summer festival line up
ON MONDAY, JUNE 10th – FROM NOON to ​1:3​0 PM
at the Henley Grandstand
61 Main Street – ​Port ​Dalhousie – St. Catharines
FEATURING THIS YEAR'S TD NIAGARA JAZZ FESTIVAL ARTISTS
and the latest details about our enhanced educational and performance streams, the "Jazz 4 the Ages Youth Competition", as well as
stunning new venues, intimate V.I.P Events, gorgeous outdoor festival sites
and a line-up of stellar and diverse jazz artists!
and…the much-anticipated debut of
Niagara's Summer MARDI GRAS Event!
June 10, 2019 – Toronto and NIAGARA-ON-THE-LAKE – As the Award-winning TD Niagara Jazz Festival gears up for its sixth year of thrilling presentations, we are pleased to announce both expanded and brand-new events, certain to delight a wide variety of Festival goers. One of the most thrilling additions to this year's Festival events will be "Niagara's Summer MARDI GRAS", which will feature LIVE MUSIC and entertainment performed by a line-up of fabulous ensembles, including "The Shuffle Demons", "Heavyweights Brass Band", "Turbo Street Funk", and much, much more – LIVE MUSIC, DANCING, CREOLE FOOD, MAGIC, VAUDEVILLE, CAJUN CULTURE, CREOLE FOOD a PARADE, BEADS, BAUBLES and FEATHERS are all part of the fun of this mega-watt debut event, which will literally turn Niagara into "The New Orleans of The North".
New Orleans, Louisiana – The Crescent City – is the literal birthplace of jazz, North America's greatest, and only original art form…
Born out of the horrific evil of slavery, which was (and is) one of the most heinous and sinister practices and industries in the history of humanity, has come something precious, authentic, unique and beautiful – the art form of JAZZ. Jazz and Blues music, is a heavy combination of Afro-centric rhythms and motifs as well as North American/Acadian Folk and Indigenous musics that have merged together in their own significant way as the literal embodiment of freedom. Not just freedom, but also a clear triumph of the human spirit over unimaginable cruelty, brutality and adversity. In this current climate of media-focused racism and intolerance, it has never been more important for us – ALL OF US – to honour the true story of our past, and the incredible and incalculable contribution of African Canadians and African Americans to the rich tapestry of our global culture. During the colonization of North America, African and Indigenous slaves were allowed to perform their music every Sunday in Congo Square, in New Orleans. In this way, slaves were able to preserve aspects of their culture and traditions by performing their music and dance for the slave owner's entertainment. With its more permissive atmosphere of a French Colony, New Orleans eventually morphed into an irresistible musical pot of cultural "Gumbo", where the main ingredients were African music and Indigenous people's music, with a big dash of Acadian (displaced French, marched by the English from Eastern Canada to Louisiana), Spanish and other European colonizers' instruments and music in the mix – the exciting result was the creation of a brand-new, contemporary art from called "Jazz". Other musical genres, including rock, pop, soul, gospel, country and beyond all owe their existence to original Jazz and Blues. New Orleans and its special character shaped music as we know it today, and we want to celebrate this magical city in our idyllic home of Niagara. The TD Niagara Jazz Festival co-creators, Board and team are very excited to partner with the Canadian Henley Rowing Corporation using their facilities and their majestic waterfront location for the first annual NIAGARA's SUMMER MARDI GRAS…it is also our most sincere hope that this event will become a tradition for many years to come.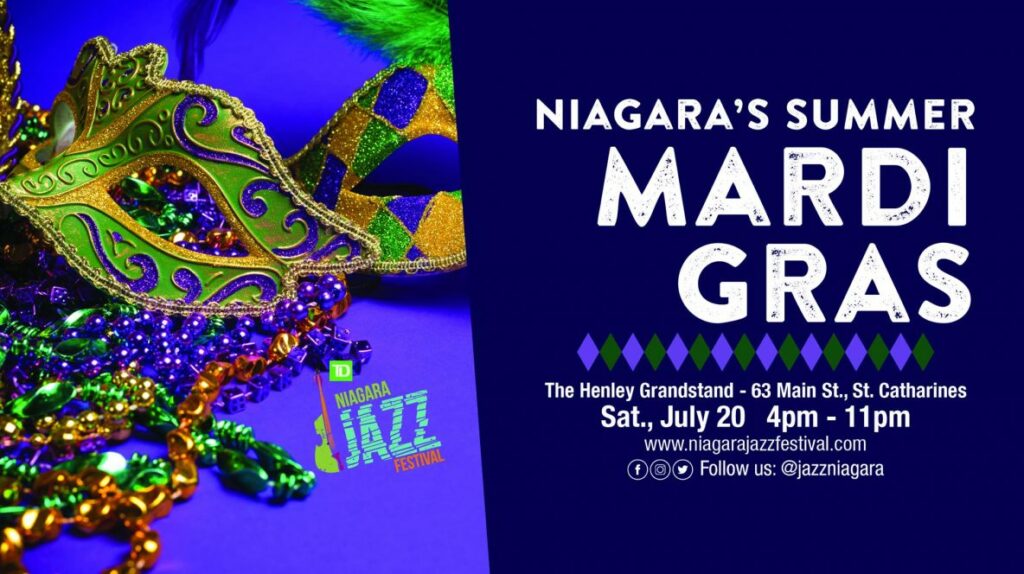 This explosion of New Orleans-style joy will take place at The Henley Grandstand in Port Dalhousie, St. Catharines, with performances on a floating stage on Saturday, July 20th, from 4:00 PM to 11:00 PM. (Pop-up Parade starts at 3 pm in Rennie Park.) Tickets range from $15 to $149 (for the special V.I.P. Dinner Experience).
Royal Canadian Henley Regatta Grandstand – www.henleyregatta.ca
The Shuffle Demons – www.shuffledemons.com
Stitch Winston, George Koller, Richard Underhill, Kelly Jefferson & Perry White
Heavy Weights Brass Band – www.heavyweightsbrassband.com
Christopher Butcher, Paul Metcalf, John Pitman, Tom Richards & Lowell Whitt
Turbo Street Funk – www.turbostreetfunk.com
Casey Van, Juan Manuel Arce, Joe Eric Szabo, Ian Feenstra & Camillo Gall
Another highlight will be the FOURTH ANNUAL "JAZZ 4 the AGES YOUTH COMPETITION". The TD NJF remains dedicated to the development of young jazz talent, and the engagement of youth in general with the art of jazz. The FINAL AUDITIONS for the COMPETITION will take place on SUNDAY, JUNE 23rd. For the second year, the FINAL COMPETITION EVENT will be presented in partnership with "VIENI ESTATES SPARKLE FEST". VIENI ESTATES WINERY and B & B is located at 4553 Fly Rd. in Beamsville. ALL WINNERS of the 2019 "JAZZ 4 the AGES YOUTH COMPETITION" will be performing throughout this summer's TD NJF on various stages during the two week-end long Festival (July 19-21 and July 26-28). Additionally, all WINNERS will receive a special Certificate, presented onstage at our "Flagship Event" by member of the St. Catharines City Council, on Saturday, July 20th, 2019. For further JAZZ 4 the AGES YOUTH COMPETITION details, please log on to www.niagarajazzfestival.com
2018 Jazz 4 the Ages Winners and Finalists
We are also pleased to announce that the summer portion of the TD Niagara Jazz Festival will once again be expanded into two weekends – JULY 19-21 and JULY 26-28 – thanks to the continuing support of TD BANK GROUP, Ontario Creates (Ontario Music Fund), the Niagara Region (Niagara Investment in Culture), The City of St. Catharines (SCCIP), Town of Lincoln, Niagara Casinos, White Oaks Resort and Spa, Mill Street Brewery, Steinway Piano Gallery Toronto, Subaru Niagara, Minken Employment Lawyers, the Government of Canada (Canada Summer Job), the Province of Ontario (Summer Job Experience), the Town of Niagara-on-the-Lake and many others. Now in its sixth fabulous year, the TD NIAGARA JAZZ FESTIVAL and all of its related pre-festival events, has become a favourite event for not only regional residents, but for Canadians from across our country, as well as tourists from literally everywhere – truly bringing together the absolute best of the Niagara Region as well as the absolute best of this precious, international art form of jazz.
BELOW, PLEASE FIND A SCHEDULE OF PERFORMANCES FOR THE
6th ANNUAL, 2019 TD NIAGARA JAZZ FESTIVAL:
To purchase your Festival tickets and passes, please log on to www.niagarajazzfestival.com, or call 1-844-LIV-JAZZ (1-844-548-5299).  Artists and Venues are subject to change.  Tickets are non-refundable.