"A Concert for Cuba" | Global Broadcast July 18th & 19th, 2020 (7pm CST/8pm EST/6pm PST)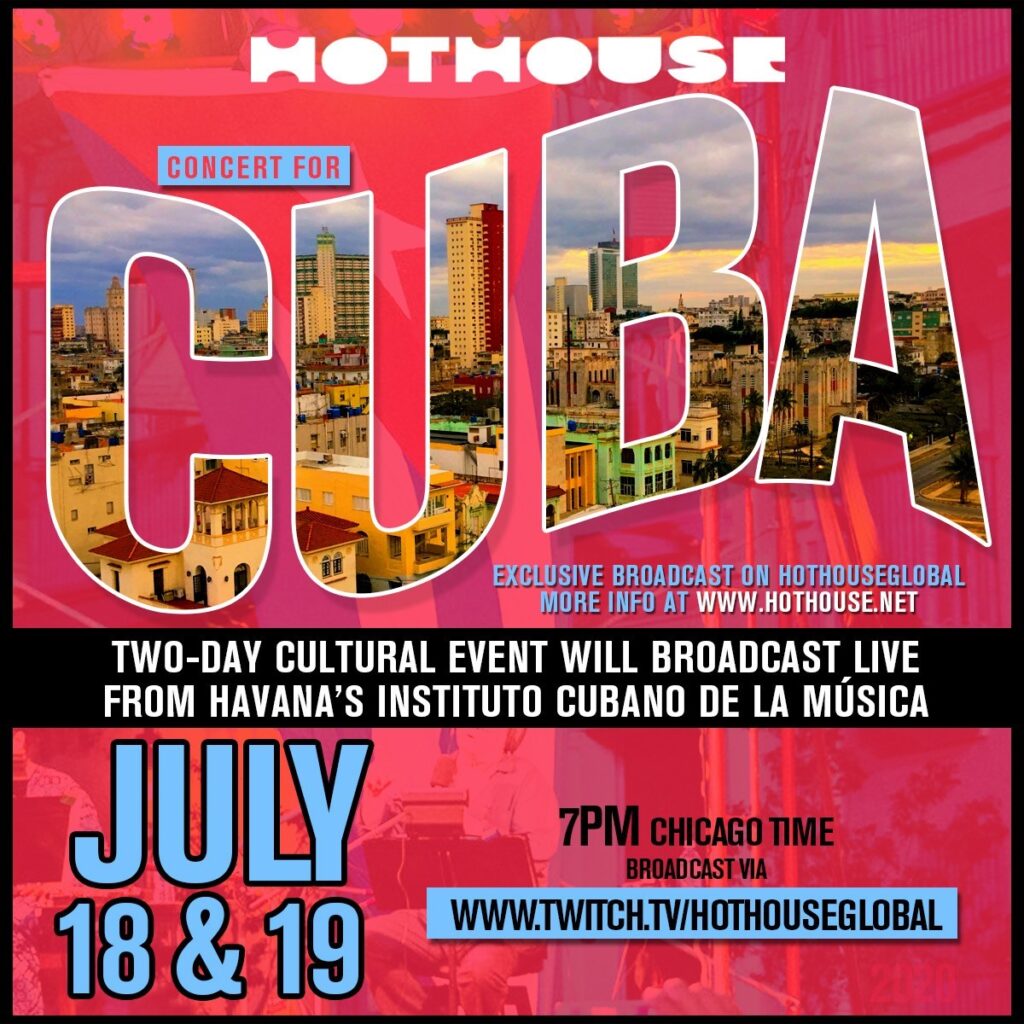 Renowned Musicians to Unite in the World's First "Concert for Cuba"
Global Broadcast July 18 & 19 (7pm CST/8pm EST/6pm PST) Brings Afro-Cuban Music and Culture to the World
Broadcasting from Cuba, the Americas and Europe, the unprecedented musical line-up includes:
ALEXANDER ABREU Y SU TIMBA ALL STARS
ORQUESTA ARAGON
SUSANA BACA JANE BUNNETT WITH DANAE OLANO
BUSH
PROYECTO SOCIO-CULTURAL EL PATIO DE ADELA Y EL CAVERCHELO.COMB WITH BEN LAPIDUS
JON CLEARY
BARBARA DANE WITH PABLO MENÉNDEZ and MEZCLA
OSAIN DEL MONTE
"NACHITO" HERRERA
OSCAR HERNÁNDEZ
LOS VAN VAN
ELIADES OCHOA
ARTURO O'FARRILL
ARUÁN ORTIZ
OZOMATLI OMARA PORTUONDO CON LA ORQUESTA FAILDE
JOHN SANTOS
EL SEPTETO SANTIAGUERO
SÍNTESIS
OMAR SOSA
ORBERT DAVIS' CHICAGO JAZZ PHILHARMONIC
TOM MORELLO
DAYRAMIR GONZALEZ
MIGUEL ZENÓN
GRUPO MONCADA
PEDRITO MARTINEZ
NANCY MOREJON
DIONNE WARWICK
Speakers & Presenters:
DAVID SOUL
DANNY GLOVER
RON PERLMAN
MEDEA BENJAMIN
JAMES EARLY
JUDITH LE BLANC
ANTONIO GONZALES
ALICIA JRAPKO
JONTAY DARKO
JUAN DE MARCOS GONZÁLEZ
ALFREDO CAXAJ
CONGRESSWOMAN BARBARA LEE
ED ASNER
CITY OF LOS ANGELES, CD 11 COUNCILMAN MIKE BONIN
AISLINN SO
MICHAEL MOORE
MIKE FARRELL
Joining the musicians in honoring the humanitarian role Cuba played during the pandemic, during which it sent medical teams and supplies to nearly 30 nations, will be an equally impressive group of artists and performers, all of whom are known for their decades-long activism in defense of human dignity and rights. And complementing the musicians and artists will be a number of well-known political activists and leaders. Additional performers and speakers will continue to be added to the event.
Marguerite Horberg, whose Chicago cultural-mecca HotHouse, developed HotHouseGlobal as an online streaming initiative to serve the NGO, small business, and cultural industries adversely affected during this health and economic crisis, and a sponsor of the two-night event speaks of the uniqueness and importance of the moment. "Not only is this an amazing gathering of talent – it is an important affirmation of hope. If we've learned nothing else these last months, we've learned how connected we all are. In the same spirit that Cuba, one of the world's smallest nations, sent medical teams to more than 26 nations during the pandemic, this concert too is meant to underscore that interconnectedness. It is as it states, "A time to heal."
"A Concert for Cuba" is sponsored by: the Instituto Cubano de la Música/The Cuban Institute of Music; HotHouse (Chicago, IL); Raul Cuza (Montreal, Canada); and Bill Martinez (San Francisco, CA). The concert will contain both live and pre-recorded sections and be broadcast at 7pm CST/8pm EST/6pm PST on both July 18th and 19th from Havana's Instituto Cubano.
The concert is free and will be available through a variety of channels, both within and outside of Cuba. To Europe, the Americas, Asia, and Africa the broadcast will be available through the the Twitch.tv/HotHouseGlobal channel as well as through HothouseGlobal's Facebook Site. While there is no charge, advance registration is recommended. Register here or at the "Concert for Cuba" Eventbrite site at https://www.eventbrite.com/e/concert-for-cuba-tickets-111083545876?aff=erelexpmlt to ensure notice of any schedule or broadcast changes.
Despite being the one of the hemisphere's smallest nations, with its resources constrained by continued U.S. policies, Cuba is sharing its medical advances and teams of health care experts and first responders to assist more than two dozen nations across the globe. In recognition of their profound contributions, many of the island nation's legendary musicians will be joined by a score of international stars for the two-night event.
Fully Altered Media