"Band Together" Benefit Concert | May 20th, 2021 – WATCH!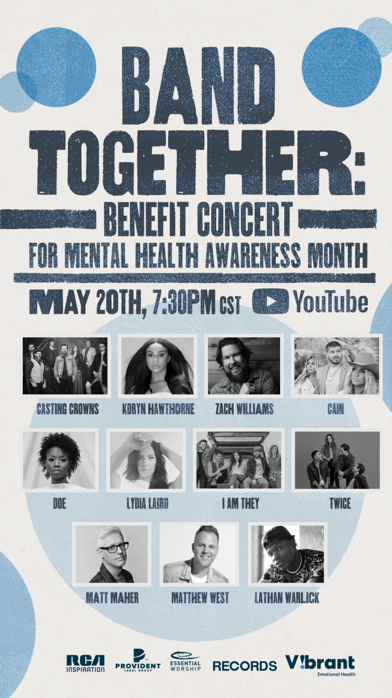 PROVIDENT ENTERTAINMENT PRESENTS "BAND TOGETHER" ONLINE EVENT ON
MAY 20TH TO SUPPORT NATIONAL MENTAL HEALTH MONTH
PARTNERING WITH VIBRANT EMOTIONAL HEALTH TO BRING MENTAL HEALTH
AWARENESS WITH 11 ARTISTS ACROSS THE LABEL FAMILY
NASHVILLE, TENN. (May 17, 2021) Each year, millions of Americans deal with the reality of mental illness and this year with the ongoing pandemic, focusing on mental health is needed now more than ever. Provident Entertainment is leaning into Mental Health Awareness Month by partnering with Vibrant Emotional Health for a "Band Together" special virtual event to raise awareness around the struggles of mental health and the help that is available for everyone. The online concert will premiere on May 20th at 7:30 PM Central on YouTube, simultaneously streaming across the artists and label channels. Artists involved in "Band Together" include Provident Entertainment's CAIN, Casting Crowns, DOE, I AM THEY, Koryn Hawthorne, Lydia Laird, Matt Maher, Matthew West and Zach Williams, as well as Adarga Entertainment Group artist Twice Música and RECORDS artist Lathan Warlick.
"During a 'normal year' mental health awareness is a critical need. Not surprisingly, over the past year, with our world experiencing sickness and isolation this need has been eminently more important and, in many ways impacts us all. We are honored as a company to join forces with our artists, writers and Vibrant Emotional Health to raise awareness and support for this issue during Mental Health Awareness Month," shares Terry Hemmings, Provident Entertainment's CEO/President. "The program our team has put together will be an inspiring evening to band together in a time when togetherness is so vital."
"In the challenging times everyone has faced during this health crisis, bringing attention to mental health and sharing resources are important to help support each other," says Phil Thornton, SVP and General Manager of RCA Inspiration/Provident Entertainment. "I'm glad our artists are uniting on this event to bring inspiration and highlight this vital component of self-care, and the services that are out there to provide hope and help for anyone who's struggling."
The "Band Together" event will feature original artist performances, special segments from Vibrant Emotional Health, and messages of encouragement to "Band Together" in support of necessary resources for everyone to reach emotional well-being.
"I'm so excited such a diverse group of artists are coming together to engage in a topic that has such diversity – mental health," states Brian Dishon, SVP of Provident Entertainment. "It is important that all of us are open about our mental health and trust there are people and organizations here to help us each day."
Vibrant Emotional Health offers confidential, emotional support through crisis services like the National Suicide Prevention Lifeline and the Disaster Distress Helpline. The collective group encourages donations made to Vibrant Emotional Health and to learn more about their efforts at Vibrant.org or follow them on social media (@VibrantforAll). If you or someone you know may need support, please take advantage of these free services available 24/7.
"You may feel like you're walking through a valley right now, but you do not have to walk through that valley alone, and there is hope at the end of it," explains artist Lydia Laird. "I hope you're encouraged by these messages."
Provident Entertainment: Provident Entertainment, a division of Sony Music Entertainment, is home to Provident Label Group, RCA Inspiration, Essential Worship, and Essential Music Publishing, along with Provident Films. The label group is home to an artist roster including Casting Crowns, Zach Williams, Koryn Hawthorne, Kirk Franklin, Travis Greene, Matt Maher, Matthew West, Marvin Sapp and more. Provident Entertainment operates under the umbrella of Sony Music Nashville. Find out more by
visiting ProvidentEntertainment.com.