The 24th Annual Dave Koz & Friends Christmas Tour | Kicks Off Nov. 26th, 2021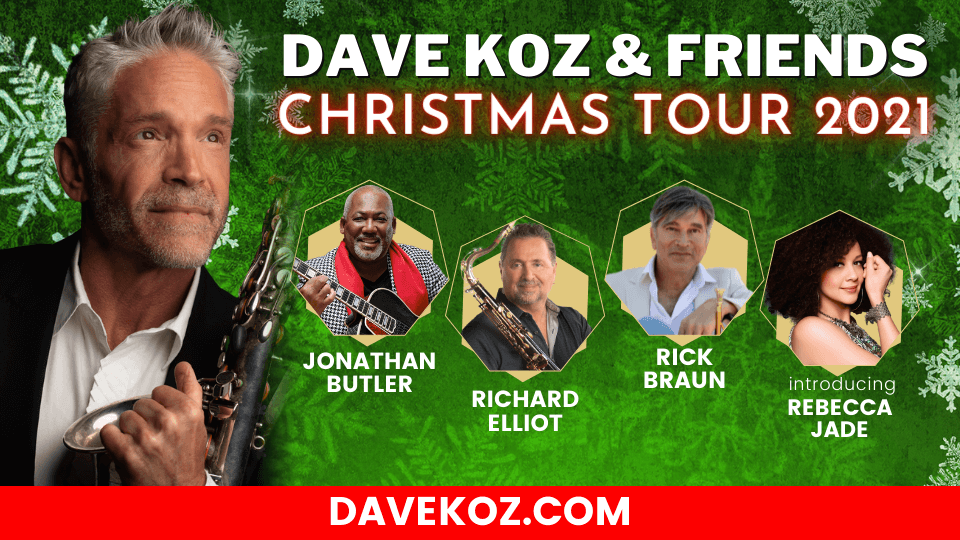 The 24th Annual Dave Koz & Friends Christmas Tour
featuring
Jonathan Butler, Richard Elliot, Rick Braun & Rebecca Jade
Dave Koz: …with the holidays fast approaching, I couldn't be more excited to announce our 24th Annual Christmas Tour, featuring great friends and fan favorites Jonathan Butler, Richard Elliot, Rick Braun and special guest Rebecca Jade!
Always grateful to be on the road during the holidays, but I am super excited for this tour—cus if there was ever a year when we 'need a little Christmas', it's 2021!
See the full list of tour dates below. I can't wait to celebrate together IN PERSON once again. After 23 years of doing this tour, I've come quite accustomed to seeing your smiling faces every year, and we look forward to bringing another heartfelt, fun and joyous show to you this holiday season!
FRIDAY, NOVEMBER 26
Cobb Energy Performing Arts Centre
ATLANTA, GA
SATURDAY, NOVEMBER 27
Ruth Eckerd Hall
CLEARWATER, FL
SUNDAY, NOVEMBER 28
Hayes Hall at Artis—Naples
NAPLES, FL
TUESDAY, NOVEMBER 30
Van Wezel Performing Arts Hall
SARASOTA, FL
WEDNESDAY, DECEMBER 1
Broward Center for the Performing Arts
FORT LAUDERDALE, FL
THURSDAY, DECEMBER 2
Florida Theatre
JACKSONVILLE, FL
FRIDAY, DECEMBER 3
North Charleston Performing Arts Center
NORTH CHARLESTON, SC
SATURDAY, DECEMBER 4
Ferguson Center for the Arts
NEWPORT NEWS, VA
SUNDAY, DECEMBER 5
Tilles Center for the Performing Arts
BROOKVILLE, NY
MONDAY, DECEMBER 6
Sound Board at MotorCity Casino
DETROIT, MI
WEDNESDAY, DECEMBER 8
Connor Palace at Playhouse Square
CLEVELAND, OH
THURSDAY, DECEMBER 9
Palace Theatre
COLUMBUS, OH
FRIDAY, DECEMBER 10
The Venue at Horseshoe Casino
HAMMOND, IN
SATURDAY, DECEMBER 11
The Palladium
CARMEL, IN
SUNDAY, DECEMBER 12
Brown Theatre
LOUISVILLE, KY
TUESDAY, DECEMBER 14
Plaza Theatre
EL PASO, TX
On Sale Soon!
WEDNESDAY, DECEMBER 15
Ikeda Theatre at Mesa Arts Center
MESA, AZ
FRIDAY, DECEMBER 17
Cerritos Center for the Performing Arts
CERRITOS, CA
On Sale Soon!
SATURDAY, DECEMBER 18
Cerritos Center for the Performing Arts
CERRITOS, CA
On Sale Soon!
SUNDAY, DECEMBER 19
McCallum Theatre
PALM DESERT, CA
On Sale Soon!
MONDAY, DECEMBER 20
Balboa Theatre
SAN DIEGO, CA
On Sale Soon!
TUESDAY, DECEMBER 21
Gallo Center for the Arts
MODESTO, CA
WEDNESDAY, DECEMBER 22
Luther Burbank Center for the Arts
SANTA ROSA, CA
THURSDAY, DECEMBER 23
San Jose Civic
SAN JOSE, CA
Source: Dave Koz