The 4th Annual Gospel Zydeco Festival in Houston, TX | April 9th, 2022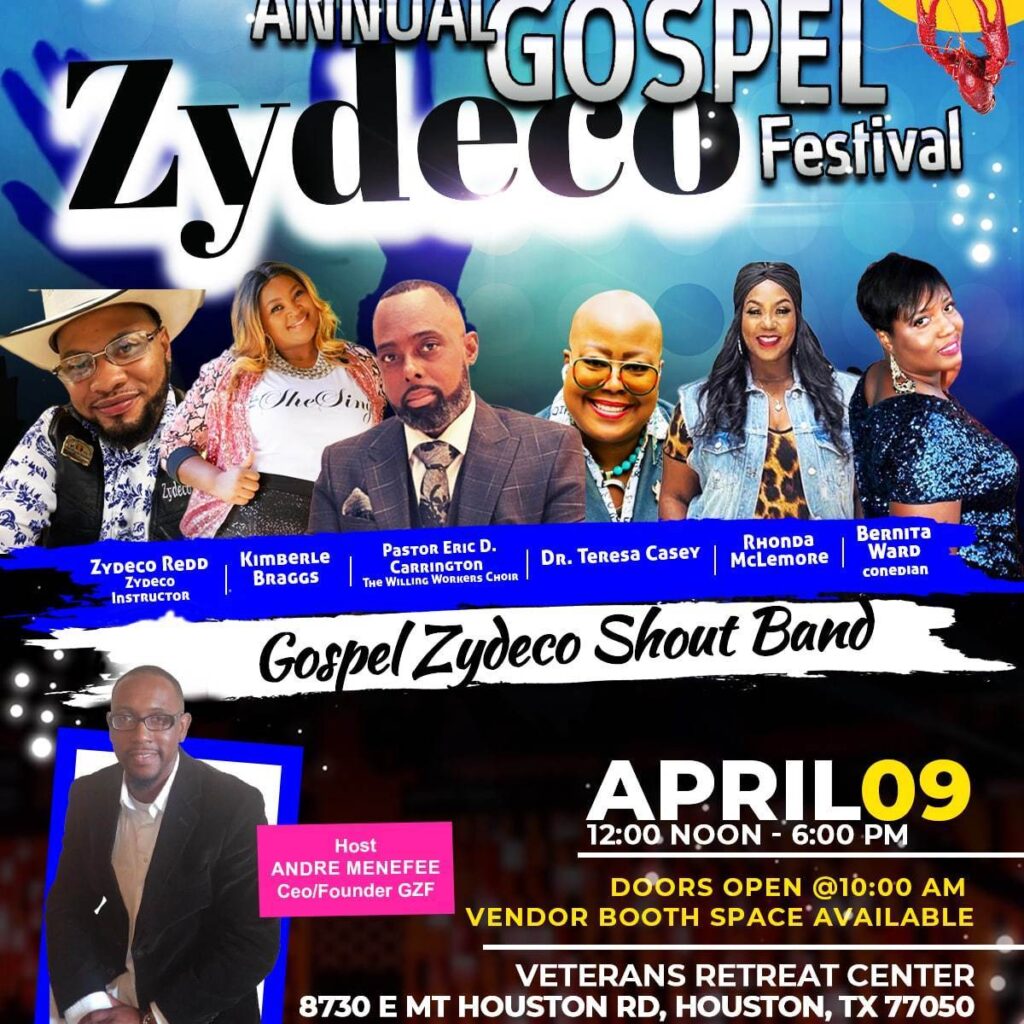 4th Annual Gospel Zydeco Festival
Houston, TX — The 4th ANNUAL GOSPEL ZYDECO FESTIVAL is set for Saturday, April 9 from 12noon – 6PM. The faith-filled and high-praise event will be held at The Veterans Retreat Center, 8730 East Mount Houston Rd, Houston, TX. The Gospel Zydeco Festival has an incredible line-up of artists and groups set to hit the stage. This year's festival will feature Raymond "Ray" Williams, Pastor Eric D. Carrington, Kimberly Braggs, Rhonda McLemore, Quinten Simon, Zai Lamb, and more. Comedian Bernita Ward will bring on the laughter. Groups B. Cole & the Zydeco Bulls and Ruben Moreno & Zydeco Re-Evolution are coming to heat up the festival with the authentic sounds of zydeco.
There will be plenty of food and fellowship, and you can join the fun by taking a Zydeco line dance class from instructor Zydeco Redd. The Gospel Zydeco Festival will offer the best in music and worship as DJ Mike "Mr Music" Jones keeps the beats and sounds flowing all day.
The 4th Annual Gospel Zydeco Festival is presented by Andre Menefee Productions. "I am excited to continue to bring this unifying event for the Houston area community," says Andre Menefee, event host/founder. "My goal for the Gospel Zydeco Festival is to bring these two genres of great music together and provide holistic entertainment for the entire family."
Tickets can be purchased on Eventbrite now. $20 adults advance tickets and $25 adults at the gate. Children 10 years and under are admitted free.
4th Annual Gospel Zydeco Festival
Saturday, April 9, 2022
Veterans Retreat Center
8730 East Mount Houston Rd, Houston, TX
Tickets (Click Here)
The Bellamy Group