The 2nd Annual Praise In The Parking Lot in Houston, TX (FREE) | Sept. 10th, 2022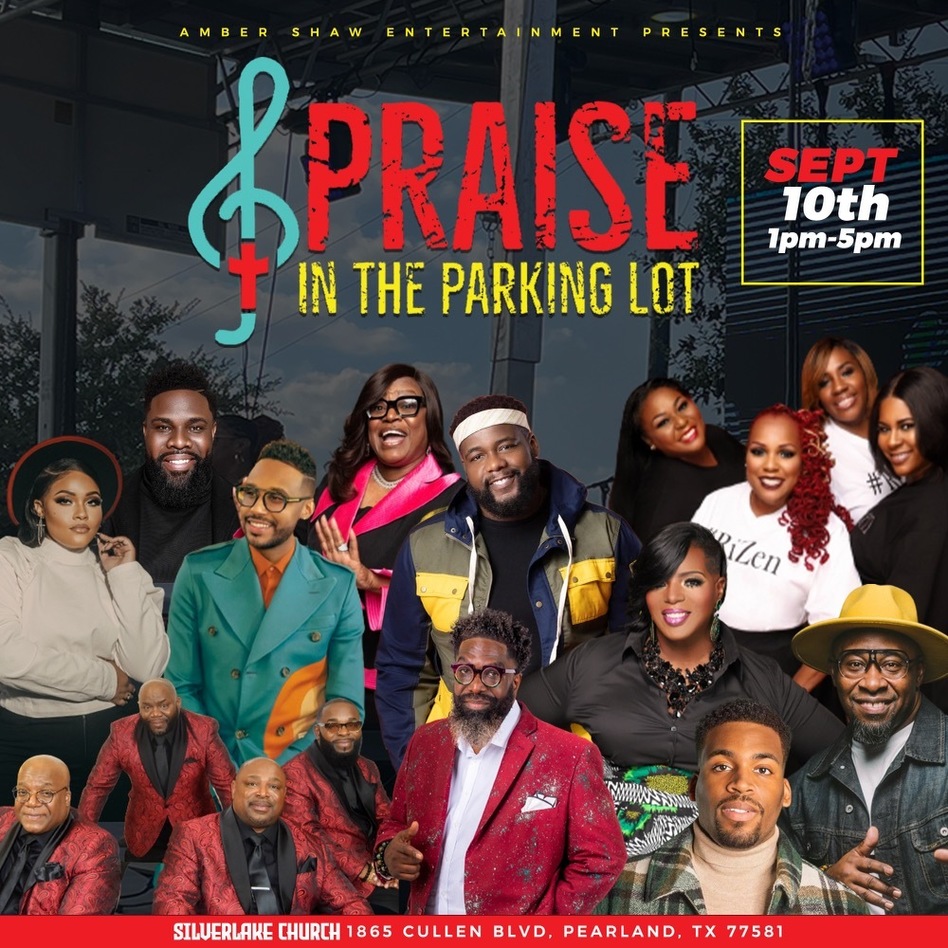 The 2nd Annual Praise In The Parking Lot Set For September 10 In Houston TX
Amber Shaw Entertainment Group Presents "Praise In The Parking Lot" With RiZen, Lemmie Battles, Zak Williams & 1Akord, Anthony Hall, The Brown Boyz and More!
Houston, TX — Amber Shaw Entertainment Group (ASEG) is a media company that assists independent artists in Gospel music. ASEG visionary, Gospel radio personality, and industry executive Amber Shaw launched the company to provide independent artists with radio promotions and tracking, management, and graphics services. Amber can be heard weekdays on her morning show "Nu Day With Amber Shaw" on 1230am KCOH The Source Radio in Houston, TX,. www.1230KCOH.com
Amber and her company are presenting the 2nd Annual Praise In The Parking Lot event on Saturday, September 10 at Silverlake Church, 1865 Cullen Blvd in Pearland, TX. Praise in the Parking Lot is FREE to the public and is designed to be a positive day of inspiration and community service because millions of people have been distanced by the effects of the pandemic. This event will include various community service providers and leaders uniting to inspire and "re-connect" the Houston area community.
"Praise in the Parking Lot was a random thought I had in February 2021 while sitting at home during the pandemic," Amber explains. "Seven months later, I was hosting my first FREE outdoor community event. This is my second year doing this event, and I am beyond excited."
Amber has invited an all-star list of Gospel artists to perform this year. Stellar Award-winning group RiZen, songbird Lemmie Battles, Lamont Sanders, Philadelphia-based Stellar Award-nominated choir Zak Williams & 1Akord, The Brown Boyz Quartet Group, Dr. James Mable, Jr., Kirisma Evans, Mike Dixon, Tatiana Barnett, Anthony Hall, and more.
"Praise in the Parking Lot is an event for anyone who wants or needs to be inspired," Amber says. "This year's event will be bigger than last year so meet us in the parking lot for a day of inspiration, fellowship, and praise."
The theme is "Community Re-Connect." Praise In The Parking Lot is a FREE event and will be from 1pm-5pm. Event sponsors are The Bridge Radio, Silverlake Church, KCOH-The Source Radio, Teacakes by Minke, BlackGospelRadio.net, Sid's Services, HoustonGospelEvents.com, 000 McKnight Bailbonds, and Yalife Media Marketing.
Gulf Cost Regional Blood Center is also a community partner for the event and will be on-site with their mobile drive from 1:00-4:00PM. September is Childhood Cancer Awareness Month. Many children battling cancer need blood transfusions to get through treatment. You can schedule a time to donate blood at Praise In The Parking Lot here. All donors will receive Gulf Coast Regional Blood Center-themed socks as a thank you for helping to save lives.
For more information on "Praise In The Parking Lot", visit www.thebridgeradio.online or call 832-577-8251.
Amber Shaw Entertainment Group
presents
Praise in the Parking Lot
Saturday, September 10, 2022
1:00pm-5:00pm
Silverlake Church
1865 Cullen Blvd., Pearland, TX 77581
→ Free Event ←
Connect With Bridge Radio: @thebridgeradio3
www.thebridgeradio.online
The Bellamy Group