Monterey Jazz Festival on Tour–Celebrating 65 Years | January 17-April 23, 2023

Monterey Jazz Festival on Tour–Celebrating 65 Years
Announces 25 Concerts in 12 States, January 17-April 23, 2023
MJF's Sixth National All-Star Group Features Dee Dee Bridgewater, Kurt Elling,
Christian Sands, Lakecia Benjamin, Yasushi Nakamura, and Clarence Penn
Monterey, Calif.; The Monterey Jazz Festival (MJF) announces its sixth national tour in 2023, with 25 shows scheduled in January and April. Monterey Jazz Festival on Tour–Celebrating 65 is MJF's latest national outing of jazz superstars and up-and-comers to present the artistry, spirit, and fun of the Monterey Jazz Festival to audiences everywhere with musicians who embody the Central Coast aesthetic by performing music, both historic and new, that reflects the values and legacy of the Monterey Jazz Festival over the last 65 years. Fronted by Dee Dee Bridgewater and Kurt Elling on vocals with Musical Director Christian Sands on piano, the sextet also features Lakecia Benjamin on alto saxophone, Yasushi Nakamura on bass, and Clarence Penn on drums.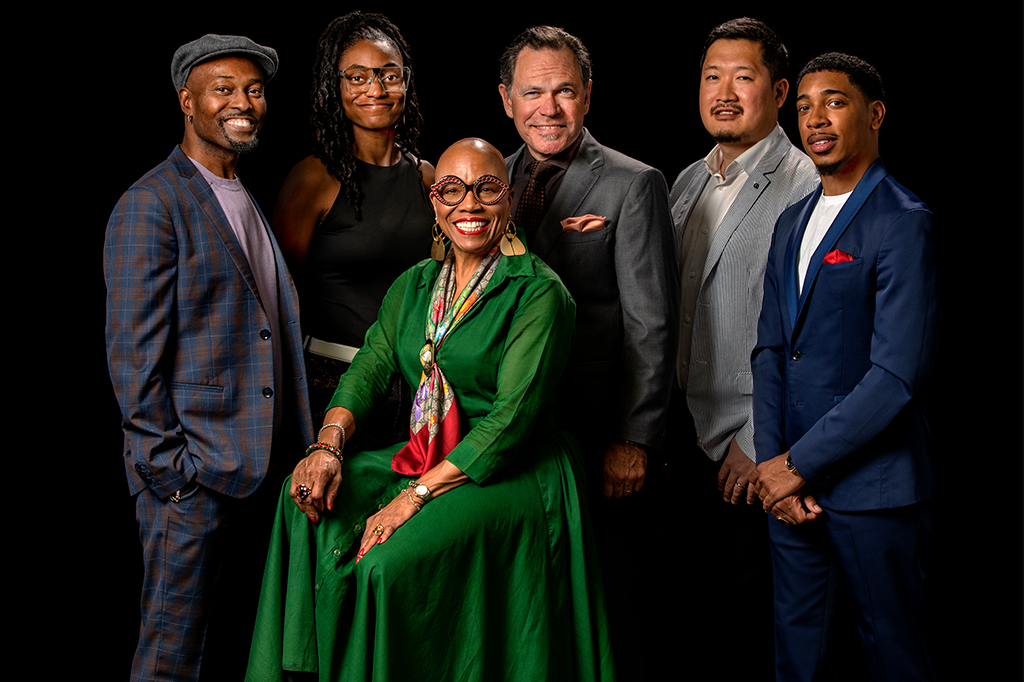 The band's 22-day tour, taking place in two legs in January and April 2023, will perform 25 concerts in 12 states. January's shows focus on the Western United States with concerts in California, Arizona, and Utah. April's shows include Northeast, the Mid-Atlantic states, and the Midwest. Highlights include two nights at New York City's Jazz at Lincoln Center; Los Angeles' Walt Disney Concert Hall; UC Berkeley's Zellerbach Hall; Philadelphia's Kimmel Center; Boston's Berklee Performing Arts Center, and many others. Click here for more information.
"We unveiled our new MJF on Tour this year at the Monterey Jazz Festival to a standing ovation and wild cheers," said Tim Jackson, MJF's artistic director. "It's an amazing, cross-generational band of very accomplished artists that have special meaning to the Monterey Jazz Festival by the sheer force of their virtuosity and deep soul. Plus, this band is a whole lot of fun!"
"The Monterey Jazz Festival on Tour is a much more than a 'super band,' it has a deeper soul than that," said musical director Christian Sands. "Everyone involved is bringing their 'A' game and it's great to work with artists that aren't just incredibly gifted, but have a continued drive and want to create! We all have the same hunger which leads to incredible camaraderie and music creation and THAT feeling leads to an amazing show!"
"It's a wonderful band," said Dee Dee Bridgewater at MJF in September. "Christian Sands is one of our young stars, and I love that he could lead this whole thing. Kurt [Elling] is a dear, dear friend. And Lakecia is someone that I've mentored a little bit—I have a mentoring program for women called the Woodshed Network, and she was in the first edition. We've just stayed close ever since then, and her star is rising."
"MJF on Tour is an opportunity to try to collaborate … and to try to get new things happening, because that's as heavy a part of the whole jazz experience," said Kurt Elling. "When we go out on the road, we're creating, and not just reiterating."
"I want people to take away a good feeling, a good vibe," said Lakecia Benjamin. "The show is entrenched in the language and the tradition of the music, but it's also got a modern take on it. It's got a way to really embrace the people. And hopefully we can heal and help people know that everything's going to be all right. You've got a dream team right here. Dee Dee has mentored me, helped me out, and got my name out there. To come back and pay it back to her a little bit, it's like a dream come true."
As the longest continuously-running jazz festival in the world, MJF on Tour groups have brought the Festival's reach to over 150,000 jazz fans across the country and Canada since 2008, featuring some of the genre's greatest practitioners, including James Moody, Christian McBride, Cécile McLorin Salvant, Gerald Clayton, Christian McBride, Benny Green, Bria Skonberg, Kenny Barron, Regina Carter, Nicholas Payton, Ravi Coltrane, Russell Malone, Chris Potter, Melissa Aldana, and Ambrose Akinmusire, to name a few.
Monterey Jazz Festival on Tour is produced by Danny Melnick for Absolutely Live Entertainment (ALE) and booked by The Kurland Agency, which also produced and booked three previous MJF tours in 2013, 2016 and 2019.
About the Performers
Over the course of a multi-faceted career spanning four decades, Grammy and Tony Award-winning jazz giant Dee Dee Bridgewater has ascended to the upper echelon of vocalists, putting her unique spin on standards, as well as taking intrepid leaps of faith in re-envisioning jazz classics. The two-time Grammy-winner most recently won the Grammy for Best Jazz Vocal Album for Eleanora Fagan (1915-1959): To Billie With Love From Dee Dee. She earned her first professional experience as a member of the legendary Thad Jones/Mel Louis Big Band, and throughout the 1970s she performed with jazz legends Max Roach, Sonny Rollins, Dexter Gordon, Dizzy Gillespie, and others. Awarded a NEA Jazz Master Fellowship in 2017, Bridgewater's voice combines the voluptuousness of Sarah Vaughan with the sweet, girlish clarity of Ella Fitzgerald. Bridgewater has performed at MJF six times since 1973.
Renowned for his singular combination of robust swing and poetic insight, two-time Grammy winner Kurt Elling has secured his place among the world's foremost jazz vocalists. The New York Times proclaimed Elling "the standout male vocalist of our time." Over a 25-year career of touring and recording, Elling has won three French Prix du Jazz Vocal awards, two German Echo Awards, two Dutch Edison Awards, and has been nominated for 15 Grammys. Elling had a 14-year run topping the DownBeat Critics and Readers polls and has won 12 Jazz Journalists Awards for "Male Vocalist of the Year." Elling's voice is instantly recognizable, and he is a virtuoso improvisor and a compelling storyteller. The Guardian (UK) named Elling "one of jazz's all-time great vocalists." Elling has performed at MJF six times, including acting as Artist-in-Residence in 2006 and was the vocalist in the MJF on Tour All-Stars in 2009-2010.
Voted as the winner of the 2020 DownBeat Critics Poll Rising Star Alto Saxophonist and Up and Coming Artist of the Year by the Jazz Journalists Association, charismatic and dynamic saxophonist Lakecia Benjamin fuses traditional conceptions of jazz, hip-hop, and soul. Benjamin's electric presence and fiery sax work has shared stages with legendary artists, including Stevie Wonder, Alicia Keys, The Roots, and Macy Gray. Benjamin's album Pursuance is an intergenerational masterpiece that takes one on a journey through the lineage of the music with the works of John and Alice Coltrane. Her new album, Phoenix, out in late January 2023, features Patrice Rushen, Dianne Reeves, Angela Davis, and Wayne Shorter, and was produced by Terri Lyne Carrington. Benjamin has performed at MJF twice since 2016.
Pianist and MJF on Tour Music Director Christian Sands is a two-time Grammy nominee. Growing up in New Haven, Connecticut, he started playing professionally at the age of 10 and received his Bachelor of Arts and master's degrees from the Manhattan School of Music. A protégé of Dr. Billy Taylor, Sands began a six-year association with bassist Christian McBride in 2009, and has followed in Dr. Taylor's footsteps by encouraging, inspiring, and advocating for the preservation and history of jazz. As Monterey Jazz Festival's Artist-in-Residence from 2020-2022, Christian launched his online video series "Welcome to the Sands Box," interviewing his friends and favorites from the jazz world. Christian Sands' third recording for Mack Avenue Music Group, Be Water, captures and establishes him as a forceful leader in composition and conceptual vision. Sands has performed at MJF five times since 2014 and acted as MJF on Tour's musical director in 2018-2019.
Bassist Yasushi Nakamura is one of the most commanding voices on bass today. Born in Tokyo, Nakamura moved to Seattle, Washington and received his bachelor's degree in jazz performance from Berklee College of Music, and an artist diploma from the Juilliard School. He has recorded or performed with Wynton Marsalis, Wycliffe Gordon, Toshiko Akiyoshi, Hank Jones, Dave Douglas, Emmet Cohen, and many others, and is a member of the American Patchwork Quartet. As an educator, Nakamura has led master classes and summer intensive courses at Juilliard, The New School, Koyo Conservatory, Osaka Geidai, and Savannah Swing Central. In 2016, Nakamura released his debut album A Lifetime Treasure and his second record, Hometown, received the 2017 Album of the Year award from JazzLife magazine. Nakamura has performed at MJF many times since 2004 and was the bassist in MJF on Tour in 2018-2019.
The charismatic and dynamic Clarence Penn is one of the busiest jazz drummers in the world, a leader of multiple bands, a composer, a prolific producer, and an educator. Penn currently leads several ensembles and is a member of the American Patchwork Quartet. His most recent "rhythmically intoxicating" recording is 2014's Monk: The Lost Files on Origin Records. Since 1991, when he arrived in New York City, Penn has placed his unique blend of mega-chops, keen intellect, and heady musicianship at the service of a staggering array of A-list artists—a chronological short-list includes Ellis and Wynton Marsalis, Betty Carter, Stanley Clarke, Steps Ahead, Makoto Ozone, Michael Brecker, Dave Douglas, Maria Schneider, Luciana Souza, Richard Galliano, and Fourplay. Penn's impressive discography includes several hundred studio albums (including the Grammy-winning recordings 34th and Lex by Randy Brecker and Concert in the Garden and Sky Blue by Maria Schneider.) Penn recently joined the University of Central Florida Department of Music as an assistant professor of jazz percussion, having previously taught with the Banff International Workshop in Jazz and Creative Music, the Stanford Jazz Workshop, the Saint Louis College of Music in Rome, Italy, and Jazz at Lincoln Center's Intensive Jazz Institute. Penn has performed at MJF three times since 2013.
About Monterey Jazz Festival
MJF's mission is to inspire the discovery and celebration of jazz, anchored by an iconic festival.
2023 Monterey Jazz Festival on Tour Schedule
JANUARY 2023
1/17/23: Santa Cruz, Calif., Kuumbwa Jazz Center (2 shows)
1/18/23: Berkeley, Calif., UC Berkeley, Zellerbach Hall
1/19/23: Palm Desert, Calif., McCallum Theatre for the Performing Arts
1/20/23: Los Angeles, Calif., Walt Disney Concert Hall
1/21/23: Tucson, Ariz., Fox Tucson Theatre
1/23/23: Salt Lake City, Utah, Capitol Theatre
1/25/23: Costa Mesa, Calif., Segerstrom Center for the Arts
1/26/23: San Diego, Calif., Balboa Theatre
1/27/23: Modesto, Calif., Gallo Center for the Performing Arts
1/29/23: Santa Barbara, Calif., UCSB, Campbell Hall
APRIL 2023
4/06/23: Hartford, Conn., The Bushnell
4/07/23: Boston, Mass., Berklee Performing Arts Center
4/08/23: Philadelphia, Pa., Kimmel Center, Verizon Hall
4/12/23: Granville, Ohio, Denison University, Swasey Chapel
4/14/23: Chicago, Ill., Symphony Center, Orchestra Hall
4/15/23: Saratoga Springs, N.Y., Universal Preservation Hall
4/16/23: Fairfield, Conn., Fairfield University, Quick Center for the Arts
4/19/23: Roanoke, Va., Jefferson Center, Shaftman Performance Hall
4/20/23: Bethesda, Md., The Music Center at Strathmore
4/21/23: New York, N.Y., Jazz at Lincoln Center, The Appel Room (2 shows)
4/22/23: New York, N.Y., Jazz at Lincoln Center, The Appel Room (2 shows)
4/23/23: Detroit, Mich., Orchestra Hall