Black Violin Announces "The Black Violin Experience Tour" | Kicks Off Feb. 24th, 2023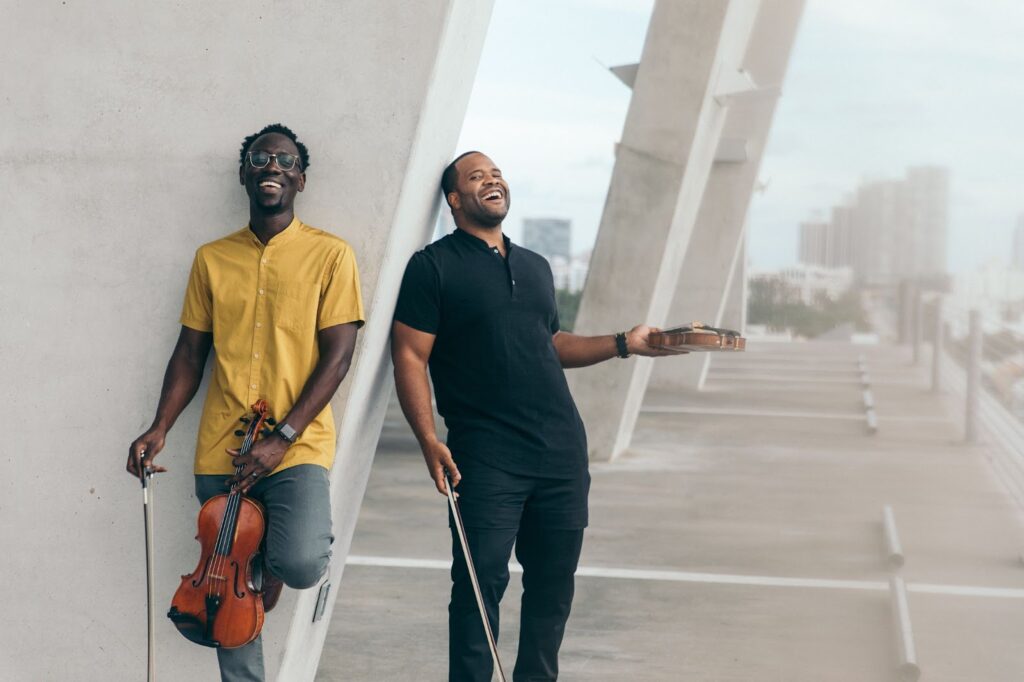 Black Violin to Embark on "The Black Violin Experience Tour"
US Tour Dates this February, March, and April
Collaboration with Blind Boys of Alabama "The Message"
Nominated for Best Americana Performance at the 65th GRAMMY Awards
January 31, 2023: This February, the classical-meets-hip-hop duo Black Violin will embark on "The Black Violin Experience Tour" across the US. The tour follows their recent GRAMMY nomination for "The Message," a collaboration with Blind Boys of Alabama. The song is up for Best Americana Performance at the 65th GRAMMYs this weekend, marking the duo's second GRAMMY nomination after their 2019 album Take The Stairs was nominated for Best Contemporary Instrumental Album.
For nearly two decades, Black Violin has been merging string arrangements with modern beats and vocals and building bridges in communities along the way. Members Kev Marcus and Wil Baptiste first met in orchestra class at Dillard High School in Fort Lauderdale, becoming classically trained on the violin and viola through their high school and college careers. Post-college, they reconvened to produce beats for South Florida rappers, and began building an audience in local clubs. They later went on to win Showtime at the Apollo in 2005, and eventually sold out headline performances at venues across the country, including a sold out two-night headline run at The Kennedy Center in 2018.
Black Violin plays roughly 200 shows a year; many of which are performances for young, low-income students in urban communities. The group has played for hundreds of thousands of students with the goal of challenging stereotypes and preconceived notions of what a "classical musician" looks and sounds like. "The stereotypes are always there, embedded so deep in our culture," says Wil. "Just by nature of our existence we challenge those ideas. It's a unique thing that brings people together who aren't usually in the same room, and in the current climate, it's good to bring people together."
In 2019, the group launched the Black Violin Foundation Inc., a non-profit organization dedicated to empowering youth by providing access to quality music programs in their community. BVF believes that music and access to music programs should not be determined by race, gender, or socio-economic status. Black Violin Foundation's inaugural program The Musical Innovation Grant for Continuing Education will provide scholarships to young music students to attend a program of their liking that fosters musical creativity and innovation.
Photo Credit: Mark Clennon 
Tour Dates:
2.24.23 — Bowling Green, KY — Southern Kentucky Performing Arts Center
2.25.23 — Bloomington, IN — Indiana University Auditorium
2.26.22 — Muskegon, MI — Frauenthal Center
2.28.23 — East Lansing, MI — Wharton Center
3.2.23 — Madison, WI — Overture Center
3.3.23 — La Crosse, WI — Viterbo University
3.5.23 — Lawrence, KS — Lied Center of Kansas
3.9.23 — Philadelphia, PA — Kimmel Center – Miller Theater
3.10.23 — Buffalo, NY — Buffalo State Performing Arts Center
3.11.23 — Washington, D.C. — Warner Theater
3.12.23 — Pittsburgh, PA — Byham Theater
3.19.23 — Mesa, AZ — Mesa Arts Center
3.21.23 — Tucson, AZ — Rialto Theatre
3.22.23 — Anaheim, CA — City National Grove
3.23.23 — Modesto, CA — Gallo Center for the Arts
3.24.23 — Sacramento, CA — Crest Theatre
3.25.23 — Eugene, OR — Hult Center for the Performing Arts
3.26.23 — Portland, OR — Portland 5 – Keller Auditorium
3.28.23 — Boise, ID — Morrison Center at Boise State University
3.29.23 — Salt Lake, UT — Eccles Theater
3.30.23 — Denver, CO — Paramount Theater
4.1.23 — Chicago, IL — House of Blues
4.3.23 — St. Louis, MO — Touhill Performing Arts Center
Missing Piece Group