The California WorldFest in Grass Valley, Ca. | July 13th-16th, 2023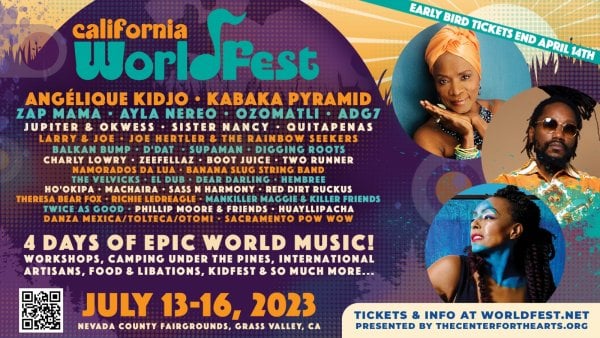 California World Fest
July 13, 14, 15 & 16 2023
Grass Valley, CA
California WorldFest is MORE than a music festival, it's a cultural vibe that promotes expansive world awareness.
4 days of epic world music, camping, an artisan marketplace and excellent food! In between the music and dancing, check out the free workshops – yoga, movement, music, meditation, healing arts, and more.
Click HERE for Tickets and More!
Since 2000, The Center for the Arts, a non-profit performing arts organization, has grown into a leading presenter of music, dance, theater, comedy, literary, visual art and family programming managing a 21,000 square foot venue in downtown Grass Valley and presenting over 150 events per year.
In 2014, The Center purchased California WorldFest from Dan DeWayne and Christine Meyers. Dan and Christine selected The Center to purchase and inherit theor over 20 year old festival because as DeWayne says, "Their commitment to the local community, strong board, vast experience in presenting diverse performers, and our shared values of family-first make them the perfect match for continuing WorldFest for years to come."
Drawing inspiration from the Vancouver Folk Festival, Strawberry Music Festival, MerleFest in North Carolina, New Orleans Jazz & Heritage Festival, Telluride Bluegrass Festival, and the Newport Folk Festival, the California WorldFest includes eight performance stages, a complete children's program, a community outreach history and a pledge to present the finest artists and performers from throughout our world.
From Afro/Pop to Bulgarian Harmonies, Latin to Bluegrass, Scottish fiddle tunes to Rock & Roll, Jumpin' Jazz to Gypsy, Folk to New Acoustic, Mariachi to Russian Folk, Swing Jazz to Gospel, Bollywood to the newest Celtic incarnations, the California WorldFest is the home of our globes finest music and dance.
Source: RBA Publishing & Publicity