The 25th Annual JAS Aspen Snowmass | Starting June 25th, 2015
by

Chicago, Rodrigo y Gabriela, Maceo Parker,
Count Basie Orchestra and More at the 25th Annual
JAS Aspen Snowmass June Experience +
Summer JAS Café Highlights
Tickets on Sale Thursday, March 5
JAS Aspen Snowmass, celebrating their 25th Anniversary in 2015, has just announced the line-up for the June Experience and Summer JAS Café Series, which will now include shows at both the Little Nell Hotel and on the upstairs level of the new Aspen Art Museum.
The JAS June Experience at the Benedict Music Tent kicks-off with two very special performances on Friday, June 26. First, at 6:00pm, JAS will celebrate Frank Sinatra's 100th birthday and jazz roots with the legendary Count Basie Orchestra, with Grammy® winning vocalist Kurt Elling, reprising the iconic Sinatra at the Sands recordings with Basie, and Grammy® nominated vocalist Roberta Gambarini, with her quartet. The evening will conclude with Maceo Parker and his white hot ten piece band performing "Soul Classics" from the songbooks of James Brown, Stevie Wonder and other legends of soul, along with his trademark "Funk Fiesta." Maceo's current show features James Brown inspired dance moves and will set the tone for a true 25th year opening night celebration!
The majority of seats for the Friday performances will be general admission which JAS is pricing at $35, the same ticket price that the initial Jazz Aspen Festival in 1991 featured, making it possible for the widest cross section of the Roaring Fork Valley to attend. From Sinatra to James Brown, the evening will celebrate iconic American music in a community celebration marking the launch of JAS' 25th Summer Season. "Most of the Artists on this opening night celebration have special relationships with JAS, from Basie performing in '92, Maceo playing long Friday sets opening our Labor Day Festivals, and Gambarini's memorable JAS Café shows in recent years. Along with the Free Lawn Party, this will make for a great night and kick-off," said Jim Horowitz, President and CEO of JAS.

On Saturday, June 27 the legendary Chicago makes their first ever Aspen appearance. Considered one of the longest running and most successful pop/rock 'n' roll groups in history, Chicago is the highest charting American band in Billboard Magazine's list of Top 100 artists of all time, coming in at #13.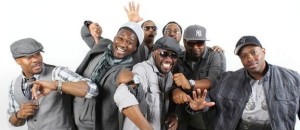 The first weekend of the Experience concludes on Sunday, June 28 with the return of
Naturally 7 followed by guitar virtuosos Rodrigo y Gabriela. Naturally 7, who had an unforgettable performance in front of the Tedeschi Trucks Band in 2013, has perfected an intriguing a cappella style they've branded "Vocal Play" – each member singing their vocal part using the sound of instruments like drums, bass and guitar. Rodrigo y Gabriela, the popular opening act at the 2011 JAS Labor Day Festival, is one of the biggest selling acoustic instrumental acts in the world. The two keep it simple, playing face to face, guitar versus guitar, rhythm and melody, a fiery and percussive high-energy show.
On Monday, July 6, JAS and the Aspen Music Festival and School will co-present a very special evening at the Benedict Music Tent with the Jazz at Lincoln Center Orchestra featuring Wynton Marsalis. JAS and AMFS will once again offer an on-site pre-concert dinner at the JAS Patron Hospitality Tent, mirroring the Patron (VIP) ticket that JAS provides at their Experiences. Patron tickets will include gourmet catered hors d'oeuvres, dinner and dessert, full open bars, on-site parking, and premium floor seating for the concert. Reserved and general admission seating are also be available for the performance.
The expanded Free Lawn Party, a huge hit at the recent JAS June Experiences, will again take place on the Benedict Music Tent grounds prior to the main stage acts on June 26-28, starting at 5:00pm Friday and Sunday and 6:00pm on Saturday. The party includes a variety of on-site food booths, beverage and full bar service vendors and live music on two stages.
Tickets for the June 26-28 JAS June Experience performances at Benedict Music Tent will go on-sale Thursday, March 5 through the JAS Box Office at 866-JAS-TIXX (527-8499), www.jazzaspensnowmass.org or at the Belly Up Box Office in Aspen (970-544-9800). Tickets for the JALC/Wynton Marsalis show are on-sale now at the AMFS Box Office, 970-925-9042 or www.aspenmusicfestival.com.
Patron (VIP) tickets for the JAS June Experience are available now at 970-920-4996 or www.jazzaspensnowmass.org. Lodging and ticket packages can be found at 800-SNOWMASS.
JAS has also announced the line-up for this summer's JAS Café Series, which will feature six Artists (three runs downstairs at the Little Nell and three runs on the upstairs level of the Aspen Art Museum). Aspen Art Museum shows will take place in the Museum Café and adjacent patio. Patrons of the 7:00pm JAS Café Upstairs at the AAM shows will have the option of including a 3-course dinner, prepared by Julia and Allen Domingos of Epicure Catering, with their concert ticket.
The series starts on June 30 – July 1 at the AAM with the return of the fiery and swinging hot jazz of renowned French artists the Django Reinhardt NY Festival. On July 8 – 9 the music returns to the Little Nell with the unique California jazz vocalist Jacqui Naylor. Former JAS Academy Artist Director Christian McBride and his Trio (featuring former JAS Academy student Ulysses Owens, Jr. and Christian Sands) will perform at the Nell on July 15 – 16, followed by Tony Award nominated jazz/pop vocalist and pianist Ann Hampton Callaway July 22nd and 23rd.
JAS will finish out the Café Summer Series with two more weekends at the Aspen Art -Museum, including the brilliant jazz/pop/soul/gospelvocalist and jazz chart topping Lizz Wright on August 7 – 8 and one more artist still to be announced for August 13 – 14. Lizz Wright made her local debut in a memorable double bill co-headlining for JAS June in 2006 with Jamie Cullum.
Summer JAS Café tickets will be on-sale next Tuesday, March 10th at jazzaspensnowmass.org.
JAS will celebrate their 25th Anniversary with their biggest and best summer benefit yet: "Le Freak Lounge" on July 17 at the Ranch of Bob and Soledad Hurst, honoring Janus Capital Group Founder Tom Bailey for stewardship of the JANUS/JAS Title Sponsorship from 1993 – 2005. Tickets for "Le Freak Lounge" featuring disco-soul superstars Chic with Nile Rodgers, are on-sale now at jazzaspensnowmass.org.
For more information on Jazz Aspen Snowmass special events and education programming please visit www.jazzaspensnowmass.org or call JAS at 970-920-4996.
JUNE EXPERIENCE ARTIST BIOS
Count Basic Orchestra feat. Kurt Elling and Roberta Gambarini
In the history of Jazz music, there is only one bandleader that has the distinction of having his orchestra still performing sold-out concerts all over the world, with members personally chosen by him, for nearly 30 years after his passing. Pianist and bandleader William James "Count" Basie was and still in an American institution that personifies the grandeur and excellence of Jazz. The County Basie Orchestra has won every respected jazz poll in the world at least once, won 18 Grammy® Awards, performed for Kings, Queens, and other world Royalty, appeared in movies, television shows, and at every major jazz festival and concert hall in the world. This great 18 member orchestra, today directed by Scotty Barnhart, is still continuing the excellent history started by Basie of stomping and shouting the blues, as well as refining those musical particulars that allow for the deepest and most moving of swing.
The orchestra will be joined by one of the world's foremost jazz vocalists, Kurt Elling and Italian vocalist Roberta Gambarini on this special performance: Sinatra @ 100. Elling has won every DownBeat Critics Poll for the last fourteen years and has been named "Male Singer of the Year" by the Jazz Journalists Association eight times in that same span. Every one of Elling's ten albums has been nominated for a Grammy®.
Gambarini, a dynamic performer with virtuosic vocal chops, draws rave reviews and enthusiastic fan support wherever she performs. Says the Boston Globe, "Gambarini is a true successor to Ella Fitzgerald, Sarah Vaughan, and Carmen McRae."
Maceo Parker
Maceo Parker: his name is synonymous with Funky Music, his pedigree impeccable, his band: the tightest little funk orchestra on earth. It's fairly common knowledge that Maceo has played with each and every leader of funk, his start with James Brown, which Maceo describes as "like being at University;" jumping aboard Mothership with George Clinton; and his ongoing part in Prince's tours. He's the living, breathing pulse which connects the history of Funk in one golden thread.
"Quite simply, there is no better living showman than Maceo Parker. His performances are always… a funky, funky good time." – Westword
Chicago
Hailed as one of the "most important bands in music since the dawn of the rock and roll era" by former President Bill Clinton, the legendary rock and roll band with horns, Chicago, came in at #13, the highest charting American band in Billboard Magazine's list of Top 100 artists of all time. And Chicago is the first American rock band to chart Top 40 albums in six decades.
Lifetime achievements include a Grammy® Award, multiple American Music Awards, a star on the Hollywood Walk of Fame, a Chicago street dedicated in their honor, and keys to and proclamations from an impressive list of US cities. Record sales top the 100,000,000 mark, and include 21 Top 10 singles, 5 consecutive Number One albums, 11 Number One singles and 5 Gold singles. An incredible 25 of their 36 albums have been certified platinum, and the band has a total of 47 gold and platinum awards.
Chicago's album, Chicago Transit Authority, was inducted into the Grammy® Hall of Fame in 2014, and that year, the band performed on the Grammy® stage for the first time, playing four songs with Grammy® Award-nominee Robin Thicke.
Naturally 7
In a music world rife with technological tricks of the trade, one vital commodity is getting lost in the shuffle: the beauty of the human voice. Enter Naturally 7. This seven-man crew is more than just your average singing group. It's members have perfected an intriguing a cappella style they've branded "Vocal Play" – singing as instruments. In their quest to celebrate the voice, Naturally 7 not only sings but also creates every backing instrument heard on its songs. Drums, bass, guitars, horns, flutes… even down to turntables.
Rodrigo y Gabriela
Rodrigo Sanchez and Gabriela Quintero, one of the biggest selling acoustic instrumental acts in the world, like to keep it simple: playing face to face, guitar versus guitar, rhythm and melody. Rodrigo y Gabriela left Mexico at the end of the millennium. Since then they have played for presidents, toured the world many times over, written soundtracks for Hollywood block-busters, and sold over 1.5 million albums. Their latest release 9 Dead Alive sees them bring their timeless music all the way back home. The playing is intuitive, the sound is intimate, the results are spectacular: bursting with melodic energy and rhythmic invention.
JAS CAFÉ ARTIST BIOS
Django Reinhardt NY Festival
Renowned French artists who've performed their hot and swingin' "Gypsy Jazz" Django Tribute at the famed Birdland NYC Club for nine sold-out years. The Festival celebrates the music of legendary gypsy guitarist Django Reinhardt who teamed with famed jazz violinist Stéphane Grappelli in the '30s and '40s to create the Quintet of the Hot Club de France which went on to become one of the most important jazz partnerships in history.
"The Django Reinhardt Festival is a different kind of musical event. It has about as much in common with a conventional night-club experience as a tight-rope walker does a ballerina, or Coney Island does with Carnegie Hall. There's a more visceral thrill to it, and a hard competitive edge." – Wall Street Journal
Jacqui Naylor
Jacqui Naylor is not an easy artist to categorize. There are times when she performs straight-ahead vocal jazz, but at other times she favors more of a folk-rock/adult alternative approach. Depending on the mood she is in at any given moment, the northern Californian can bring to mind anyone from Cassandra Wilson or British jazz vocalist Claire Martin to Sarah McLachlan or Shawn Colvin – she is as comfortable among jazz improvisers as she is in the singer/songwriter world.
"Naylor remains one of the most superbly arresting vocalists around." – JazzTimes
Christian McBride Trio
World-renowned bassist and former JAS Academy Director Christian McBride returns to Aspen with his newly formed trio, fully embracing his role as standard-bearer and mentor. Pianist Christian Sands and drummer Ulysses Owens, Jr. – both younger, emerging artists – have been performing with McBride's smallest group for about three years, honing their trio conception to a fine point of expressive depth and nuance with select performances around the world. "It's a pretty diversified trio," says McBride. "The real core foundation is hardcore swingin' blues and the American songbook. Part of that is because Sands is so well-rounded and willing to go to so many places, that I can't help but want to swing hard with him and Ulysses."
Ann Hampton Callaway
Ann Hampton Callaway is one of the leading champions of the great American Songbook, having made her mark as a singer, pianist, composer, lyricist, arranger, actress, educator, TV host and producer. Her unique singing style blends jazz and traditional pop, making her a mainstay in concert halls, theaters and jazz clubs as well as in the recording studio, on television, and in film. She is best known for her Tony-nominated performance in the hit Broadway musical Swing!. Callaway is a Platinum Award winning writer whose songs are featured on seven of Barbara Streisand's recent albums. Callaway's live performances showcase her warmth, spontaneous wit and passionate delivery of standards, jazz classics and originals. She is one of America's most gifted improvisers, taking words and phrases from her audiences and creating songs on the spot, whether alone at a piano or with a symphony orchestra.
Lizz Wright
Lizz Wright has been the recipient of nonstop critical acclaim and ever-increasing audiences ever since her Verve debut. Like so many vocal greats, Lizz began her singing in the church. She was also surrounded by varied types of secular music at home especially jazz and soul. Her debut album, Salt, topped the contemporary jazz charts and became one of the most acclaimed albums of 2003, mixing standards with new material and styles ranging from Gospel to Soul to Jazz to Blues with ease.
Over four albums Lizz has demonstrated that she is a top notch songwriter with the interpretive skills to become a premier popular song vocalist. She is a complete artist who has both talent and musical instincts well beyond her young age.
For media inquires, please contact:
Andrea Beard – abeard@jazzaspen.org
Serving the Finest in Jazz Since 1988
DL Media