The Jamrock Reggae Cruise 2015 | Kicks off Nov. 30th, 2015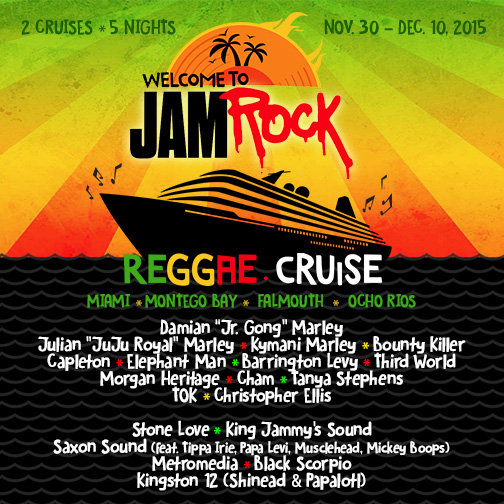 WELCOME TO JAMROCK REGGAE CRUISE ANNOUNCES PLANS FOR 2015
The 5-Night Musical Voyage from Miami to Jamaica on
Norwegian Cruise Lines Will Set Sail Twice Next Year
2015 Artist Line-Up Includes Damian "Jr. Gong" Marley, Julian "Juju Royal" Marley, Ky-Mani Marley, Bounty Killer, Capleton, Elephant Man, Barrington Levy, Third World, Morgan Heritage, Tanya Stephens, Cham, T.O.K. and Christopher Ellis
Sound Systems and DJ sets from Stone Love, King Jammy's, Saxon Sound, Metro Media, Black Scorpio and Kingston 12
More Artists and DJs to be Announced at Later Date
Tickets go on Sale Dec. 16 to General Public
Pre-sale is Available Today (Dec 2) for 2014 Welcome To Jamrock Reggae Cruisers & Dec. 9 for 2013/2014 Wait Listers
Welcome To Jamrock Reggae Cruise is happy to announce plans for 2015. Due to the overwhelming demand for cabins, the state-of-the-art Norwegian Pearl ship will set sail twice next year. The first 5-night musical voyage departs November 30, 2015 from Miami, Florida with two stops in Montego Bay, Jamaica before its return on December 5, 2015. The second ship leaves Miami, Florida on December 5, 2015 with stops in Falmouth and Ocho Rios, Jamaica before its return on December 10, 2015.
Next year's artist line-up will include the world's top tier reggae artists – Damian "Jr. Gong" Marley, Julian "Juju Royal" Marley, Ky-Mani Marley, Bounty Killer, Capleton, Elephant Man, Barrington Levy, Third World, Morgan Heritage, Tanya Stephens, Cham T.O.K. and Christopher Ellis.
In addition to live concerts, there will be numerous sound systems and DJs on board. Stone Love, King Jammy's, Saxon Sound featuring Tippa Irie, Papa Levi, Muslehead and Mickey Boops, Metro Media, Black Scorpio, Kingston 12 featuring Shinehead and Papalotl will be blazing vibes day and night throughout the cruise.
More artists and DJs will be announced at a later date.
Many other entertainment events will be planned to satisfy every reggae lover's appetite. This cruise is all that is reggae, but especially all that is Jamaica.
Tickets for the general public will be available December 16, 2014. Pre-sale tickets go on sale today (December 2, 2014) for cruisers on the 2014 Welcome To Jamrock Reggae Cruise and December 9, 2014 for 2013 & 2014 wait listers. For more information and to purchase tickets, please visit http://www.welcometojamrockreggaecruise.com or call 1-800-248.7471.
WATCH video recap of what transpired on the 2014 voyage: