Je'Caryous Johnson's "Married But Single Too" Stage Play on Tour | Kicks Off Feb. 14th, 2017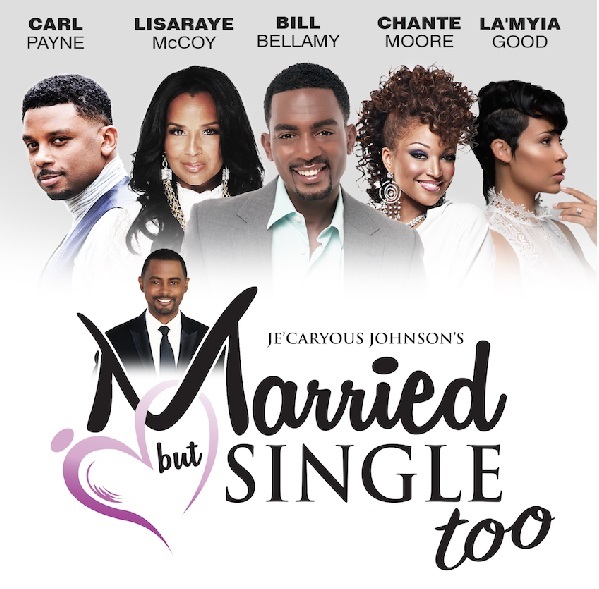 AWARD WINNING WRITER, DIRECTOR & PRODUCER
JE'CARYOUS JOHNSON KICKS OFF THE SEQUEL TO HIS
LAST HIT STAGEPLAY "MARRIED BUT SINGLE TOO"
STARRING HOLLYWOOD HITMAKERS
LISARAYE MCCOY, BILL BELLAMY,
CARL ANTHONY PAYNE & AWARD-WINNING
R&B SINGER CHANTE MOORE
Tour Kicks off Valentine's Day 2017 in Detroit, MI
Los Angeles, CA– December 12, 2016 – While couples like Mary J. Blige and her long time husband, Kendu Isaacs and Keshia Knight Pulliam and Ed Hartwell deal with drama-filled, bitter divorces, while high profile hit couple Angelina Jolie and Brad Pitt call it quits after years of marriage, while music icon Mariah Carey ends up not making it to the alter after a highly publicized engagement to billionaire James Packer and while superstar Kanye West and Kim Kardashian try to kill rumors of an impending divorce, relationship controversy remains headline news as more and more people look for answers to life-long questions regarding love, marriage and the single life. One writer, director and producer- Je'Caryous Johnson continues to show audiences across the country real life reflections of their own relationships and those they know on the theatrical stage.
Johnson's newest stage play and sequel, "MARRIED BUT SINGLE TOO" is the fiery follow up to his last play, "MARRIED BUT SINGLE," which toured in the Spring of 2016 and entertained sold out crowds in LA, Detroit, Atlanta, Chicago and DC. With his new production, Johnson truly lives up to the brand he has so confidently built and cultivated for almost two decades.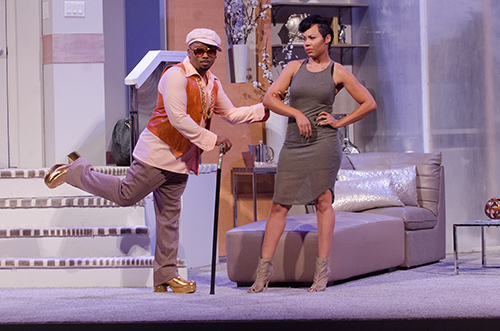 Carl Payne and La'Myia Good
Photo Courtesy Stan Barough (It Is Done Communications)
In this riveting sequel, "MARRIED BUT SINGLE TOO," Johnson once again pushes the envelope and picks up on all the antics and mayhem from the original "MARRIED BUT SINGLE" story and characters that audiences loved the first time around.
"I am truly excited about continuing the "MARRIED BUT SINGLE" saga," stated Johnson. "Earlier this year, the original play was met with such overwhelming response that I had to give my dedicated fans and new fans some more of the pandemonium and drama that real relationships and this thing we call love provide. While traveling with the show and interacting with audiences, I discovered many wanted to see more from their favorite characters and also find out what happens next with them. So, that's what "MARRIED BUT SINGLE TOO" will give them. They will experience more singing, more of the love, more of the fun and more of the funny."
JE'CARYOUS JOHNSON'S "MARRIED BUT SINGLE TOO" kicks off its tour with a very special preview performance in Detroit, MI at The Music Hall on Valentine's Day, Tuesday, February 14, 2017, followed by more performances in Detroit on Thursday, February 16 – Sunday, February 19, 2017. After premiering in Detroit, the show will travel to the Big Apple and open at the Kings Theatre in Brooklyn on February 24-26, 2017, Atlanta, Ga at the Cobb Energy Centre on March 3-5, 2017, Houston, TX at The Hobby Center on March 10-12, 2017, Washington, DC at The Warner Theatre on March 16-19, 2017, Long Beach, CA at the Terrace Theater on March 24, 2017, Los Angeles, CA at The Orpheum Theatre on March 25-26, 2017, Memphis, TN at The Cannon Center for The Performing Arts on March 31-April 1, 2017, St. Louis, MO at The Peabody Opera House on April 2, 2017 and the tour's last weekend culminates in Chicago, IL at the Arie Crown Theater on April 7-8, 2017 and in Cleveland, OH at The State Theatre on April 9, 2017.
Tickets for all tour dates are ON SALE NOW. Ticketing information and full details can be accessed at www.jecaryous.com.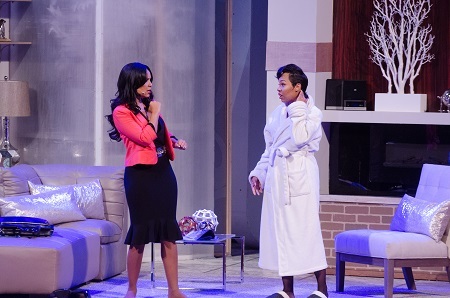 LisaRaye McCoy and La'Myia Good
Photo Courtesy Stan Barough (It Is Done Communications)
Keeping his promise to fans across the country, Johnson is bringing back their favorite characters in "MARRIED BUT SINGLE TOO." Returning to the show in 2017 to reprise their roles is "Pimpin' Pete" played by actor Carl Anthony Payne and "Sharon Wilson" played by LisaRaye McCoy. McCoy gained mainstream notoriety in the cult classic The Players Club and most recently starred in the hit VH1 Series, Single Ladies and the TV One Biopic, Love Under New Management: The Miki Howard Story. Audiences everywhere fell in love with the funny of Carl Anthony Payne as "Cockroach" on The Cosby Show and grew with him as he continued to capture mainstream audience appeal as "Cole" on the hit show, Martin. Actress La'Myia Good who wooed audiences as Sharon's best friend "Tina Clark" will also be returning to the cast, along with actress Skye Griffin.
Johnson continues to build powerhouse combinations on stages. This time around he is pairing Payne and McCoy with one of the industry's most formidable Hollywood funny men, actors and hosts – Bill Bellamy and one of music's most undeniably sultry and talented singers – Chante Moore.
With numerous films and TV Shows, over the past 30 years, under his belt, Bill Bellamy is one of the most sought after comedic actors of his time. From films like How To Be A Player to Any Given Sunday, Bellamy has etched an unforgettable mark into film and pop culture with his body of work. Most recently, he starred in the movie, The Bounce Box with Shemar Moore and in the TV Series, Mr. Box Office and Hot in Cleveland. Chante Moore, who has been in the music industry for almost two decades caught everyone's attention with her hit single, "Love's Taken Over," and continued to soar to success with the hit songs, "Chante's Got A Man", "It's Alright," "Candlelight & You" and "This Time." She was also recently featured on TV One's R&B Divas Los Angeles. Moore's new album will be dropping everywhere music is sold in Early 2017.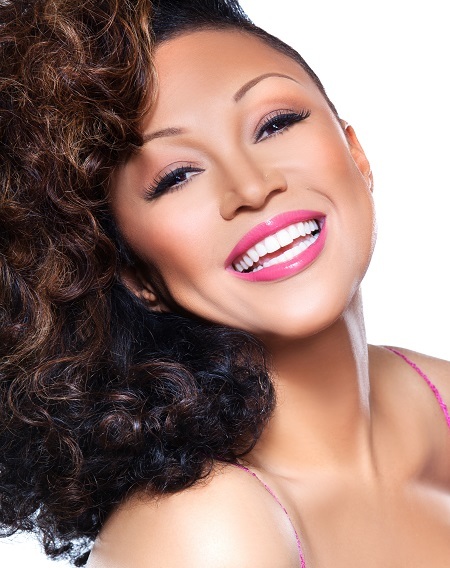 Chante Moore
Photo Courtesy of It Is Done Communications
JE'CARYOUS JOHNSON'S "MARRIED BUT SINGLE TOO," picks up where "MARRIED BUT SINGLE," left off and catches up with the life of Sharon Wilson (LisaRaye McCoy) who had dreamed of the day her man would finally pop the question and become her husband. And when he did, little did she know, disaster would follow. After working so hard to get the ring, Sharon never expected her marriage to her rising R&B star husband, Julian, would be hanging on by a thread after only a year. A delayed honeymoon, a neglected anniversary, and many nights apart have rocked their relationship to the core. But even though she's working at it alone, she's willing to do whatever it takes to save her marriage. That is until rumors of Julian's infidelity start floating around forcing Sharon to give him an ultimatum: end the tour or end their marriage. Not ready to close the door on either part of his life, Julian's indecisiveness opens the door for Sharon's old flame, Jackson (Bill Bellamy), to ignite the fire that's been missing, but this time around, it might just be an inferno because… she's married but single… AND he's "Married but Single, Too"!
For almost two decades, Je'Caryous Johnson has transformed the world of urban theatre and propelled himself into mainstream notoriety and success. It all started for him with his forward thinking to turn African-American romance novels into stage plays. Some of Johnson's other hit plays have included Love Overboard with R&B hit makers Avant & Keke Wyatt, Men Cry in the Dark with Allen Payne, The Maintenance Man with Billy Dee Williams, Friends and Lovers and Cheaters with Grammy Award winning singer Brian McKnight, Confessions with the late Gerald LeVert, Men, Money & Gold Diggers with actress Robin Givens, Whatever She Wants with Boris Kodjoe and Richard Roundtree, 3 Ways To Get A Husband with legendary actor Billy Dee Williams, Cheaper to Keep Her with Vivica A. Fox and Marriage Material with Jill Marie Jones. To date over 2.5 million people have seen Johnson's shows and they have grossed over $135 million dollars in revenue. Johnson's most recent production, Things Your Man Won't Do, starred Tichina Arnold, Wendy Racquel Robinson, LEON, Brian White, Allen Payne, Terri J. Vaughn and Essence Atkins and toured in the Spring and Fall of 2015 and Married But Single toured the Spring of 2016.
# # #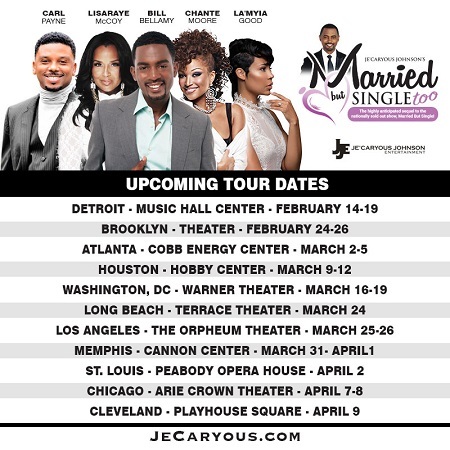 FOR MORE INFORMATION ON JE'CARYOUS JOHNSON & "MARRIED BUT SINGLE TOO"
www.jecaryous.com
Follow JE'CARYOUS JOHNSON & "MARRIED BUT SINGLE TOO," on Facebook
at https://www.facebook.com/jecaryousjohnson and on Twitter at https://twitter.com/jecaryous
It Is Done Communications