Stage Play "The Strength of Love: Lovers Night Special" in Griffin, GA | Feb. 10th-12th, 2017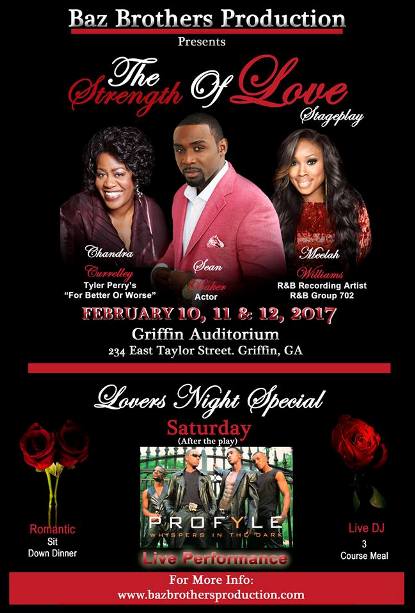 The Return of "The Strength of Love": A Lover's Night Special
Successful stageplay returns to Griffin, GA for Special Valentine's Weekend Presentation
GRIFFIN, Ga. – Nov. 20, 2016 – PRLog — Back by popular demand…."The Strength of Love" the stageplay, a Baz Brothers Production, returns to South Metro Atlanta for a Special Night for Lovers during Valentine's Day Weekend.
After a successful run last Spring, the popular stage play is returning for a special Valentine's Day event – A Lover's Night Special where couples can enjoy four shows of the Strength of Love stage play on Friday, February 10th at 7pm, two shows on Saturday, February 11th at 3pm and 7pm and one show on Sunday, February 12th at 4pm. The Lover's Night Special will be held after the Saturday, February 11th 7pm show, which includes a three-course meal, live DJ and performance by R&B group Profyle.
"The Strength of Love" is a heartfelt story of Antonio and Melody, a loving couple who have been married 5 years. Although the first 5 years were blissful, Antonio and Melody are now settling into a new stage of marriage, and each has their own struggle. Melody is starting to question her husband's love for her, while Antonio deals with a new reality, as he learns that his wife cannot provide his lifelong desire. So they are now faced with the dilemma of "should I stay or should I go?" Find out if the "Strength of Love" will conquer all…
"The Strength of Love" features a cast of incredible talent, starring actor Sean Baker, former lead singer of R&B Group 702 Meelah Williams and legendary jazz singer and actress Chandra Currelley. Sean Baker, who plays Antonio, is an actor, singer, songwriter and producer, who hails from the Bronx, NY and currently resides in Atlanta, GA. He has starred in Lorraine Hansberry's "A Raisin in the Sun", Mary Morrison's "Single Husbands" and Kandi Burruss' "A Mother's Love." He has also appeared in films including "Taken 3", "Triple 9" and Oprah Winfrey's "Selma" and his latest film, "All Eyez on Me" a film about the late Tupac Shakur.
The role of Melody will be played by Meelah Williams. Originally from Las Vegas, NV, as indicated by the area code 702 – the inspiration for the R&B group for whom she sung lead for three albums – has also collaborated on tracks during her solo career with several notable artists such as Missy Elliott, Timbaland, Pharrell Williams, Macy Gray, Faith Evans and Musiq Soulchild. She has also worked to raise awareness for Autism through her foundation P.R.O.U.D. (Parents Reaching Out to Understand Developmental delays) after her son Zac was diagnosed with Autism. Meelah has spread her wings into acting years ago when she landed a role on the third season of R&B Divas Atlanta and landing a starring role opposite Kandi Burruss in her stage play, "A Mother's Love." She has won many awards for both her musical and philanthropic contributions.
Legendary Jazz, R&B and Gospel artist and actress Chandra Currelley plays Melody's mother in the play. Chandra Currelley, who also starred in "A Mother's Love", is best known for her various roles in Tyler Perry productions "Diary of a Mad Black Woman", "Madea's Big Happy Family" and TBS's "For Better or Worse." As the former lead singer for the popular recording group, the S.O.S. Band, Chandra is the 2014 recipient of the Lady of Soul Jazz award. A Gospel Choice award nominee, Chandra has performed at the White House and toured the US, Europe and Asia. Her theatrical performances span several years and productions, including "Jesus Christ Superstar Gospel", "What's Done in the Dark" and "Rejoice" with Kenny Leon. Her performances have been seen at the Alliance Theatre, Fox Theatre and several others in the Atlanta area and around the country.
Baz Brothers Production is an independent production company based out of Atlanta and New York. Created by Jeff and Kendrick Bazile in 2003, their mission is to bring the best and most creative stories to the masses by writing, directing and producing quality work. Jeff Bazile, is a writer, director and co-owner of Baz Brothers Production. Hailing from New York, he started his career in film at age 16, studying film production and acting. He has a MBA in human resources and project management and has over 10 years' experience writing, directing and producing films. His wife Maria has co-written, co-produced and serves as the production manager for many of the BBP projects. She has a Master's degree in Leadership and has several years experience in theatre, modeling, acting, makeup, PR, advertising and event planning. She plays a huge role in casting, coordinating premiers and managing the overall business.
Baz Brothers Production is currently holding auditions for remaining cast and background singers on Saturday, December 17th and Sunday, December 18th 2016 from 12pm to 6pm EST (Location TBA). Continue to check the website at www.bazbrothersproduction.com for more information on auditions and tickets for the event, which start at $25 in advance, $30 at the door.
"The Strength of Love" premiers at the Griffin Auditorium at 234 East Taylor Street Griffin, GA 30224. There are four shows on Friday, February 10th at 7pm, two shows on Saturday, February 11th at 3pm and 7pm and a final show on Sunday, February 12th at 4pm. The Lover's Night Special is held on Saturday after the 7pm show and includes a three-course meal, live DJ and live performance by R&B group Profyle. Contact Amirakal Marketing at [email protected] or by phone at 866-441-3583 for media requests or sponsorship opportunities.