The 4th of July Celebration of Veterans Concert – Hosted by Earnest Pugh | July 4th – 12pm EST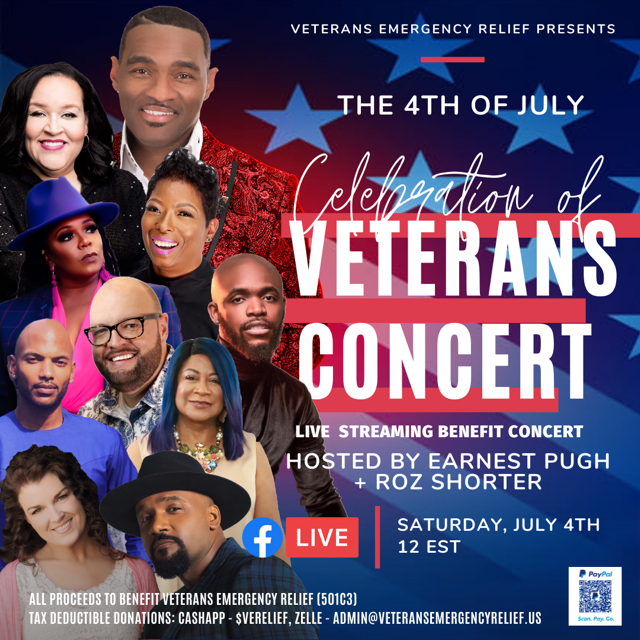 EARNEST PUGH HOSTS
JULY 4TH VIRTUAL CELEBRATION HONORING VETERANS
(Houston, Texas) Blacksmoke Music Worldwide Recording Artist, Emmy Award winner and Multiple Stellar and Dove Award nominee Earnest Pugh selected by Houston-based Non-Profit Organization, Veterans Emergency Relief (VER ) to host a star-studded 4th of July Concert honoring veterans.
According to K.A. Williams, Operations Manager for VER, the organization addresses privation issues (food, shelter, and clothing) for veterans throughout the Houston area. This year's concert brings the fire in the electrifying musical performances with the overall purpose of encouraging the families of veterans who have served our country well. Donations from this event will assist with the organization's holiday initiatives, a Food Drive in November and Toy Drive in December for dependents of veterans.
The concert will featuring some of the brightest stars in the music industry to include Motown Gospel recording artist and Grammy nominee Gene Moore; Stellar Award Winner and radio host Maurette Brown-Clark; R&B Sensation David Lyve; Nakita Foxx; Melonie Daniels; Vonnie Lopez, Patrick Dobson, and the Legendary Betty Griffin Keller. Houston Mayor Sylvester Turner will also be on hand to deliver a heartfelt tribute to veterans.
The July 4th Virtual Concert will air on Earnest Pugh's YouTube/Facebook pages at 12pm EST/11am. For additional information or to make a donation, visit the website at www.veteransemergencyrelief.us. All contributions are tax deductible.