TD Toronto Jazz Festival Summer Concert Series | July 3rd to August 28th, 2020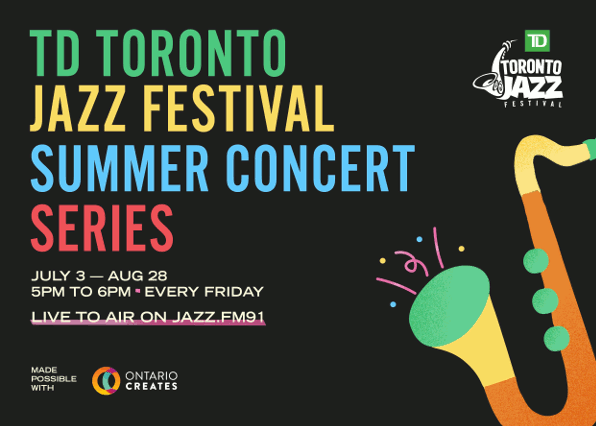 TD Toronto Jazz Festival Summer Concert Series
A Live-to-Air Weekly Series on JAZZ.FM91
TORONTO, June 29, 2020 /PRNewswire/ – This summer, the TD Toronto Jazz Festival brings live music directly to you with a weekly concert series, broadcasting live from the JAZZ.FM91 studios. The TD Toronto Jazz Festival Summer Concert Series, presented by TD, features some of the most outstanding and sought-after musicians in the city – local legends and leading lights of Toronto's jazz scene. Running from July 3 to August 28, each weekly performance will air live on JAZZ.FM91, every Friday from 5pm to 6pm.
The Festival's mandate has always been to provide as many opportunities for local musicians to perform as possible. With the effective cancellation of all live music events at the end of March, including the 2020 TD Toronto Jazz Festival, it has been almost impossible for musicians to earn a living. From now until the spring of next year, the Festival will be offering a variety of ways to support musicians, and for the public to experience live music, through efforts such as the Summer Concert Series, because we know there is nothing better than live music. The TD Toronto Jazz Festival Summer Concert Series is also made possible with support from Ontario Creates.
"Over the nine weeks, you'll hear multiple generations of musicians, from internationally acclaimed veterans to emerging artists – outstanding instrumentalists and vocalists whose music includes bebop, Cuban, Caribbean, blues and soul traditions" states Artistic Director, Josh Grossman.
"As a long-standing supporter of Canadian music and artists, we are proud to continue sponsoring the TD Toronto Jazz Festival," said Scott Belton, Senior Vice President, Retail Banking, Metro East Region, TD Bank Group. "At TD, we understand the vital role musicians and artists play in shaping the culture of our communities, and we are excited to share these performances in a virtual way and help inspire the city of Toronto with the power of music."
The lineup for the TD Toronto Jazz Festival Summer Concert Series:
July 3 – Ted Quinlan Quartet
July 10 – The Don Thompson Trio
July 17 – Jenie Thai
July 24 – Joanna Majoko Quartet
July 31 – OKAN
August 7 – Alexander Brown Quartet
August 14 – Joy Lapps Project
August 21 – Kirk MacDonald Generations Quartet featuring Virginia MacDonald
August 28 – Donnybrook
For more information, visit torontojazz.com.
SOURCE Toronto Downtown Jazz Society