The 18th Annual NYC Winter Jazzfest (Livestream) | January 13th-22nd, 2022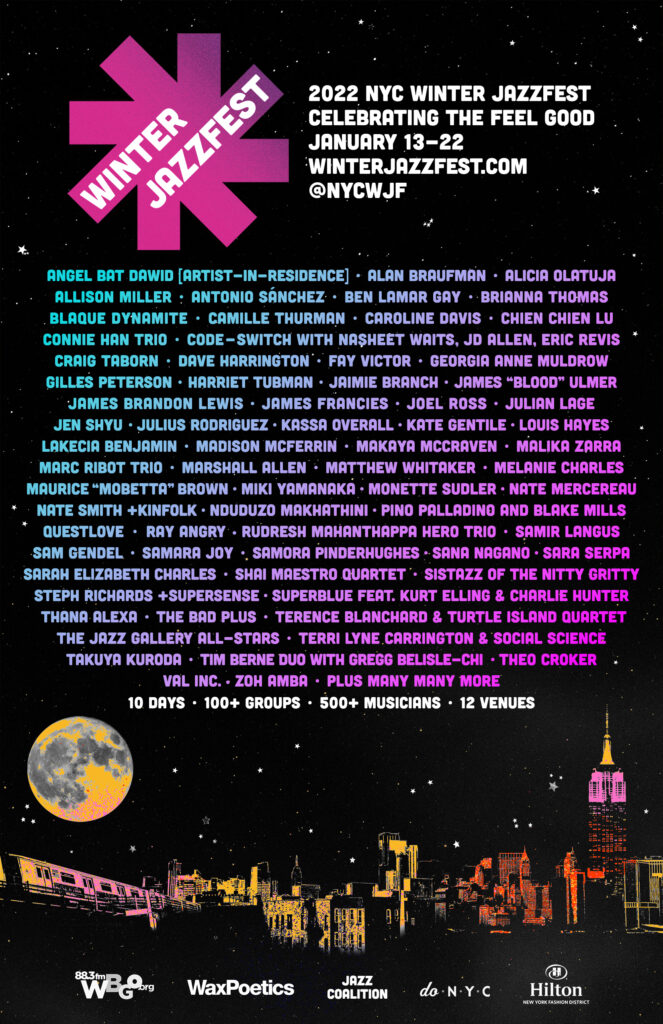 ANNOUNCING THE
2022 NYC WINTER JAZZFEST
Celebrating 18 Seasons
January 13-22, 2022
Presenting The Full Spectrum of Jazz
Celebrating Black American Music: Spotlighting "The Feel Good"
UPDATE Dec. 23rd, 2021: Most of the events has now been postponed to later dates. Several shows to be streamed during the original dates of the festival, from January 14-22, 2022
Livestream Links:
https://www.winterjazzfest.com/schedule-3
https://www.facebook.com/WinterJazzfest
https://www.youtube.com/channel/UCNEc3cL7n2MEKCqelH56PCw
**FIRST WAVE OF CONFIRMED ARTISTS**
CONFIRMED ARTISTS
Angel Bat Dawid (Artist-in-Residence)
Alan Braufman
Alicia Olatuja
Allison Miller
Anjna Swaminathan
Antonio Sánchez – A Bad Hombre Project
Ben LaMar Gay
Brianna Thomas
Camila Nebbia
Camille Thurman
Caroline Davis
Chien Chien Lu
Cleo Reed
Code-Switch with Nasheet Waits, JD Allen, Eric Revis
Connie Han Trio
Craig Taborn
Dave Harrington Pranksters East
Eden Girma
Erica Lindsay
Fay Victor
Ganavya
Georgia Anne Muldrow
Gilles Peterson (virtual)
Greg Ward's Rogue Parade
Harriet Tubman
In Common: Walter Smith III and Matt Stevens featuring Kris Davis/Harish Raghavan/Terri Lyne Carrington
Jaimie Branch
James "Blood" Ulmer
James Brandon Lewis
James Francies, Joel Ross, Blaque Dynamite
Jen Shyu
Joel Ross
Julian Lage
Julius Rodriguez
Kassa Overall
Kate Gentile
Lakecia Benjamin
Lesley Mok
Louis Hayes
Mahogany Browne
Makaya McCraven
Malika Zarra
Marc Ribot Trio
Marshall Allen
Matthew Whitaker
Maurice Brown
Maya Keren
Melanie Charles
Michele Rosewoman
Miki Yamanaka
Miriam Elhajli
Monnette Sudler
Nate Mercereau
Nate Smith +KINFOLK
Nduduzo Makhathini
Pino Palladino and Blake Mills featuring Sam Gendel and Abraham Rounds
Questlove
Ray Angry
Romarna Campbell
Rudresh Mahanthappa Hero Trio
Sam Gendel
Samantha Boshnack
Samara Joy
Samir LanGus
Samora Pinderhughes GRIEF
Sana Nagano
Sara Serpa
Sarah Elizabeth Charles SCOPE
Shai Maestro Quartet
Shanta Nurullah
Sistazz of The Nitty Gritty
Steph Richards +Supersense
Sumi Tonooka
SuperBlue: Kurt Elling featuring Charlie Hunter
Takuya Kuroda
Terence Blanchard featuring The E-Collective and Turtle Island Quartet
Terri Lyne Carrington & Social Science
Thana Alexa
The Bad Plus
The Jazz Gallery All-Stars
Theo Croker
Tim Berne Duo with Gregg Belisle-Chi
Val Inc. AKA Val Jeanty
Zoh Amba
We are thrilled to announce the initial list of artists to be featured at the 18th annual NYC Winter Jazzfest! Please mark your calendars for January 13-22, 2022.
Since our founding in 2005, NYC Winter Jazzfest (NYCWJF) has cemented a reputation as a hotbed of cultural discovery, supporting the rich growth and continued vitality of the jazz community. In our 18th year we are roaring back in a spirit of hope and renewal, with 10 nights of extraordinary programming: marquee performances, including major world premieres, from artist-in-residence Angel Bat Dawid, Pino Palladino & Blake Mills, Ben LaMar Gay, Jaimie Branch, Fay Victor and Kate Gentile; a Summer of Soul screening/convo and "The Feel Good" Party with Questlove and guests; and once again our weekend multi-venue, multi-artist marathon, which has become recognized as one of New York's most essential nightlife offerings, giving audiences full access to all participating venues and dozens of groups performing from early evening deep into the wee hours.
The NYCWJF has become a creative home for pathbreaking artists from the local NYC scene and globally, and a pivotal destination for arts leaders and cultural cognoscenti, hardcore fans and new listeners alike. The festival has grown at a rapid pace, from the original one-day single-location program to annual schedules putting as many as 150 groups (over 600 artists) on 20 stages throughout Manhattan and Brooklyn.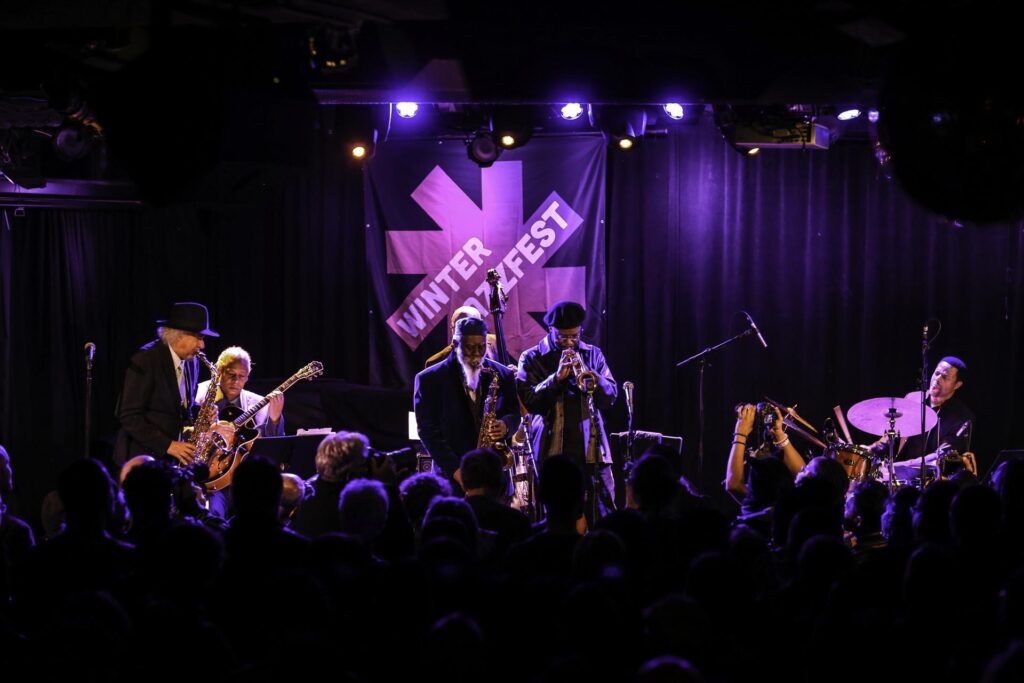 Winter Jazzfest 2019, Photo by Jati Lindsay
Like the entire arts infrastructure throughout the world, the NYCWJF was severely impacted by the COVID pandemic. We have emerged more strongly committed than ever to all aspects of our mission: not only shining a light on the greatest artists of our day, but facilitating new collaborations, creating new spaces for community, and always supporting struggles for racial and gender justice, immigrant rights, action on climate change and mass incarceration. On many levels, the pandemic brought all these issues even more to the forefront, and NYCWJF artists, with the festival's support and encouragement, continue to engage with them in myriad ways. The NYCWJF also gratefully acknowledges crucial financial support from New Music USA and the U.S. Small Business Administration's Shuttered Venue Operators Grant (SVOG).
Conceived originally to showcase the latest and most cutting-edge jazz acts during the annual Association of Performing Arts Presenters (APAP) Conference, and founded by New York concert impresario Brice Rosenbloom, NYCWJF has become the definitive all-inclusive jazz event that offers a "state of the union" of jazz and its many stylistic camps from hot swing to avant-garde to post-bop, jazz-funk, fusion, hypermodern through-composed music and jazz-inflected world music. From party bands to ambient electronic groups to the most advanced compositional approaches – audiences sample everything the jazz world has to offer. As a destination event, attendees regularly travel from other states and countries to attend the festival. Many in the industry see it as jazz's answer to SXSW.
Rosenbloom says of this year's WJF, "Especially in these trying times we all deserve and need the positive energy of feel good music. In the spirit of celebrating Black American Music, we are committed to supporting musicians that have contributed to keeping us all musically medicated and inspired during the pandemic."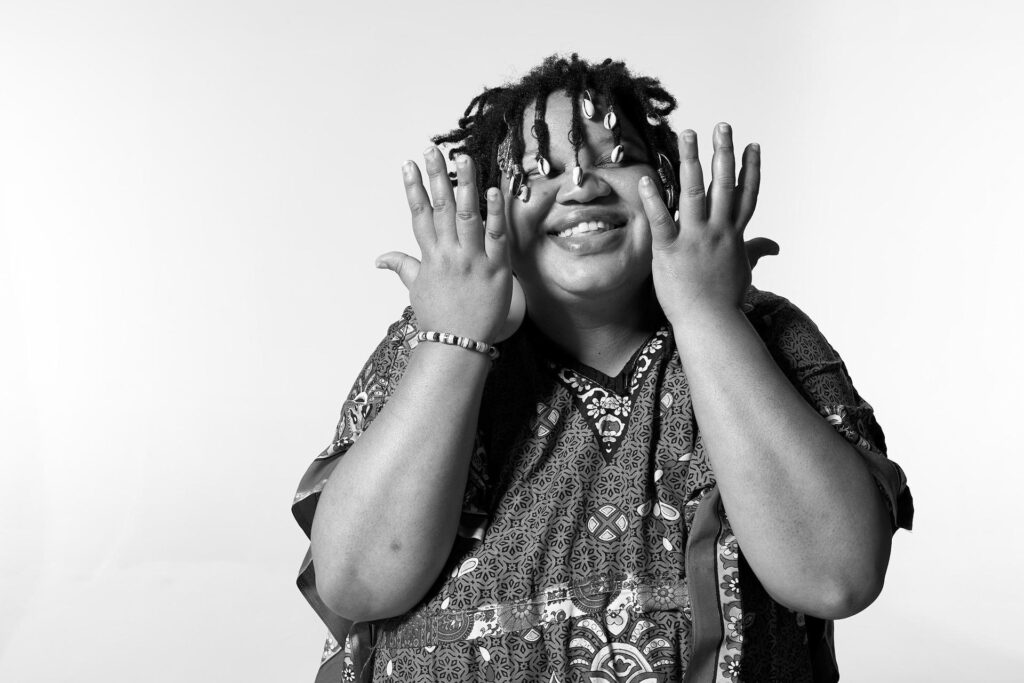 ANGEL BAT DAWID – ARTIST IN RESIDENCE
NYC Winter Jazzfest is proud to present artist-in-residence, composer and multi-instrumentalist Angel Bat Dawid in the world premiere of "Afro-Town Topics: A Mythological Afrofuturist Revue". Inspired by Fats Waller, Dawid presents a new original score using the traditional framework of a musical revue (a type of multi-act popular theatrical entertainment that combines music, dance and sketches) as a compositional blueprint with the intention of creating and exploring the production of new Afro sonic realities and futures. Additionally, Bat Dawid will perform a DJ set at the opening night event at City Winery on January 13 and present her Sistazz of the Nitty Gritty on January 14 during the NYCWJF Marathon.
M3 (Mutual Mentorship for Musicians) — Inaugural Residency
With the generous support of South Arts, Mutual Mentorship for Musicians will hold its inaugural residency under the auspices of NYCWJF. Supported by a consortium of public and private funders including the National Endowment for the Arts, the Andre Mellow Foundation and nine state arts agencies, South Arts has, through its Jazz Road Creative Residency program, provided grants of up to $40,000 this year to 52 artists or groups including M3, in order to foster their artistic and professional growth while allowing them to engage in a wide range of artistic and community projects throughout the US.
M3 was cofounded by acclaimed musicians Jen Shyu and Sara Serpa in 2020 to address ongoing gender inequity and underrepresentation in the jazz and creative music worlds, and to foster partnerships among women and non-binary musicians around the world through new composer commissions, published writings, collective conversations and other programs. The M3 residency seeks to reverse the imbalance seen at many jazz festivals by presenting 21 women and non-binary bandleaders, showcasing them across 10 days as performers, composers, workshop leaders and facilitators.
Participants include Samantha Boshnack, Romarna Campbell, Caroline Davis, Miriam Elhajli, Ganavya, Eden Girma, Val Inc. AKA Val Jeanty, Maya Keren, Erica Lindsay, Lesley Mok, Camila Nebbia, Shanta Nurullah, Cleo Reed, Michele Rosewoman, Sara Serpa, Jen Shyu, Monnette Sudler, Anjna Swaminathan, Sumi Tonooka, Fay Victor and Malika Zarra.
"Representation at music festivals is a crucial step for gender equity, not only for the performing artists, but for younger generations and all artists who rarely see themselves represented in such high-profile events," Shyu and Serpa remark. "We hope that in the future, gender balance will be the rule and not the exception in the programming decisions of all artistic directors and curators around the world."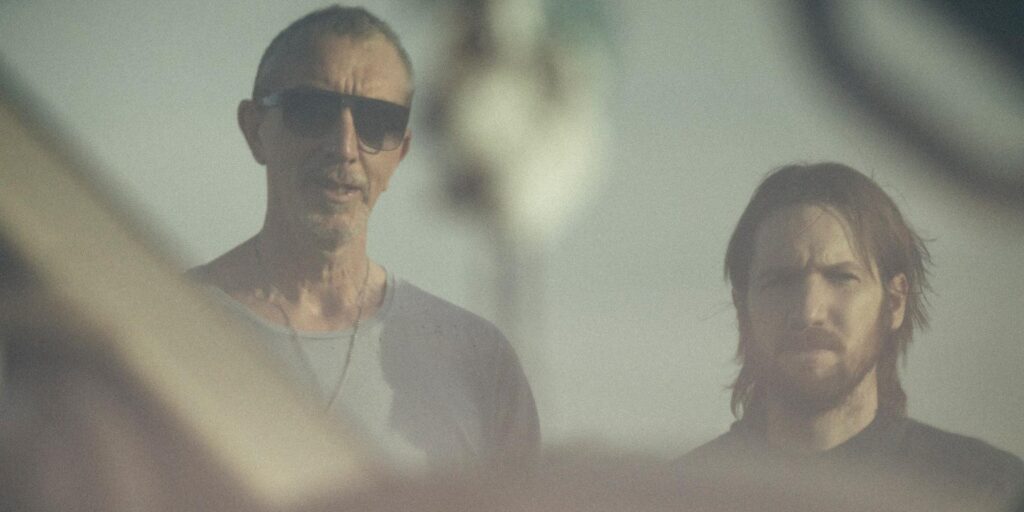 WORLD PREMIERE:
PINO PALLADINO AND BLAKE MILLS FEATURING SAM GENDEL AND ABRAHAM ROUNDS
NYC Winter Jazzfest is proud to present bassist Pino Palladino and guitarist, multi-instrumentalist and noted producer Blake Mills, performing music from their instrumental collaboration debut album Notes With Attachments (Impulse! Records). They will be joined by frequent collaborator and drummer Abraham Rounds and saxophonist Sam Gendel, a main contributor to the album. This project brings together a distinguished group of musicians from the worlds of jazz, R&B, pop, and beyond. Each composition takes a different route, from different sessions, through various methods. It is both a producers' album and a players' album, exploring bits of musical vocabulary common to the two musicians, then defamiliarizing them. The through-line is a shared sensibility of intuition and experimentation. "I think we are musically drawn to find some kind of an exception to a rule, whatever that rule may be," Mills says.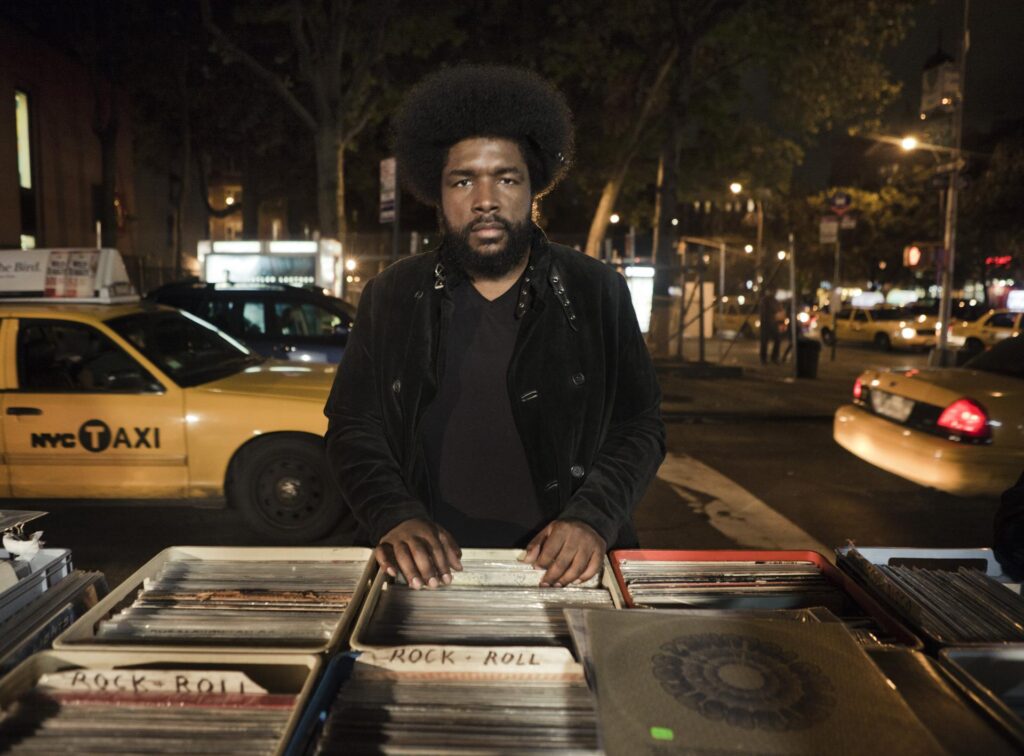 SUMMER OF SOUL (…OR, WHEN THE REVOLUTION COULD NOT BE TELEVISED)
FILM SCREENING AND CONVERSATION WITH QUESTLOVE
In celebration of Martin Luther King Jr. Day and NYC Winter Jazzfest's 2022 "Feel Good" theme, NYCWJF and Moon31 have curated a day to screen, discuss and engage with Ahmir "Questlove" Thompson's award-winning film and directorial debut, Summer of Soul. The film, which unearths previously unreleased footage of the Harlem Cultural Festival from nearly 50 years ago, includes interviews with the original performing artists, attendees, present-day Harlem residents and the festival's staff. The film is available worldwide on Hulu.
This two-part event will screen the film at Roulette, followed by a conversation with the film's Director Ahmir "Questlove" Thompson, Producer Joseph Patel, Chief Curator of the Rock 'n' Roll Hall of Fame, Nwaka Onwusa, and will be moderated by Neal Ludevig, producer and curator of the 50th Year Anniversary of Black Woodstock and a co-founder of Harlem Arts Festival, covering the film's connection to the Civil Rights movement in the wake of King's assassination, its unrecognized impact on American culture, curatorial decisions made by the film's team, and other themes aligned with the "Feel Good" intention of the festival.
The screening will be followed by an afterparty at Brooklyn's iconic House of Yes, which will feature DJ sets by Questlove, Grammy-nominated Georgia Anne Muldrow, Makaya McCraven, and a live specially curated performance from Grammy winner Maurice "Mobetta" Brown with special surprise guests. The event will also feature artistic contributions from House of Yes performers and acclaimed activist and art director Wildcat Ebony Brown. Come together and celebrate Dr. King's holiday and Black American Music, from the bandstand to the dance floor. Dress to impress, bring your party friends and get ready to FEEL GOOD all night long. This night is produced in partnership with NYCWJF and Neal Ludevig of Moon31.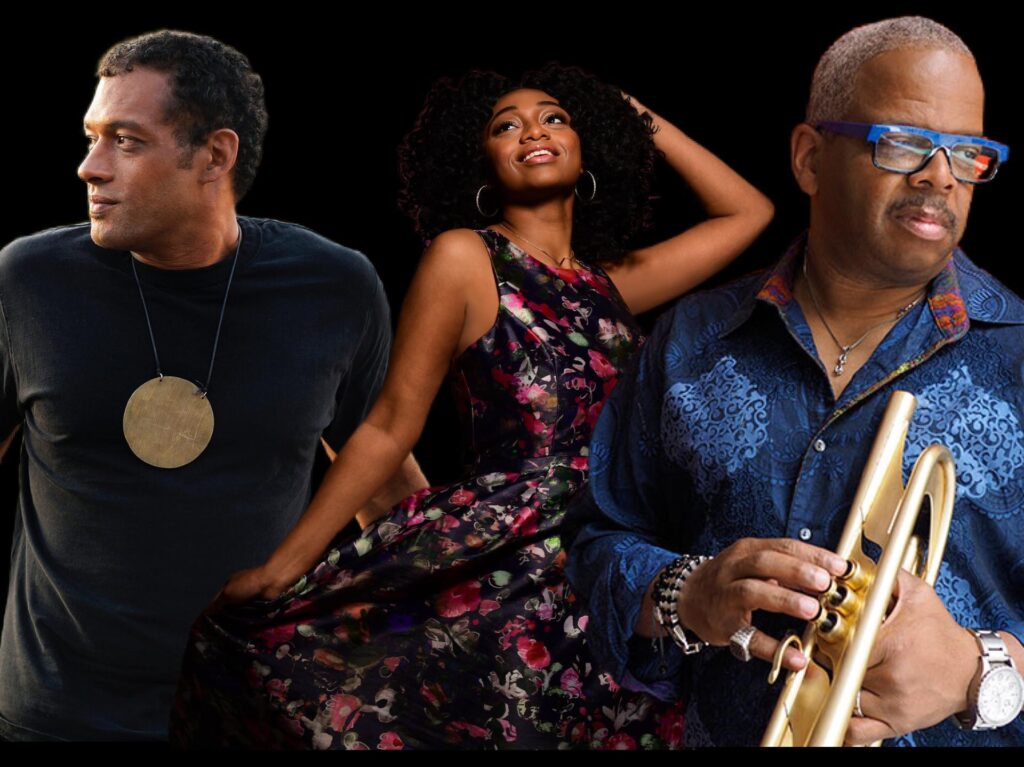 'ABSENCE' TERENCE BLANCHARD FEATURING THE E-COLLECTIVE AND TURTLE ISLAND QUARTET
MAKAYA MCCRAVEN
SAMARA JOY
MAHOGANY BROWNE
ANGEL BAT DAWID (DJ set)
Presented by NYC Winter Jazzfest and SummerStage
In ABSENCE, 2018 USA Fellow, two-time Oscar® nominee, and five-time GRAMMY®-winning trumpeter & composer Terence Blanchard celebrates both the brilliance of Wayne Shorter's legacy and the inspiration he has given Blanchard, influencing his ever-expanding amalgam of music and storytelling. For this monumental task, Blanchard will unite his internationally acclaimed band The E-Collective, featuring young musical pioneers Charles Altura on guitar, Fabian Almazan on piano and synthesizers, Oscar Seaton on drums, and David "DJ" Ginyard on bass, with the double-GRAMMY®-winning Turtle Island Quartet. Makaya McCraven is a beat scientist. The bleeding edge drummer, producer, and sonic collagist is one of Chicago's savviest cultural players and a multi-talented force whose inventive process & intuitive, cinematic style defy categorization. With a voice as smooth as velvet, Samara Joy's star seems to rise with each performance, from her winning the 2019 Sarah Vaughan International Jazz Vocal Competition to opening the first show of 2022 NYC Winter Jazzfest.
City Winery, 25 11th Ave, at Hudson River Park NYC
FAY VICTOR AND KATE GENTILE: WORLD PREMIERES
International Contemporary Ensemble, described as "America's foremost new-music group" (The New Yorker), will perform world premieres of two pieces by Kate Gentile (commissioned by ICE) and Fay Victor (commissioned by The Jazz Coalition) at Roulette Intermedium during NYCWJF. Victor's Sirens and Silences is a "memory document" composition for quartet (clarinet, trombone, violin and cello) created to evoke April-May 2020 when New York City went into lockdown. "The quiet was deafening," says Victor, "punctuated for days only by the sound of sirens. Far and near. On repeat. I started recording those sirens, then transcribed them and those tones became the basis for Sirens & Silences. As a lifelong New Yorker, I never heard the city sound the way it did then. Let these sounds be a reminder of what was and what should never be again."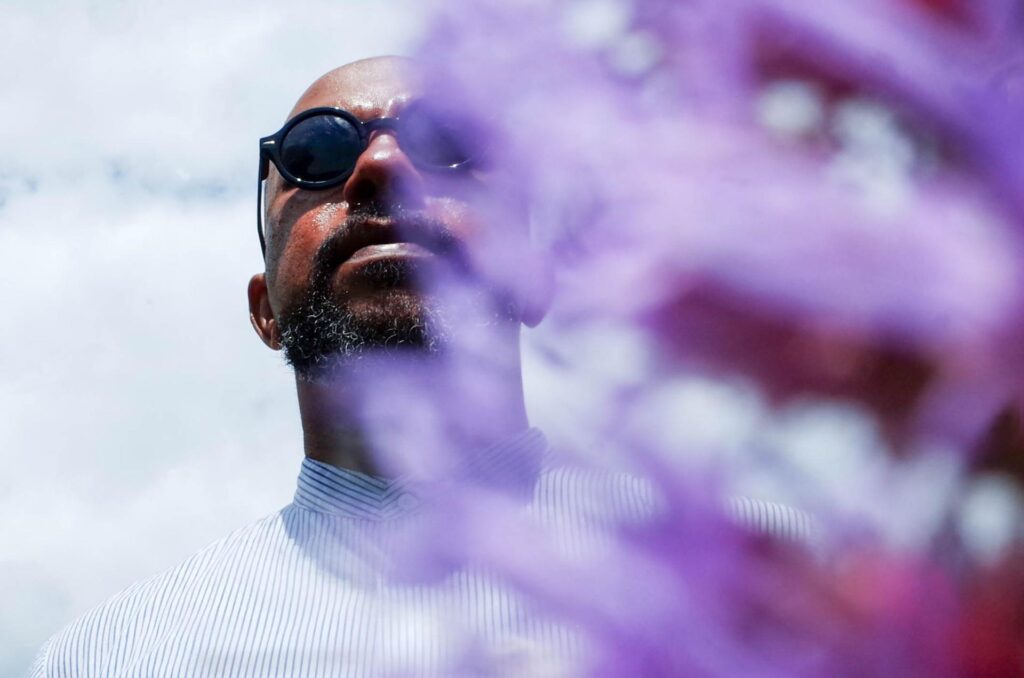 BEN LAMAR GAY
The acclaimed composer and cornetist will perform freshly baked tunes from his new album Open Arms to Open Us, recorded at International Anthem studios in Chicago. Fluently interweaving jazz, blues, ballads, R&B, raga, new music, nursery rhyme, Tropicalia, two-step, hip-hop and beyond, Gay shares his most colorful and communicable work yet with a beaming expression of omni-genre, "Pan-Americana" brew. Gay shares, "Open Arms to Open Us is full of rhythm or information that will assist my young folk in dealing with the repetition of things that aim to harm them or stunt their holistic progression. The title is a suggestion of a body movement that is used in many spiritual practices and is also a gesture that represents a type of understanding that leads to a touch or a hug. The music is for dancing, reflecting, celebrating, bellowing, bawling, stimulation, focus, and deciphering messages from loved ones here and beyond."
UK JAZZ SHOWCASE
NYC Winter Jazzfest will showcase BBC Music Introducing artists curated by BBC Radio 6 Music's Gilles Peterson and supported by PRS Foundation. BBC Music Introducing and PRS Foundation will once again join forces with BBC Radio 6 Music's Gilles Peterson to showcase the best emerging UK talent at NYC Winter Jazzfest 2022. Following four hugely successful events at NYC Winter Jazzfest – which featured a host of now award-winning names – we will soon announce the artists who will film a special showcase in London which will be curated then screened and presented by Gilles Peterson at the festival. [To be premiered virtually by BBC Radio 6 on a date TBA.]
NYCWJF Pop-Up Studio at Radio Nublu
In partnership with the newly relaunched Wax Poetics magazine and WBGO-FM, NYCWJF will be broadcasting from the cutting-edge East Village club Nublu Classic, located at 62 Avenue C New York, NY
ABOUT ANGEL BAT DAWID
Angel Bat Dawid is a Black American Composer, Improviser, Clarinetist, Pianist, Vocalist, Educator and DJ. In 2019 she released her debut album The Oracle with Chicago label International Anthem. Recorded using only her cell phone in various locations, the album received wide-spread critical-acclaim with Pitchfork declaring it, "a vibrant, spiritual, free-jazz document of black life as it stands today." Known for her prowess as a bandleader and performer, Angel has composed and performed several live pieces including "Requiem for Jazz" at the Hyde Park Jazz Festival and "Peace: A Suite for Skylanding," commissioned by the Art Institute of Chicago for Yoko Ono's outdoor Skylanding installation. She tours globally with her septet "Tha Brothahood," with whom she released the album LIVE in October 2020, which received numerous accolades, including making NPR Music's "Best Albums of 2020" list. Angel also leads the all-woman trio Sistazz of the Nitty Gritty with bassist Brooklynn Skye Scott and pianist Anaiet. As an educator, Angel teaches her "Great Black Music" course at Cook County Juvenile Temporary Detention Center through Old Town School of Folk. She is clarinetist in Damon Locks Black Monument Ensemble, and she hosts a monthly music show on NTS Radio. All of this and more is why Pitchfork recently highlighted Angel's work in their recent "Pitchfork 25 Next" cover story and included her on the "Pitchfork 25 Next "list, which identifies a select group of artist's shaping the future of music.
ABOUT KEYCHANGE
NYCWJF continues to join festivals across the globe in striving for gender parity on our festival stages. We are proud to be part of PRS Foundation's Keychange program, through which we have pledged to achieve a gender balance at our festival.
ABOUT M³ (MUTUAL MENTORSHIP FOR MUSICIANS)
M³ (Mutual Mentorship for Musicians) is a platform created to empower, elevate, normalize and give visibility to women, non-binary musicians and those of other historically underrepresented gender identities in intersection with race, sexuality, or ability across generations in the US and worldwide, through a radical model of mentorship and musical collaborative commissions.
ABOUT SOUTH ARTS JAZZ ROAD CREATIVE RESIDENCY PROGRAM
Supported by a consortium of public and private funders including the National Endowment for the Arts, the Andrew Mellon Foundation and nine state arts agencies, South Arts has, through its Jazz Road Creative Residency program, provided grants of up to $40,000 this year to 52 artists in order to foster their artistic and professional growth while allowing them to engage in a wide range of artistic and community projects throughout the US.
Press inquiries on NYC Winter Jazzfest:
Matt Merewitz at Fully Altered Media
[email protected]
Julia Casey at Big Feat PR
[email protected]
Myles Glover at NYC Winter Jazzfest
[email protected]
Visit www.winterjazzfest.com for more details
FOLLOW US FOR UPDATES:
Website: winterjazzfest.com
Twitter: @NYCWJF
Facebook: facebook.com/WinterJazzfest
Instagram: instagram.com/nycwjf
Fully Altered Media