Dave Koz and Friends Christmas Tour 2023 | Kicks Off Nov. 24th, 2023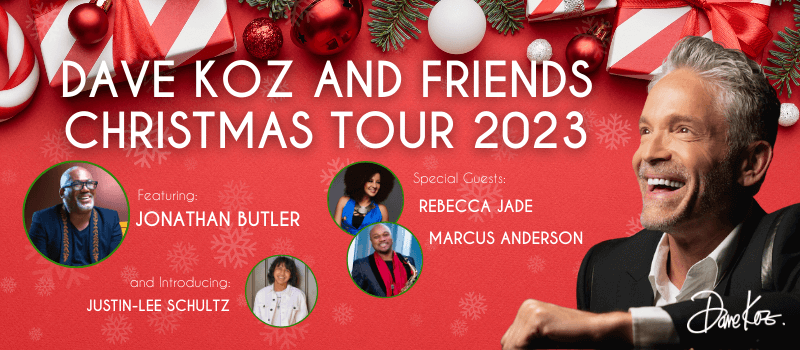 Dave Koz and Friends Christmas Tour 2023
Featuring: Jonathan Butler
Special Guests: Rebecca Jade and Marcus Anderson
Introducing: Justin-Lee Schultz
Experience the Joy of Dave Koz & Friends' Christmas Tour This Festive Season!
Dave: I hope this message finds you well and that you had a fantastic Summer. As we look ahead, it's hard to believe that Christmas is just around the corner…but with the holiday season fast approaching, I am thrilled to announce our 26th Annual Christmas Tour, featuring the return of crowd favorite Jonathan Butler! Joining JB and me will be special guest vocalist Rebecca Jade, and two newcomers: Saxophonist/Flutist Marcus Anderson, and 16-year old piano/guitar prodigy (and internet sensation) Justin-Lee Schultz!
I am always grateful to hit the road during the holidays…it's the most wonderful time of the year, as you know! And this year's tour has me particularly excited, due to the breadth of amazing talent you'll see onstage. As the longest running jazz-based holiday tour in history, this milestone would not be possible without your incredible support—so thank you! And with all that is happening in the world around us, this year's tour gives us all the opportunity to be together again, reminding ourselves of what's really important.
Please find the full list of shows below. I sincerely hope to see you at one of our shows so we can celebrate the magic of the season once again.
Here's to a beautiful Autumn season ahead, and my gratitude always for your continued support and encouragement.
Friday, November 24
Atlanta, GA
Cobb Energy Perf. Arts Centre
Saturday, November 25
Clearwater, FL
Ruth Eckerd Hall
Sunday, November 26
Naples, FL
Hayes Hall Artis – Naples
Tuesday, November 28
Fort Pierce, FL
Sunrise Theatre
Wednesday, November 29
Sarasota, FL
Van Wezel Performing Arts Hall
Thursday, November 30
Jacksonville, FL
Florida Theatre
Friday, December 1
Miami, FL
Knight Concert Hall
Saturday, December 2
Newport News, VA
Ferguson Center For The Arts
Sunday, December 3
North Bethesda, MD
The Music Center at Strathmore
Tuesday, December 5
Carmel, IN
The Palladium: Center For The Performing Arts
Wednesday, December 6
Munhall, PA
Carnegie of Homestead Music Hall
Thursday, December 7
Detroit, MI
Music Hall Center For The Performing Arts
Friday, December 8
Columbus, OH
Palace Theatre
Saturday, December 9
Chicago, IL
Auditorium Theatre
Sunday, December 10
Cleveland, OH
KeyBank State Theatre
Tuesday, December 12
El Paso, TX
The Plaza Theatre
On Sale Soon
Wednesday, December 13
Mesa, AZ
Mesa Arts Center
Thursday, December 14
Mesa, AZ
Mesa Arts Center
Friday, December 15
Cerritos, CA
Cerritos Center For The Performing Arts
Saturday, December 16
Cerritos, CA
Cerritos Center For The Performing Arts
Monday, December 18
Palm Desert, CA
McCallum Theatre
Tuesday, December 19
San Diego, CA
Balboa Theatre
Wednesday, December 20
Santa Rosa, CA
Luther Burbank Center For The Arts
Thursday, December 21
San Jose, CA
San Jose Civic
Friday, December 22
Fresno, CA
The Tower Theatre
Saturday, December 23
Modesto, CA
Gallo Center For The Arts
Source: Dave Koz